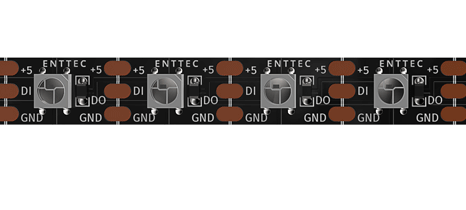 You've probably noticed that most LED tapes are white in color.
While there are advantages to this for certain applications, a black printed circuit board is the best way to minimize external light reflection and conceal the workings of your installation when the display is switched off. It's the stuff that a stealth designer's dreams are made of.
Black PCB also absorbs and dissipates heat from LED chips more efficiently than standard white solder mask. We've used superior thickened copper tracks to reduce the effects of volt drop and to allow a more even intensity along the length of the strip. And with 60 individually-addressable pixels per meter, each capable of producing a 32-bit True Color display (4,294,967,296 variations) – this tape is ideal for both stage and architectural applications.
Precision-designed and manufactured to ENTTEC's rigorous standards, some of our busiest professional clientele have been requesting we manufacture this tape for years. We're delighted to have finally done so, and we think you'll enjoy exploring the Dark Side too.

Features
Stealth!
While it shares some of the same high-quality electronics that you've come to know and rely on from our other tapes, the black PCB makes this one special. We would say that it makes this tape stand out … but that's precisely what it doesn't do.
A clever designer will often want to use shadows and dark recesses to hide the inner workings of an installation in order to take an audience by surprise when the creation comes alive. This tape is perfect for that sort of thing. And fear not: it also looks good when it's on!
60 RGB LEDs per meter
It boasts 60 color-calibrated, individually-addressable, RGB LEDs per meter. Each LED is patched as an individual pixel, and offers consistent brightness and extended color gamut.
Built for performance
Superior thickened copper tracks to reduce the effects of volt drop and to allow a more even intensity along the length of the strip.
Bright and super-efficient
With a maximum power consumption of only 11.5 watts per meter, and a lumen capacity of 244 lumens per meter, this 5V pixel tape provides a bright and efficient package.
Millions of colors
Each pixel can achieve a 32-bit, True Color display. That's a whopping 4,294,967,296 possible colors for each LED chip, with a scan frequency not less than 400Hz per second.
Extend as you please
Join two lengths together or cut them into a smaller length. You can also operate the tape from up to 300m away using the ENTTEC Pixel Link system. This tape is recommended for indoor use only.
Downloads
Compatible with
Categories: Pixel Control, Pixel Control, Pixel Tape Drivers, USB