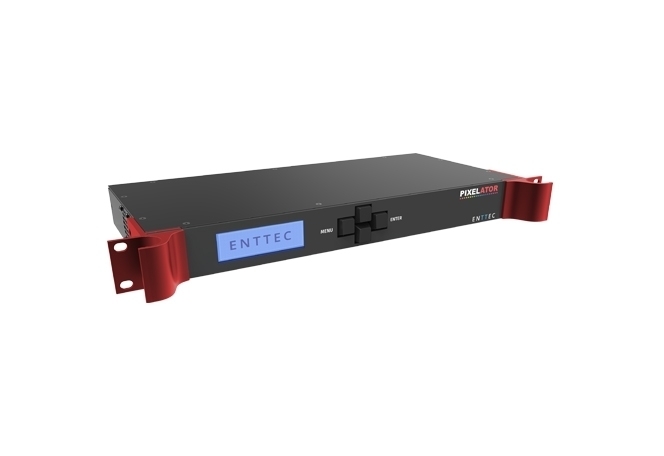 Pixelator
World's most powerful Ethernet-to-pixel protocol converter. With its high-speed network connection and rugged rackmount enclosure, the Pixelator can control an impressive 24,576 channels (8,192 RGB pixels).
The world's leading Ethernet-to-Pixel Converter
The Pixelator is the world's most powerful Ethernet-to-Pixel protocol converter and the full-size version of the Pixelator Mini. With high-speed network connection and rugged rackmount enclosure, the Pixelator can control an impressive 24,576 channels (8,192 RGB pixels).
Because the Pixelator system has been designed for great flexibility, all data conversion is processed locally. This means that each of its 24 outputs provides pixel data to digital LED dots and strips up to 300m away. This can be combined with a wide range of output devices when connected to ENTTEC's compact power injection modules. Choose from the indoor Plink Injector and CVC4, or the outdoor IP66 Plink Injector.
This Ethernet-to-Pixel converter has many key distinguishing features. For instance, the ability to allow different types of protocol to be sent to different locations yet remain in sync. As a result, you'll experience no image ghosting or tearing of your pixel-mapped content.
All of this can be configured using ENTTEC's local host profile editor. Set the Pixelator's 24 ports to behave exactly as you need them to with ease. Back up or restore your profiles for fast deployment across many units to wow even the largest audience.
Only the Pixelator lets you do a lot more with less fuss at a lower cost. No other device on the market offers this level of performance.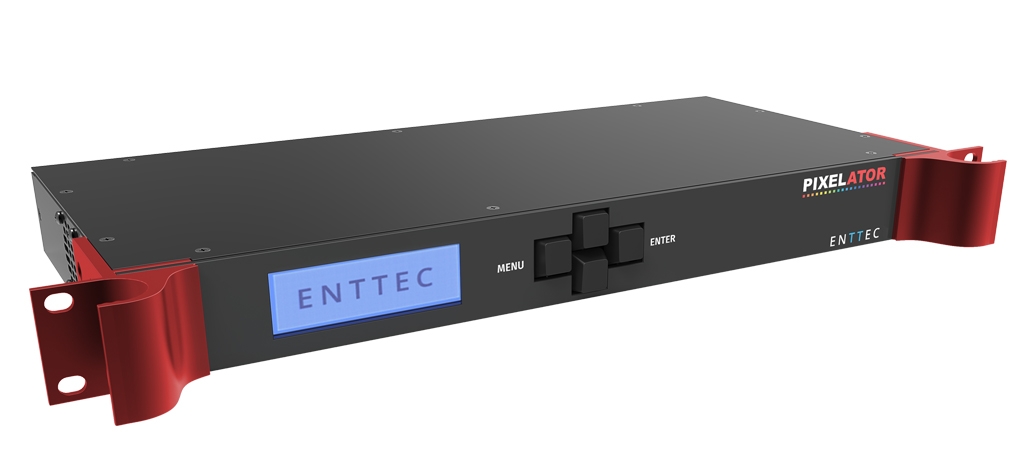 Outstanding performance, with rock-solid LED pixel mapping, and perfect synchronization across 24 outlets in Sync mode. The Pixelator has the power to output 8,192 RGB pixels in total, thanks to brilliant ENTTEC engineering.
Dual core CPU clocked at 2Ghz
This processor is exactly what you need if you want to receive a mixture of input protocols and output to thousands of pixels and ensure that they are always synchronized with the input. Efficient and revolutionary, the Pixelator has the best brain and eats major Ethernet protocols for breakfast, lunch and dinner to bring you 24/7 performance that never gives up or lets you down.
Supports a wide range of LED pixel strips and dots
See Downloads section for a comprehensive table showing all LED protocols currently compatible with the Pixelator and PLink system.
Super efficient DDR3 RAM
Fast blazing memory to suit the immense processing power, ensures a brilliant output at all times. Why settle for slow clunky units, when the Pixelator is the best choice for Pixel mapping installations, around the globe.
Web-based Configuration
Use any modern web browser to manage your Pixelator. Create, edit or copy your own profile to suit the requirements of your project and view the input data stream live using the Stream Auditor. The revolutionary Profile Editor is the easiest way to configure each of the 24 ports to behave the way you need to.

Multi-Protocol Support
Art-Net 1/2/3
sACN
ESP
Kinet
Input/Output
24 PLink output ports on RJ45 (Pixel Link Data)
1 RJ45 Ethernet port
Jumbo Frame support
1 RS232 input for profile selection via serial command. Note: RS232 is not supported by RevC devices produced after April 2020.

Compatible Apps
Recommended App: ELM
ELM: ENTTEC LED MAPPER provides total control over your LED system, regardless of shape and size.
Design your layout with vector-based objects for maximum precision and flexibility.
Load the media of your choice and begin playback as needed.
Supports Spout and NDI.
Supports RGB, RGBW, RGBA, RGBAW/RGBWA and White fixtures.
Featured Projects
Downloads
Documents
Pixelator firmware
Over the lifecycle of this product, incremental improvements have been made to its hardware and core operating system to ensure it remains current. The functionality remains the same. There have been RevA, RevB & RevC versions of this product, each requiring its own version of firmware. To determine the version of firmware your device requires, navigate to its home page. If unsure, contact our technical support team with a screen grab of your device's home page. – Note: No Firmware updates have been issued for the Pixelator RevC to date.
Pixelator Profiles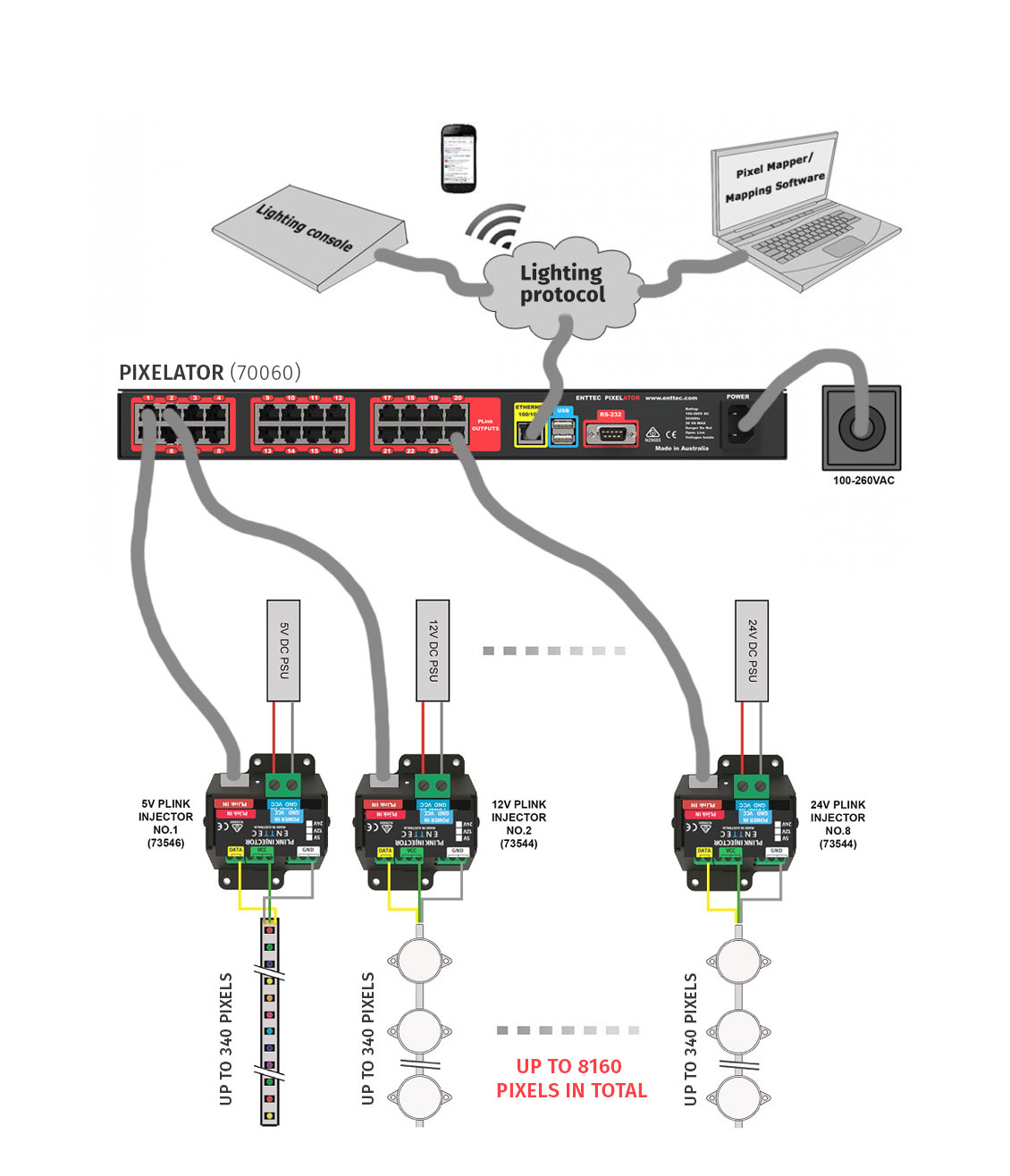 Related products