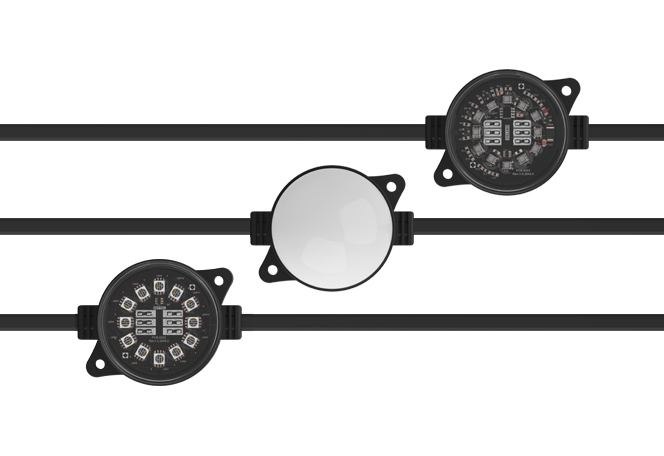 Built in our state-of-the-art Australian HQ and shipped worldwide, SMART PXL 60 dots are hi-resolution, high lumen output individually-addressable RGB/RGBW direct-view pixel luminaires, available in 24v or 48v for extended cable lengths.
Ideal for creating complex shapes and extensive dynamic and media driven set-ups for architectural, commercial and entertainment projects.
An individually-addressable, direct-view LED pixel dot luminaire available in 24V or 48V with versatility at its core.
Meet the SMART PXL 60 dot.
SMART PXL 60 dots have been engineered to bring you crisp lighting effects while adding a stylish design element to your indoor or outdoor venue or pixel light installation. Perfect for your next project light installation.
Their 16-bit high resolution dimming and option for RGB or RGBW light engines enables you to display smooth animated graphics, achieving soft pastels and saturated colours on a large scale with ultimate precision and dimming control, the perfect outdoor project pixel lights.
See the product datasheet for full customization and ordering options. Our team is ready and waiting to answer any questions you may have.
Unlike linear luminaires, SMART PXL dots give you bendable, adjustable strands of LED nodes that you can configure and arrange as your project requires. Also, the 48V variant allows for long distances to be achieved without the need for multiple power re-injections along the cable run length.
The pixel lights are exceptionally easy to install on surfaces or catenary, thanks to their rear mounting tags.
Each dot is auto-addressing, meaning all that's required is to plug each string together, add power and data. Therefore, there's no need to configure each node individually.
Most importantly, SMART PXL dots allow you to achieve a smooth installation with impressive results quickly.
Designed and made in Australia.
Designed and made in-house at ENTTEC's Australian factory to withstand the harshest of environments, SMART PXL 60 dots are available with a number of lens options and a maximum light output of up to 65.0 lumens RGB or 110.4 lumens RGBW.
Simply calculate how many dots you'll need, pick the lens that best suit the design of your project, and you're away!
SUITABLE FOR INDOOR + OUTDOOR APPLICATIONS
Entertainment + live lighting
Art + museum installations
Low resolution screens
Architectural spaces
Observation wheels
Warning indicators
Façade lighting
Bridge lighting


… and so much more.
The SMART PXL range, created
by lighting professionals … for lighting professionals.

16-bit native for an ultra-smooth dimming curve and mixing detail that will truly wow your audience. Alternatively, run them in 8-bit mode with an ENTTEC control system to halve the required control channels.

Each SMART PXL node contains 12 premium LED chips, giving an impressive lumen output with a variety of different lens options to choose from.

Constructed from premium durable materials in our Melbourne factory, SMART PXL dots offer outstanding protection against moisture (IP67), corrosion and impact (IK10), and come with a 3-year warranty. The perfect outdoor pixel light for all projects.

Offering outstanding protection against moisture and corrosion, SMART PXL internal components are fully-potted (encased in resin) for waterproofing as well as resistance to shock and vibration. Making them the ideal project lighting choice.

We use custom made quality cable to combat voltage drop. And by choosing a 48V system, you'll be able to achieve runs of up to 160 dots without power injection, depending on string customisation. Contact our sales team and we'll help you choose the best pixel light options for your needs.

Flexibility is key:
Because your projects are built to custom specifications,
so are our SMART PXL dots.

With a high-resolution and high-lumen output, each string can be used to create complex shapes and dynamic, media-driven set-ups for architectural, commercial and entertainment projects.
At ENTTEC we understand that no two projects are the same, so we've designed the SMART PXL 60 to offer expansive custom options:

RGB or RGBW
Select between RGB (up to 65.0 lumens) or RGBW (up to 110.4 lumens) pixel light engines for accurately replicating video content or precisely tuning colours.


24V or 48V
Choose between either 24V DC for wide compatibility with other variants of SPXL dots and other fixtures, or 48V DC to combat voltage drop for extended cable run length with minimal power re-injection for larger projects.


Lens
Select from 2 lens options made from robust optical-grade polycarbonate.


Pitch
Customise the pixel pitch anywhere between 150mm – 1500mm.

Every string of SMART PXL 60 dots is built to order at our Melbourne HQ using the latest in manufacturing techniques, before dispatch to projects worldwide.


TECHNICAL SPECIFICATIONS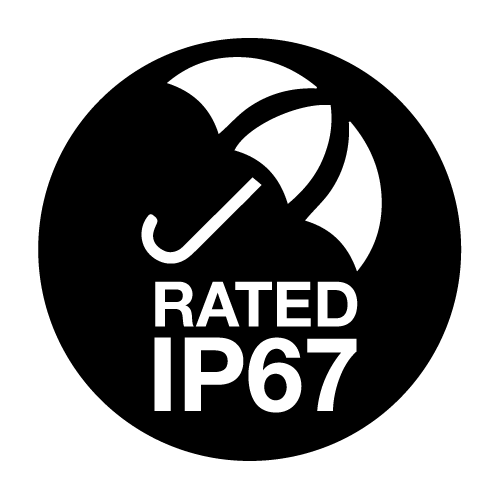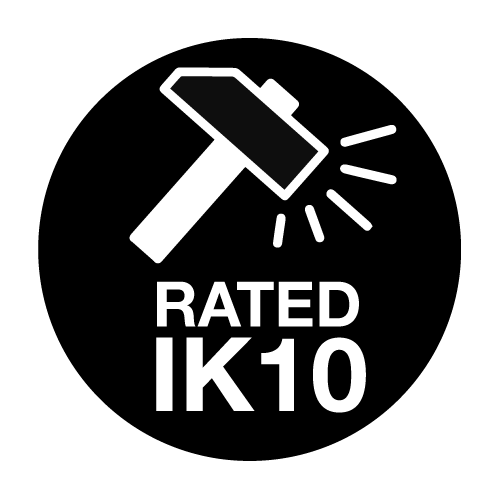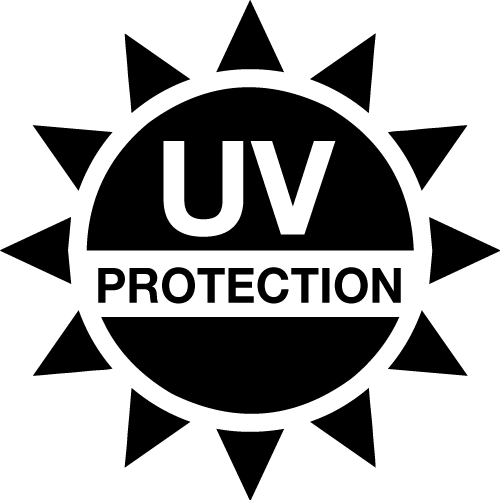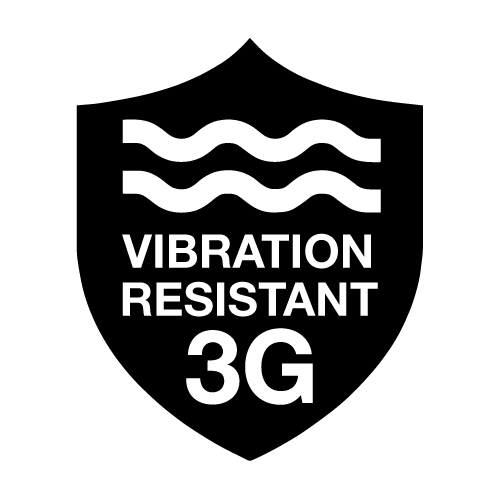 Lumens per dot

24V RGB:
Clear flat: 65.0 / Diffuse dome: 47.9
24V RGBW:
Clear flat: 110.4 / Diffuse dome: 87.3
48V RGB:
Clear flat: 63.5 / Diffuse dome: 45.7
48V RGBW:
Clear flat: 101.4 / Diffuse dome: 76.7
LED Channels

RGB: Red/Green/Blue
RGBW: Red/Green/Blue/White
Applications Direct view
Environment Dry/damp/wet – Rated IP67
Warranty 3 Year return to base manufacturer warranty
Input Voltage 24V DC or 48V DC
Power Consumption 2.5W (RGB) / 2.5W (RGBW)
Housing Material Injection molded PVC – UV resistant (IK10 impact)
Lens Material Optical grade polycarbonate
Pixel Pitch Customisable between 150mm – 1500mm
Weight Approx. 70g/dot (excl. lead in & out)
Operating Temperature -20°C to +50°C
LENS OPTIONS
All SMART PXL dot lenses are manufactured in our Melbourne HQ from robust optical grade polycarbonate using our specialised processes.
Select from Diffuse Dome or Clear Flat for the highest pixel light output when integrating into signage or into set.
SMART PXL 60 dots are RATED IP67 to always perform at their best.

Even if the weather doesn't.
RESOURCES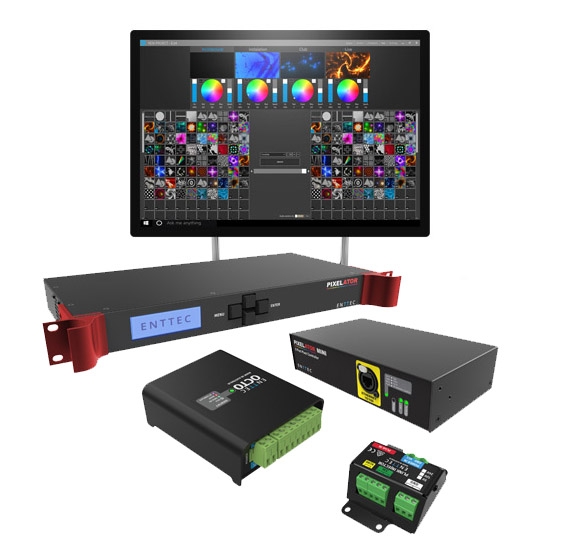 Accessories
We're firm believers that well-considered design is key to a successful installation.
Our team have created a leading range of innovative accessories with premium cabling and connectors to support your project and make specifying and installing the SMART PXL series simple.
24V and 48V accessories feature different pinouts to prevent damage being caused when using different voltages.
Explore these excellent options HERE.
Control your SMART PXL dots
SMART PXL dots operate using DC power and use the ENTTEC SPXL control protocol.
ENTTEC's control products provide efficient ways to connect SMART PXL dots to an IP network to provide a simple, scalable control system.
The system best suited to you will depend on your project requirements and the number of SMART PXL DOTS you plan to control.
so, find out more HERE or talk to us about which RGBW/RGB pixel light choices will be right for you.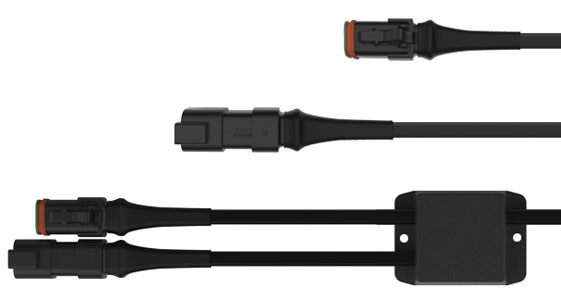 WE CAN HELP
SMART PXL dots can be used in practically any situation, and the role that they play is limited only by your imagination. Whether installed as the main focal point of your design, or in a more subtle way to create general ambience, SMART PXL dots will add a distinctly professional finishing touch to your project.
If you can dream it, there's always a way of making it happen with these RGB/RGBW pixel lights. With plenty of custom options and features available, we can help you design the perfect system for your needs.
So don't be afraid to talk to us if you get stuck!