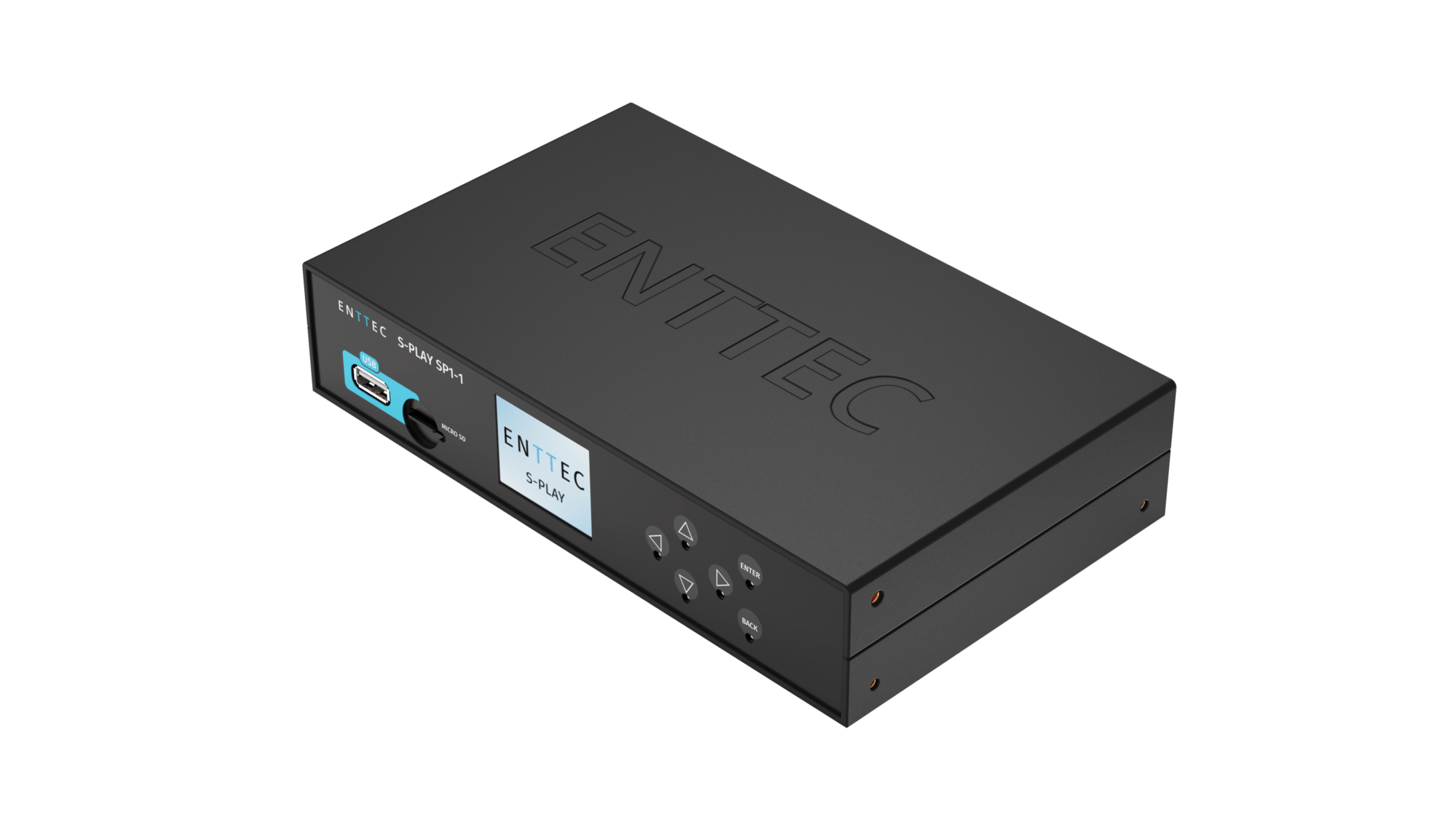 S-PLAY – Smart light show controller
Engineered for projects that require precise automation, the S-PLAY smart light show controller is your all-in-one solution for the recording, triggering, and activation of not only light shows but video, non-lighting events, and much more.
5 in stock
$2,300.00
The revolutionary smart show controller for hassle-free, professional light shows
and automated projects.
Engineered for projects that require precise automation, the S-PLAY smart light show controller is your all-in-one solution for the creation, recording, triggering, and activation of not only light shows but video, non-lighting events, and much more. Play back multiple shows simultaneously and install it virtually anywhere with flexible mounting options.

Say hello to S-PLAY:
The smart controller for light shows.
In simple terms, think of it as being like a scene & animated effect creation engine, a 32 universe DMX recorder & playback engine and host for control interfaces that can send multiple AV specific protocols all rolled into one.
With a built-in effects generator and intuitive, onboard controls to record, edit, schedule and play scenes, you don't have to be an experienced lighting designer or systems integrator to conjure up amazing shows using our smart light show controller, but your audience will think you are.
Plug and play show control technology has never before looked so good or been this easy to master … or extend! With the multiunit sync feature, you can link and control additional S-PLAYs from a single interface, making it a breeze to expand your universe count.
You can even create your own custom web interfaces too – allowing you to present your end users with as much or as little control as they need!
With countless applications from theatrical or entertainment events to architectural design and smart home integrations, the S-PLAY is the dream companion for any automation project. You can even remotely access your S-Play from anywhere in the world via the internet or a 4G router!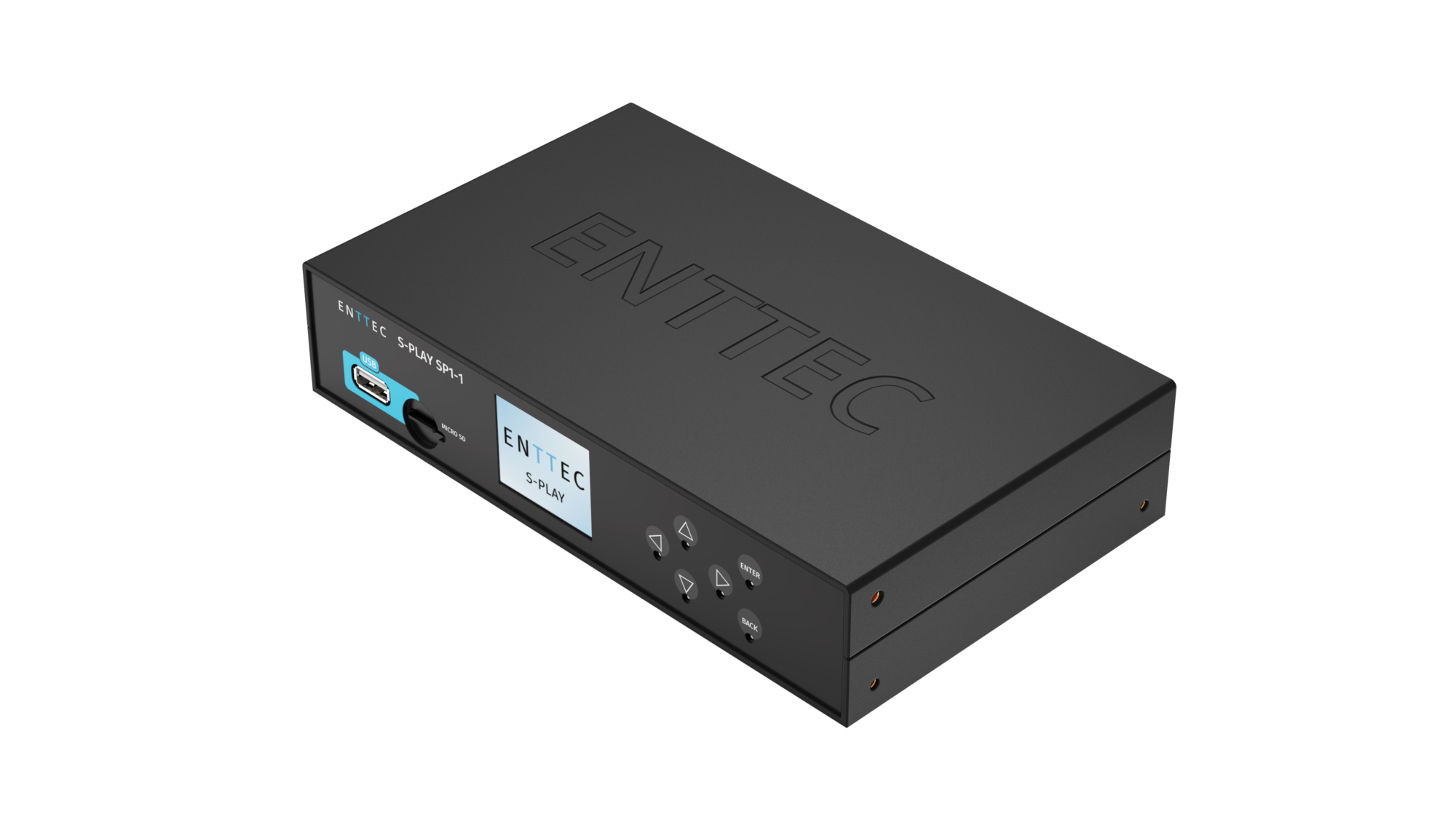 Use the web interface to manually create static scenes, RGB(W). Create Effects & Gradients. Alternatively, you can record up to 32 eDMX universes through either sACN, Art-Net, or two physical universes using the S-PLAY's rear DMX ports.

Using the intuitive timeline editor, multiple recordings and scenes can be stitched together whilst adding popular AV specific triggers such as OSC, UDP, contact closure and more, allowing the S-PLAY to integrate into the heart of any control system.

Play back multiple shows simultaneously using the internal scheduler, your own custom user interface, or when triggered in real time by building automation software (e.g. Control4), iPad Apps, pressure pads, motion detectors, push buttons and much more!

Why S-PLAY? Let's take a closer look.
Do you need to run a light show featuring DMX or LED pixel control without leaving a laptop or computer on site?
With a huge 32U of playback, plus the complete flexibility that the S-Play triggers, events, and onboard effects provide, our S-Play show controller will take your installs to a level you never knew possible. To discover how, we'll walk you through some of S-PLAY's key features and processes.
Let's begin with some simple terminology that we use for ease of operation when describing the main functions: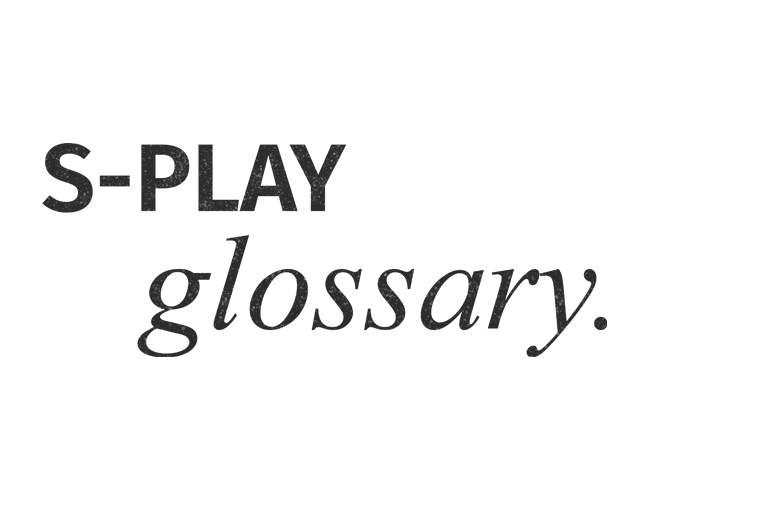 CUE: The basic building block of your show – can be a static scene, an effect/ generated generated by the S-Play, or a dynamic recording.
TRIGGER: Control information transmitted into the S-Play, allowing for the activation of a cue/playlist.
EVENT: Control information transmitted out of the S-Play, allowing for the activation of an external device.
PLAYLIST: A sequence of cues, effects, triggers, and events that are activated on a timeline.
INTERFACE: A user-definable set of buttons and sliders to control a playlist. This presents end users of the installation with a scalable web page that displays only the playlist controls they need and adapts to their screen size.
SCHEDULE: An action that can either play, pause or stop a playlist based on a fixed time, moon cycle or inline with sunrise and sunset.
Basic setup.
Ever wanted to know the perfect recipe to make a stunning yet simple interactive and automated LED lighting setup?
Join our head chef, Nic, as he takes you through a basic configuration using the S-PLAY and a button to flick between cues. We'll also take a first look at the S-PLAY's intuitive web interface and learn the meaning of the terms in the above glossary. Follow this easy lesson and you'll be up and running in no time!

The Interface.
While S-PLAY's handy onboard LCD menu is perfect for accessing key functions, especially while your show is underway, it's the dedicated browser interface where you'll get to experience the full power and versatility of S-PLAY at your fingertips.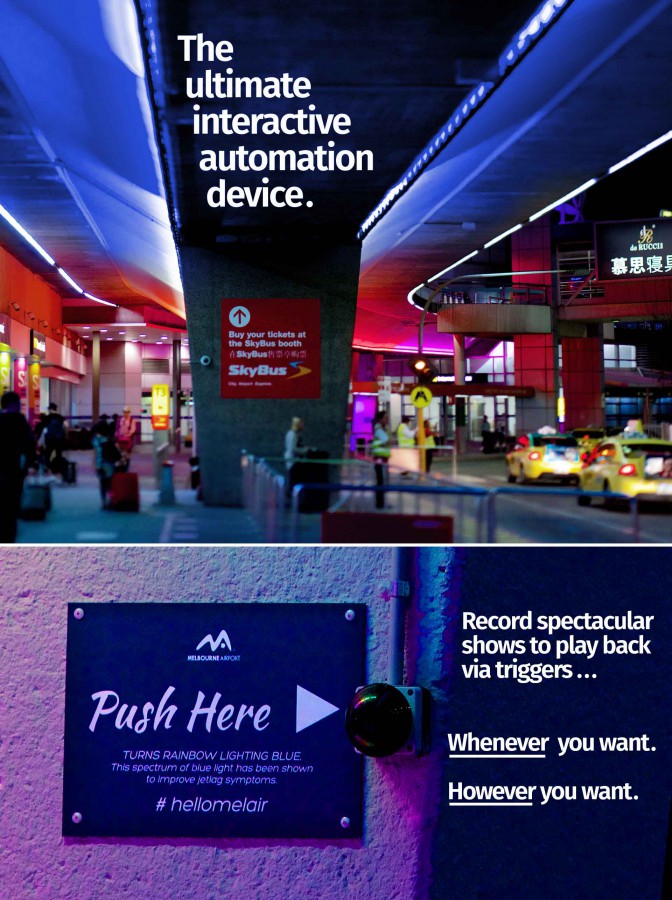 Create static or dynamic cues
Static scenes:
Individually add or bulk assign DMX values to channels, or simply record them from a DMX source.
Effects:
Creation of basic pixel effects allowing for BPM, colour and speed to be set for a range of pixel types for a user-defined time period.
Dynamic recordings:
Record a DMX source using the five-pin XLR ports, or Art-Net or sACN data via the network port.

Start and stop recording manually (perfect for simple, non-looping sequences), or configure precisely using remote triggers via the S-PLAY's web browser home page (for more complex or seamlessly-looping shows).
The SPLAY's internal and removable storage options allow for complete flexibility to accommodate incredibly complex shows. Save your recordings using the S-PLAY's impressive 8GB internal memory, or expand your storage capacity with a micro SD card via the handy slot on the front of the unit.

ENTTEC recommends Class 10 (minimum write speed of 10MB/s or higher) for best performance and have successfully tested cards of up to 64GB capacity. (Over a week's worth of 32 universe playback!)
Playlists
With easy access to your entire cue library within the web browser, simply drop your dynamic recordings, static scenes, effects & gradients onto the timeline to create a playlist, then drag each cue around to set start and end times or transitions such as fading in or out.
Group multiple cues together in a sequence to be stored and played back at will. The S-PLAY's engine also allows for multiple playlists to be triggered at the same time with varying priority levels or to allow only one playlist to be active per group.
Triggers
With support for OSC, RS232, UDP, DMX, Art-Net, sACN protocols and digital contact closure inputs, you can trigger the S-Play with a number of external devices.
Use the four dry contact inputs (GPIO) with sources as varied as a switch on the wall, a BMS dry contact relay (e.g. to allow DALI systems to control DMX playback) or even a PIR motion sensor. Save and name your trigger, then simply drag it onto the playlist timeline sequence to create new possibilities for users to interact with your lighting.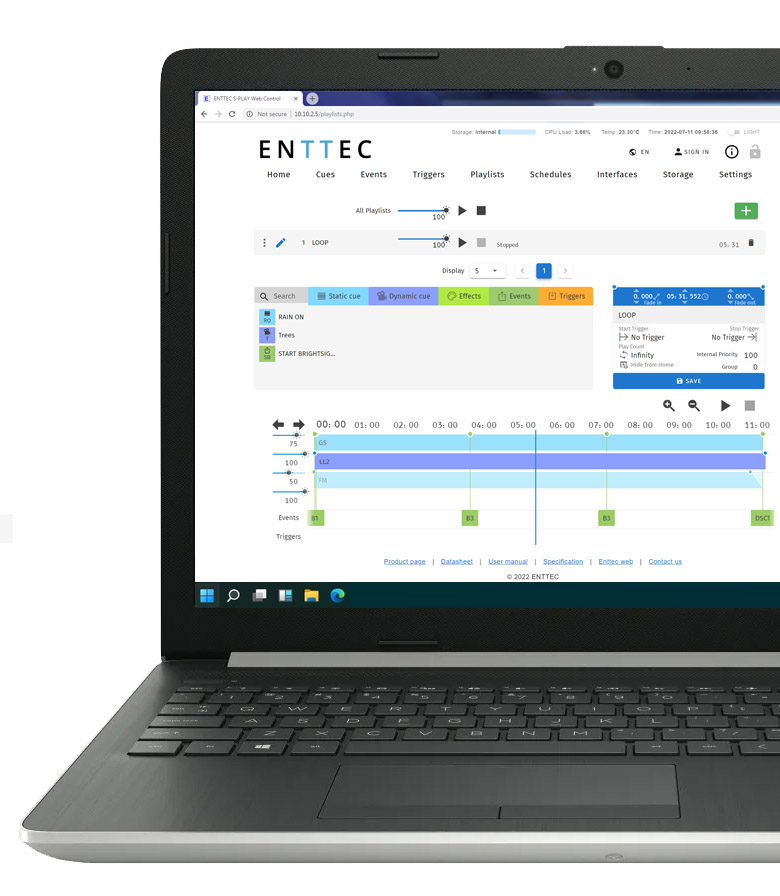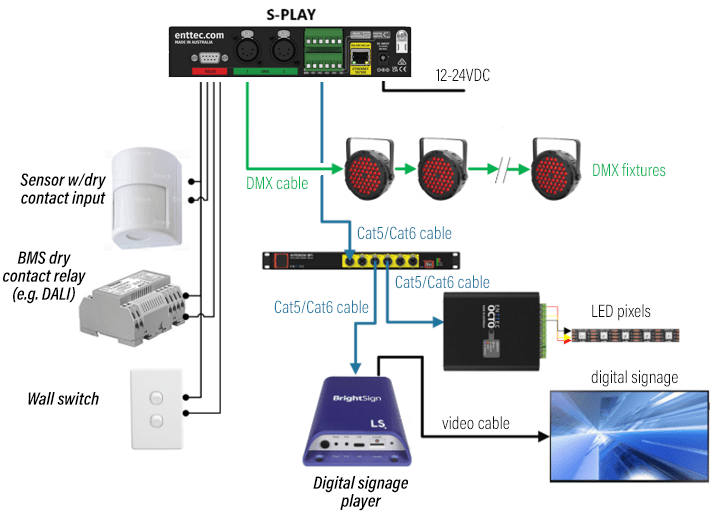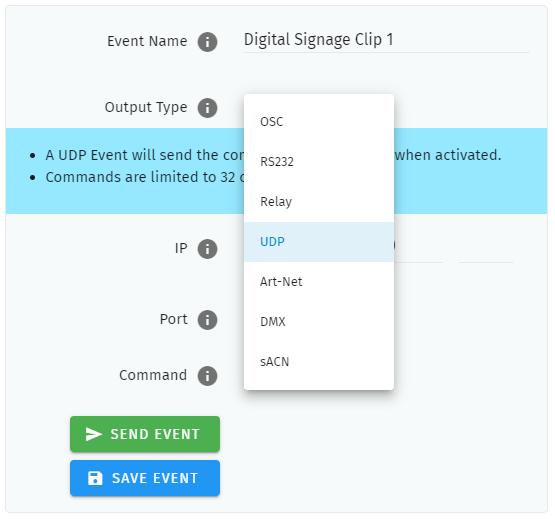 Failsafe
In the event that an external 3rd party device fails (preventing the triggering of an event within the S-PLAY), you can override and advance your playlist manually by simply pressing 'play' on either the intuitive LCD or custom web interface … and your show will continue as if nothing had gone wrong!
Interfaces
Users can easily control the S-PLAY's shows from a remote device such as a laptop or smart phone.
Provide as much or as little control over the system as your client needs by creating custom web interfaces with buttons and sliders to allow end users to control your playlists.
Set an interface to be the S-Play's default landing page.
Scalable, responsive design that fits various display sizes.
Playback controls for all playlists (play/pause/stop).
Playback control for a specific or all playlists
Custom colour selection.
This is an effective way for users with little technical experience to interact with the S-Play without the risk that they may accidentally change playlist settings or break anything!
LED pixels
First and foremost, the S-PLAY was designed to be your go-to unit for control of LED pixel shows, which is why – in addition to the two DMX ports that can be assigned as outputs for your more traditional DMX fixtures – the S-PLAY also features the ability to playback sequences via sACN or Art-Net up to 32 universes!
By using a combination of ENTTEC's pixel control products, you can easily expand your options to get up to 32U of pixel control. Alternatively, connect our eDMX Gateways for more DMX outputs. Still need more universes? Just add more S-PLAYs using the multiunit sync function!
The S-PLAY is far more versatile than you might imagine. With its ability to coordinate and control many different components of an entire performance, S-PLAY allows you to integrate so much more than just lighting into your project.
Events
With the ability to create and name Events, you can use relays, UDP, RS232 or OSC to activate equipment as part of a live show or sequence, such as curtains or hydraulic effects that need to operate at a precisely-calculated moment.
What's more, Events can be used to generate short bursts of Art-Net, DMX, or sACN data to control fog machines or fans as well as lights with a higher priority than all active playlists.
An Event in one playlist can even be used to activate a Trigger in the same or another S-PLAY unit! The only true limit to the variety of external factors you can control using S-PLAY is your imagination.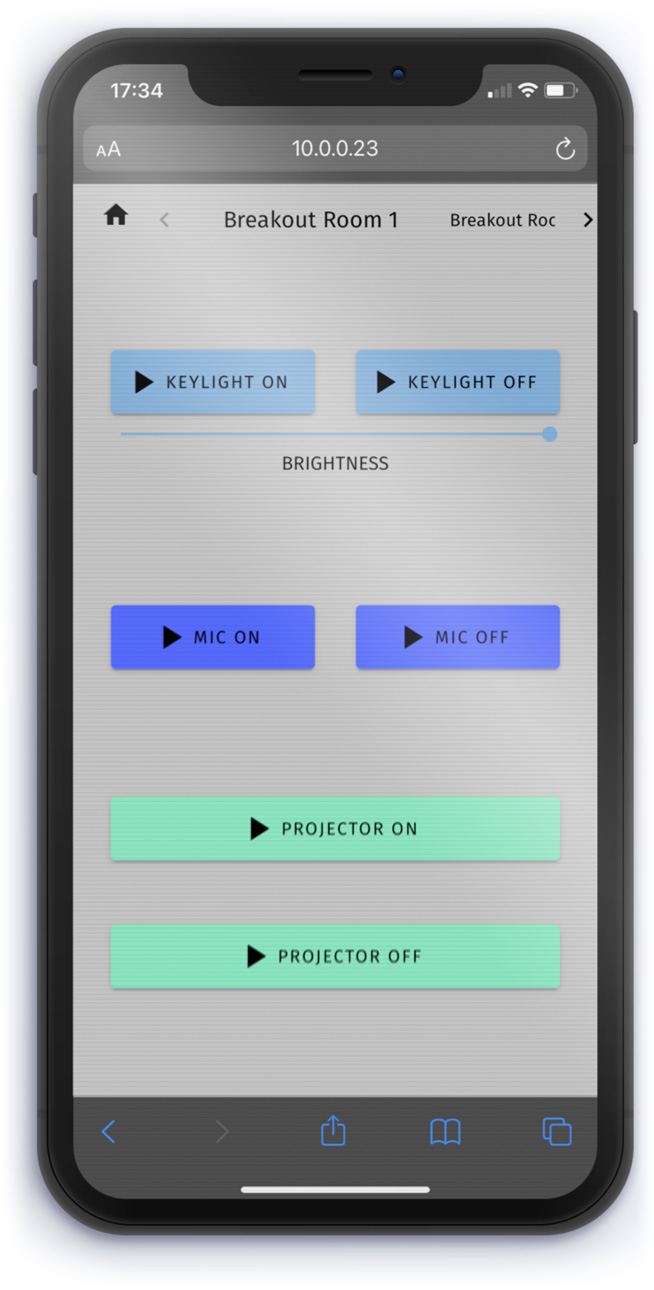 Hardware.
Reliant on ENTTEC's EN-Case design, the S-PLAY's hardware makes it simple to install in a range of scenarios straight out of the box without the need to purchase extra accessories.
Integrated LCD menu
The small details matter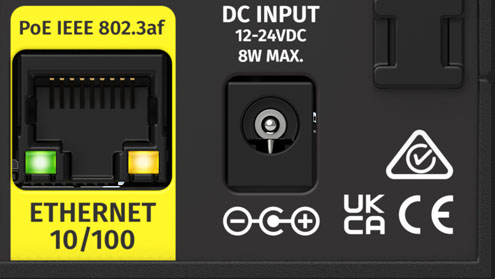 Integrate.
Unlock a world of potential by integrating the S-Play into your existing automation setup for access for up to 32 universes of lighting control and triggering. Just some of the automation systems you can integrate the S-Play and protocols they use can be found below:
Home Automation
Building Automation Management
Conference Rooms
Façade Lighting
Art Installations
Hotel Lighting
System Control
Hospitality Lighting
Architainment Lighting
Suitable Lua script files are available for the Schneider Electric EcoXpert LRC channel for integration of the Splay controller to C-Bus products using the; 5500NAC2 / 5500NAC &5500AC2 / 5500SHAC
Please contact a Schneider Electric EcoXpert for integration assistance or the Schneider Electric AU "TSO TEAM" at project.services@se.com

The core of your installation.
It's not only the S-Play's software that makes integration a breeze. It's flexible hardware and I/O options mean connection to other devices on any surface is simple. By pairing it with other ENTTEC products you can create powerful infrastructure and control systems easily. Take this system for controlling large quantities of LED strip put together by New Aspect Design to dim multiple LED zones from triggers or to a schedule.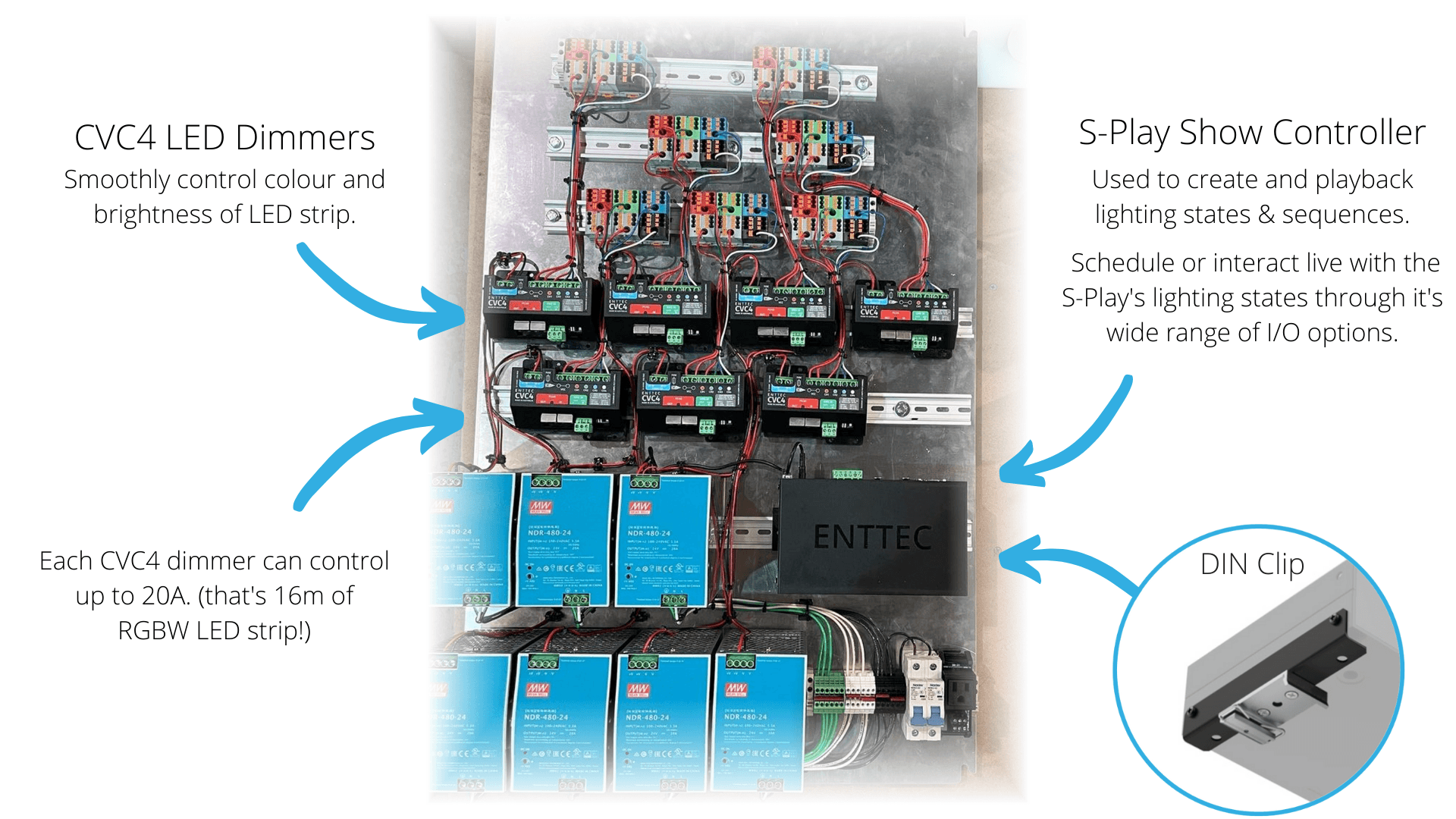 Find out more about our high resolution CVC4 LED Dimmer here!
Combine the S-Play show controller with other ENTTEC devices such as the Storm8 Ethernet to DMX Gateway to give you more physical DMX outputs on your network, or the Pixelator Mini LED pixel controller make control of LED Pixel installations simple.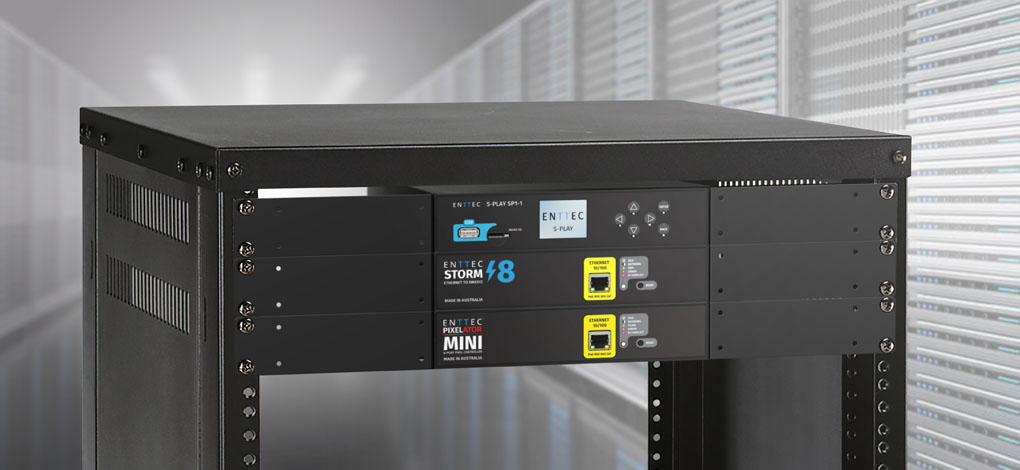 Features
Reliable, compact solid state design: the perfect tool for installations.
In-built controls to create, record and play cues.
Web based scene, gradient generator and FX engine allowing full show creation to be carried out on the S-play itself.
Internal memory (8GB) supporting over 10 hours of 32 universe recording at 44FPS (plug in an external Micro SD card to increase this recording size up to 64GB).
Up to 32 Universes of Art-Net and sACN recording & playback.
Monitor DMX values when recording cues.
Variable Art-Net/sACN refresh rate (60FPS max.).
Four digital inputs to trigger device from external sources.
Two-Universe physical DMX input or output.
Two relay outputs to control external devices.
Create playlists from dynamic, static and internal effect cues.
Send options: RS232, UDP, OSC, Art-Net, sACN, DMX & Digital Inputs.
Remote trigger options: RS232, UDP, OSC, Art-Net, sACN, DMX & Digital Inputs.
Create custom web interfaces.
The rear of the unit is packed with useful I/O making the S-PLAY ready for virtually any project:

Inputs / outputs
10/100 network port with Power over Ethernet (If you are not using PoE, the S-PLAY supports a direct 12-24vDC power input through a DC jack).
2 x bi-directional 5-pin XLR DMX Ports for recording or playing back shows.
Bi-directional serial port to send or receive RS232 commands.
4 x Digital contact closure inputs for detecting switching.
2 x change over relays for controlling analog or switchable hardware.
Downloads
If your S-Play has a firmware version lower than 1.1.0 or you are experiencing issues when updating firmware, contact our technical support team with a screen grab of the Software Information section that can be found on your S-Play's web interface at the bottom of the Status Page. They'll be able to point you in the right direction to get you up and running with the exciting features available in our latest firmware release.

S-PLAY Quick Start guide.
Once you've got your S-PLAY (or even beforehand if you want to see how easy it is to use), check out the videos below for some introductory lessons where we'll walk you step-by-step through some of S-PLAY's key operation processes. You'll be up and running in a flash!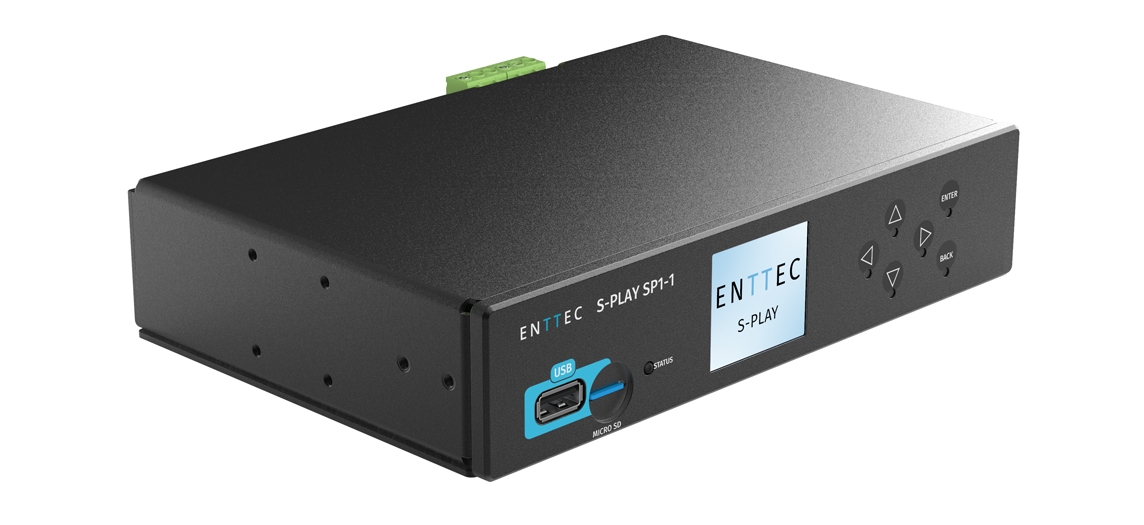 Introduction to Playback Configuration
You asked, we delivered!
This video gives an introduction to the S-Play Playback Configuration options on the Settings page, introduced in the v1.6.0 firmware release.
Send black frame on playlist stop.
Restrict to one active playlist per Group.
Introduction to Interfaces
You asked, we delivered!
This video gives an introduction to the S-Play Interface page, released as part of the S-Play v1.6.0 firmware release.
Create a custom web interfaces with colours to suit your brand, define Widgets with, Stop, Pause and Play and intensity controls.
Introduction to the Scheduler
This video gives an introduction to the S-Play's Scheduler Page.
Released as part of the S-Play v1.6.0 firmware release. The scheduler page allows time-based schedules to start and stop individual playlists, or playlists device wide.
The S-Play features an NTP server that allows it to automatically update it's system time when connected to the internet. It can calculate sunrise and sunset times.
Introduction to Triggers
This video gives an introduction to the S-PLAY's Triggers page, released as part of the S-Play v1.4.0 firmware update.
Use Triggers to receive commands from external devices, or detect changes on the S-Plays digital inputs on the rear of the device.
Combine Triggers these with the S-PLAY's Playlists and Events and you've got one powerful control system.
Introduction to Events
This video gives an introduction to the S-PLAY's Events page, released as part of the S-Play v1.4.0 firmware release.
Use Events to interact with third party devices, trigger multiple internal lighting playlists or control the S-Plays inbuilt relays.
Combine Events these with the S-PLAY's Playlists, Schedules, Interfaces and Triggers and you've got one powerful control system.
Creating Static Scenes
This video gives an overview of Creating Static Scenes on the S-Play.
Static Scenes are fundamental building blocks of any light show.
The S-Play features the option to grab up to 32 universes of complex lighting states from external lighting consoles for manual editing, or allows Scenes to be created from scratch using the channel grid and colour picker.
The S-Play allows a virtually unlimited number of scenes to be created, each can be layered, have fades applied or brightness adjusted in the timeline before playback.
Creating Dynamic Cues
This video gives an overview of Creating Dynamic Cues on the S-Play.
Dynamic Cues are fundamental building blocks of any light show.
The S-Play features the option to record up to 32 universes at up to 60FPS from an external lighting console.
Preview a live output of what's being recorded in real-time on your DMX ports or convert it to a different eDMX protocol or universe.
Use the 'Perfect Loop' function to create precise frame accurate looping content.
The S-Play allows a virtually unlimited number of scenes to be created, each can be layered, have fades applied or brightness adjusted in the timeline before playback.
We can help!
The S-PLAY can be used in practically any situation that requires the precise automation of lighting or other electronic equipment.
Every project is different, of course, so we can help you design the perfect system for your specific needs. Questions are always welcome.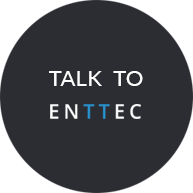 Add these products for a winning show.