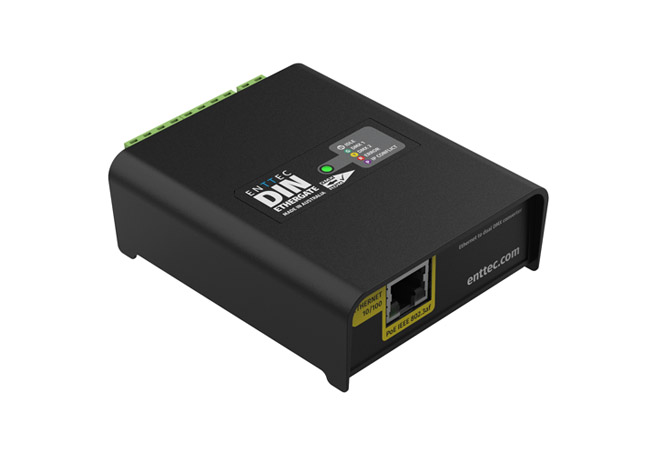 With 2 universes of bi-directional eDMX to DMX conversion with ArtRDM support, power over ethernet (PoE) or flexible 7-24v DC input, the DIN Ethergate allows for fast deployment of DMX systems.
Out of stock
$250.00
Next-generation Ethernet to DMX/RDM gateway
The DIN Ethergate is a robust and reliable, installation-grade, Ethernet to DMX converter that has been engineered to connect physical DMX devices to your Ethernet network infrastructure. Now you can expand your network entertainment project to the next level.
With two Universes of bi-directional eDMX to DMX conversion with Art-RDM support, the DIN Ethergate is compatible with a wide range of devices and allows for fast deployment of your DMX system. Simply connect, configure and take control!
In addition, this Ethernet to DMX/RDM gateway is packed with installer-friendly features for fast installation and configuration, all managed through the user interface. All contained within a compact and electrically-insulated 4-DIN-module width unit form factor.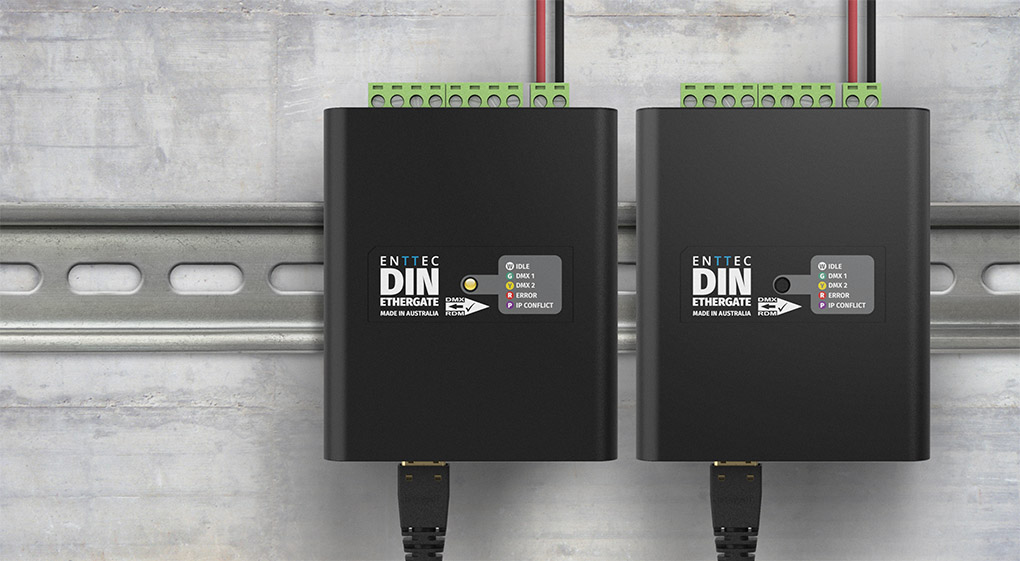 In a nutshell

Protocols
The DIN Ethergate's primary functionality is to convert between Ethernet-DMX protocols and USITT DMX512-A (DMX). The following conversions are available with the DIN Ethergate:
To learn more about these functions as well as other protocols that the DIN Ethergate is capable of handling, please check out the user manual.

Features
Easy web page configuration
The configuration is managed through the localhost web interface to simplify commissioning and updates as well as to allow the DIN Ethergate to be configured from any computer on your network.
Flexible power options
Power the DIN Ethergate using IEEE 802.3af PoE (Power over Ethernet) or DC 7-24v input.
Sync mode
All ENTTEC Ethernet hardware accepts ArtSync to fully synchronize Art-Net data for all output ports and across your installation when receiving Art-Net from the same source.
Time-saving and installer-friendly
Our Ethernet to DMX converter is packed with installer-friendly features including pluggable terminal connectors and inbuilt DMX termination to simplify wiring. Also, a 'Current Port Buffer' within the web interface allows live DMX values to be viewed from the web interface to troubleshoot your installation. Upon receiving power, the device is ready to go within seconds.
Monitor activity
The forward-facing LED indicator allows your device status to be monitored quickly with just a glance.
Flexible mounting options
Featuring a 4-DIN-module electrically-insulated housing, the DIN-Ethergate's slim form includes a DIN-rail clip enabling attachment to a TS35 DIN-rail alongside the option to wall mount the device in any orientation.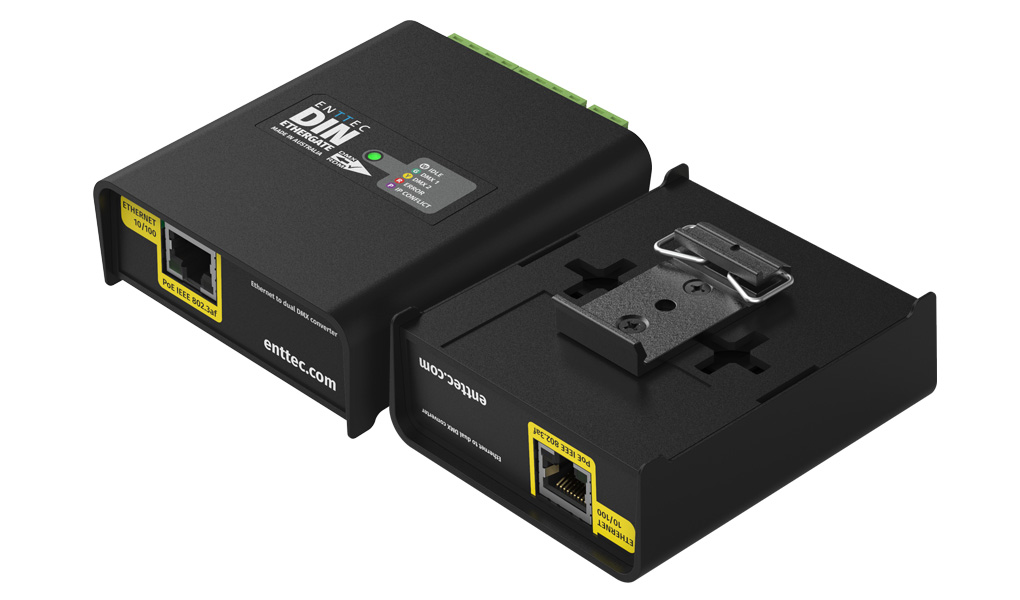 A key part of your infrastructure
At ENTTEC we've built a reputation for system compatibility and integration.
Unlock a world of potential by integrating the DIN Ethergate by pairing it with a number of well know automation systems using generic ArtNet or sACN drivers to allow you to send and receive DMX and RDM.
If your control system of choice is unable to send ArtNet, sACN or ESP, we have a solution for you! Our S-Play Show Controller is able to receive a wide range of low bandwidth input triggers and send out streams of lighting control data to DIN-Ethergates and other DMX nodes across your installation network, check it out here!
Resources
Documents
Visuals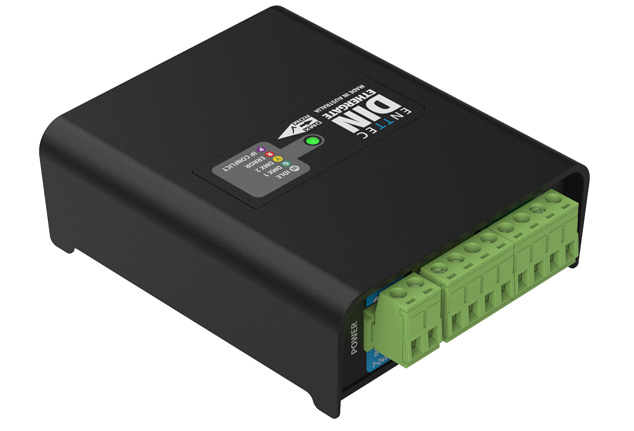 Related products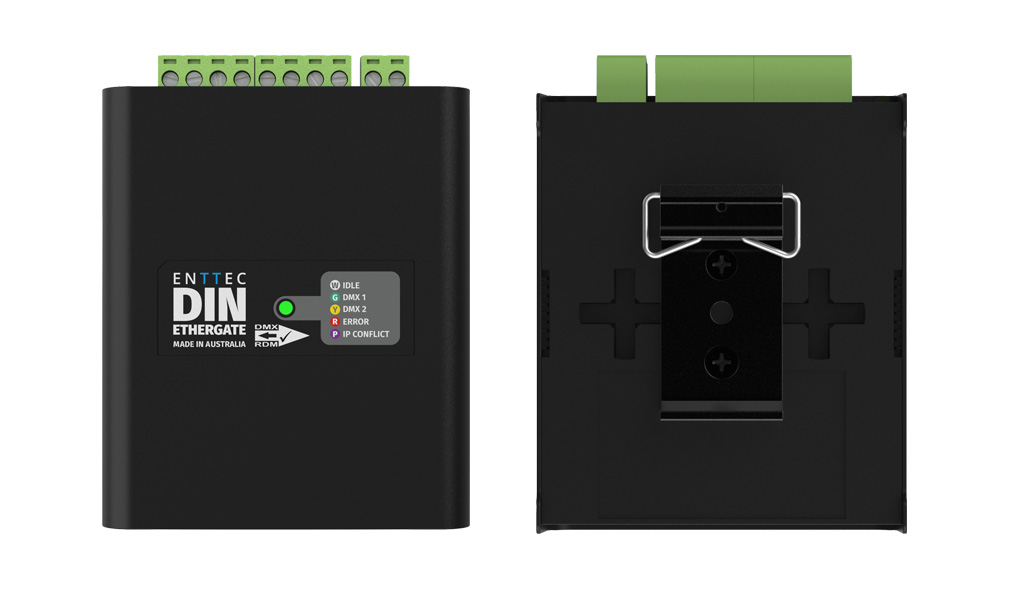 Categories: Art-Net, DIN, DMX, DMX Conversion, Ethernet, Ethernet, Hardware, RDM, sACN
Tags: ArtNet, DIN, dmx, ethernet, Gateway, Node, PoE, RDM, sACN