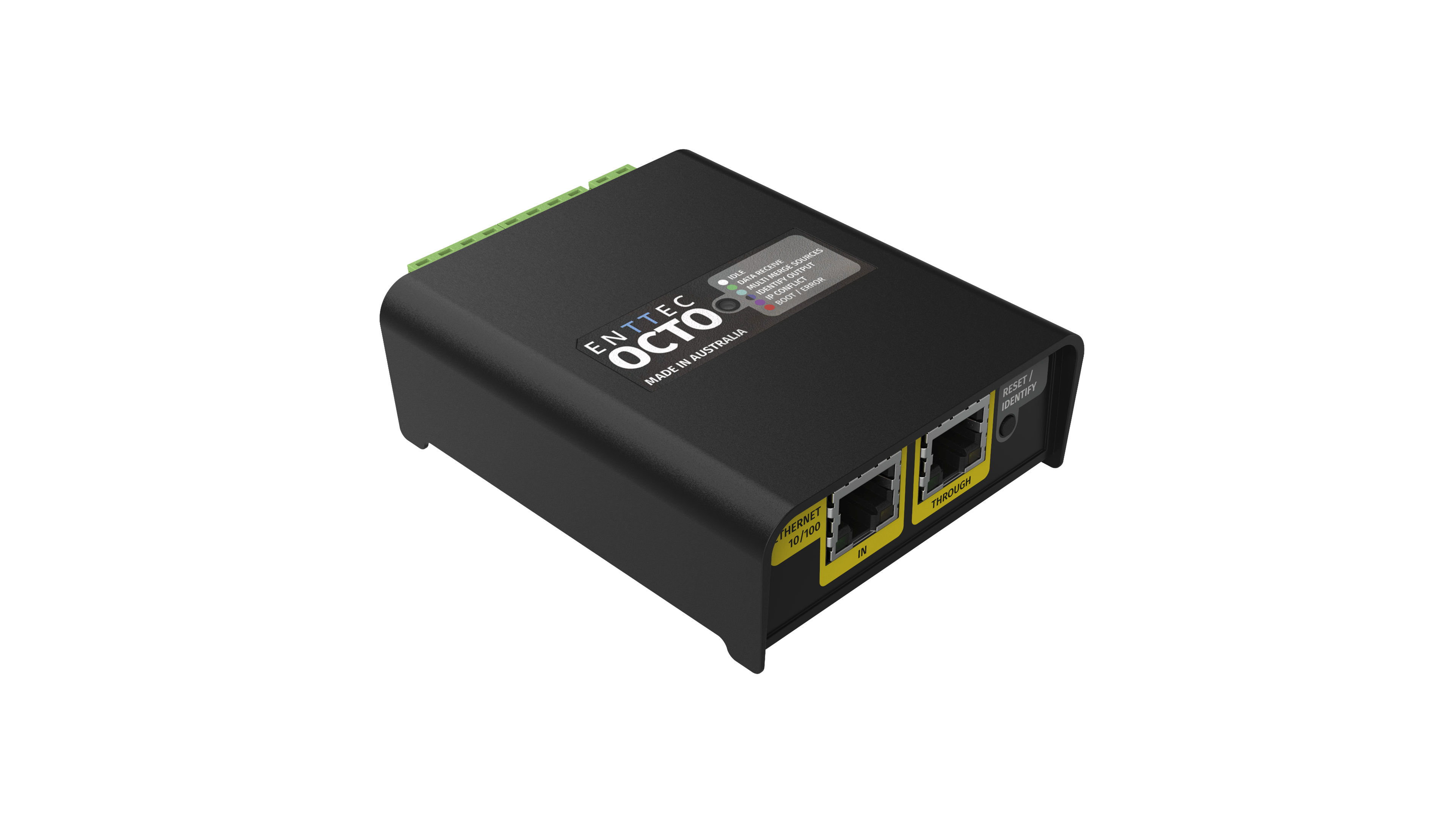 OCTO Mk2 – LED pixel controller
8-Universe DIN rail LED pixel controller
The OCTO is the NextGen DIN-rail LED pixel controller -> a pixel data converter & controller capable of controlling up to 1360 RGB LED pixels. 
Meet the little box that packs a huge punch
The latest evolution of our 8-Universe, dual-output eDMX to LED pixel data converter, the OCTO Mk2 is a robust and reliable LED pixel controller. This smart device connects directly to your pixels, engineered to take any architectural, commercial, or entertainment project to the next level.
Our DIN-rail LED pixel controller is designed for ultra-fast deployment of LED strips and pixel dot systems. What's more, the OCTO Mk2 is compatible with almost every SPI LED tape due to custom protocols and an industry-leading voltage input range.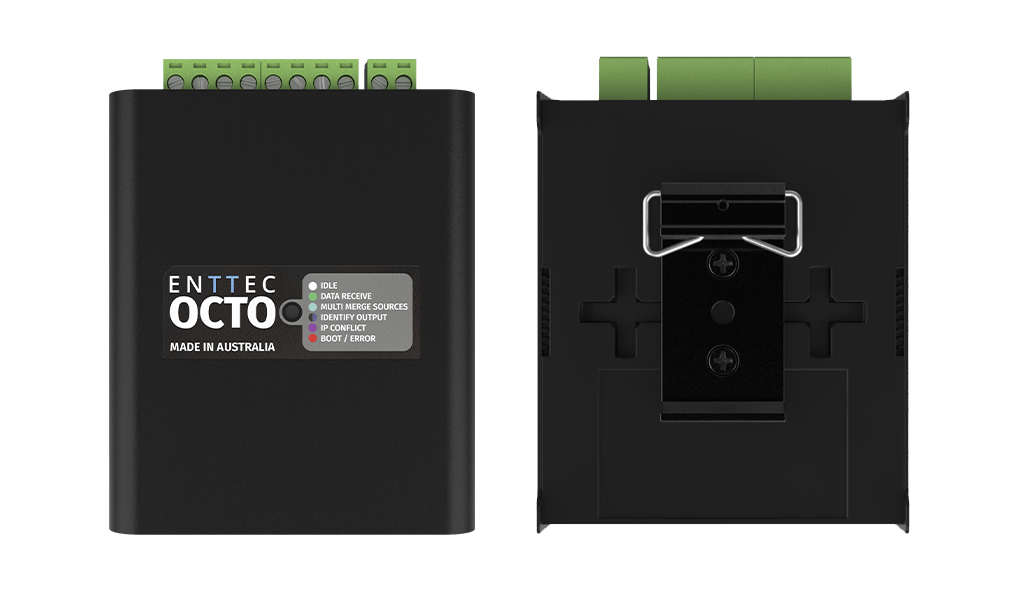 Its installer-friendly features include an identify button to check correct wiring without a data source, temperature monitoring, as well as an intuitive configuration and management through its localhost web interface. In addition, the flexible TS35 DIN rail or surface mount options and network chaining make the OCTO Mk2 the ultimate go-to LED pixel control device.

Let's get stuck in!
Features
Supports a wide range of LED strips and dots
Each OCTO Mk2 pixel controller can control up to 8 Universes of pixels (1024 RGBW / 1360 RGB / 4096 W), and more than 20 pixel output protocols in the device with and without a clock line (full list on datasheet). If you are working with a pixel protocol that is outside of this selection, custom protocols allow you to create your own protocol for the desired pixel type, anytime (two key criteria apply) without having to submit a support request for new firmware.
If the manufacturer changes the protocol settings or you are working with lights that have a different protocol to the ones supported, you simply connect to your OCTO's interface and change the settings yourself.
ENTTEC has created a "Custom Protocol Creation Guide" to guide you through the process which you will find below in the downloads section.
Note: This is only available on OCTOs with serial numbers 2374307 onwards
Perfect for tight spaces
The OCTO Mk2's compact case is capable of being surface mounted in various orientations, or fitted to a TS35 DIN rail using the DIN clip accessory included in the box.
In addition, the two network ports on the OCTO Mk2 allow multiple units to be chained together with a maximum cable length of 100m between devices to dramatically cut down the number of cable runs required. Up to 50 OCTO Mk2's can be linked per chain, though ENTTEC recommends no more than 8 per chain for optimum visual synchronization.
Professional networking
The OCTO Mk2 pixel controller supports Art-Net, sACN & KiNet™ inputs to give flexibility to your project. ArtSync to ensure all pixel and DMX outputs on projects are synchronized to stop any chance of image tearing.
The OCTO Mk2 allows either DHCP of Static IP configuration to suit your use case.
Web configuration
The OCTO Mk2's intuitive web-based configuration gives you access to configure, update, and monitor the temperature using your preferred browser from anywhere on the network.
And, to save the number of input channels required from your control software, the OCTO Mk2 features a grouping functionality to reduce input channel count whilst still controlling up to 8 Universes of LED pixels.
Wide voltage range
Whether you want to control 5V pixel tape or 60V pixel dots, the OCTO Mk2 can do it all. Its wide voltage input range gives the flexibility to power it directly from the same source as your LED pixels.
Smart features
The Test/Reset button allows installers to quickly check the wiring is correct without requiring a network connection. Simply press the button for the output to be illuminated white for 10 seconds.
What's more, the OCTO Mk2 features a pixel grouping function perfect for reducing the control channel count of your installation whilst still controlling the same quantity of pixels.
Free ELM software!
Compatible 3rd party software & applications
Check out the ENTTEC Knowledge Base to learn which third-party software is compatible with ENTTEC Ethernet devices.
3-year warranty
Enjoy peace of mind with ENTTEC's 3-year manufacturer's defects warranty as well as our famous global technical support. We're always here to help.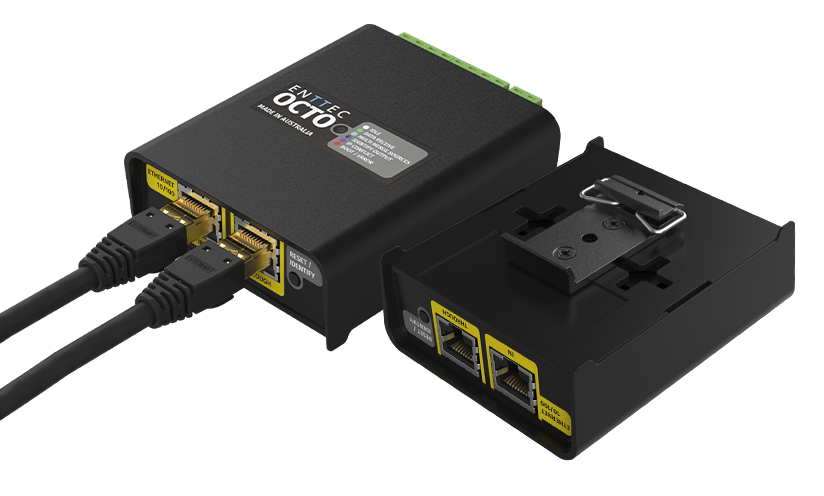 Resources
DOCUMENTATION
Downloads
Documents 0.3 and firmware v4.0+ are for OCTO MK2 with serial numbers 2374307 onwards ONLY
Documents 0.2 and firmware v3.1 are for OCTO MK2 with serial numbers 2341008 – 2350677 ONLY
** It is recommended to factory reset from the RESET BUTTON for a smooth firmware update before updating from V3.0 to V3.1. In the case of updating from V3.0 to V3.1 and the unit doesn't reboot successfully, follow the instructions in the to the release notes above
Documents 0.1 and firmware v2.1 are for OCTO MK2 with serial numbers 2318635 – 2323030 ONLY
Wiring diagrams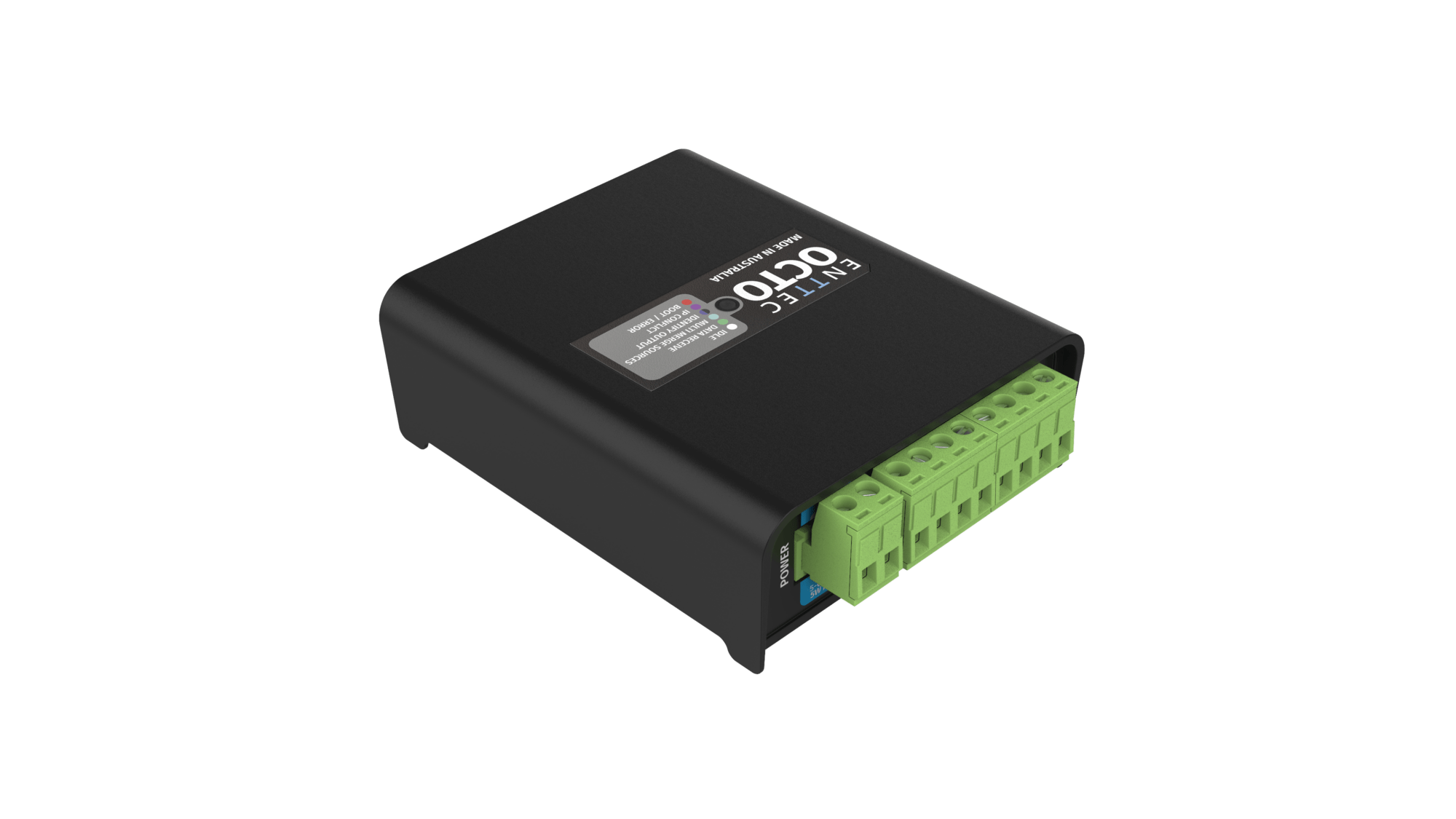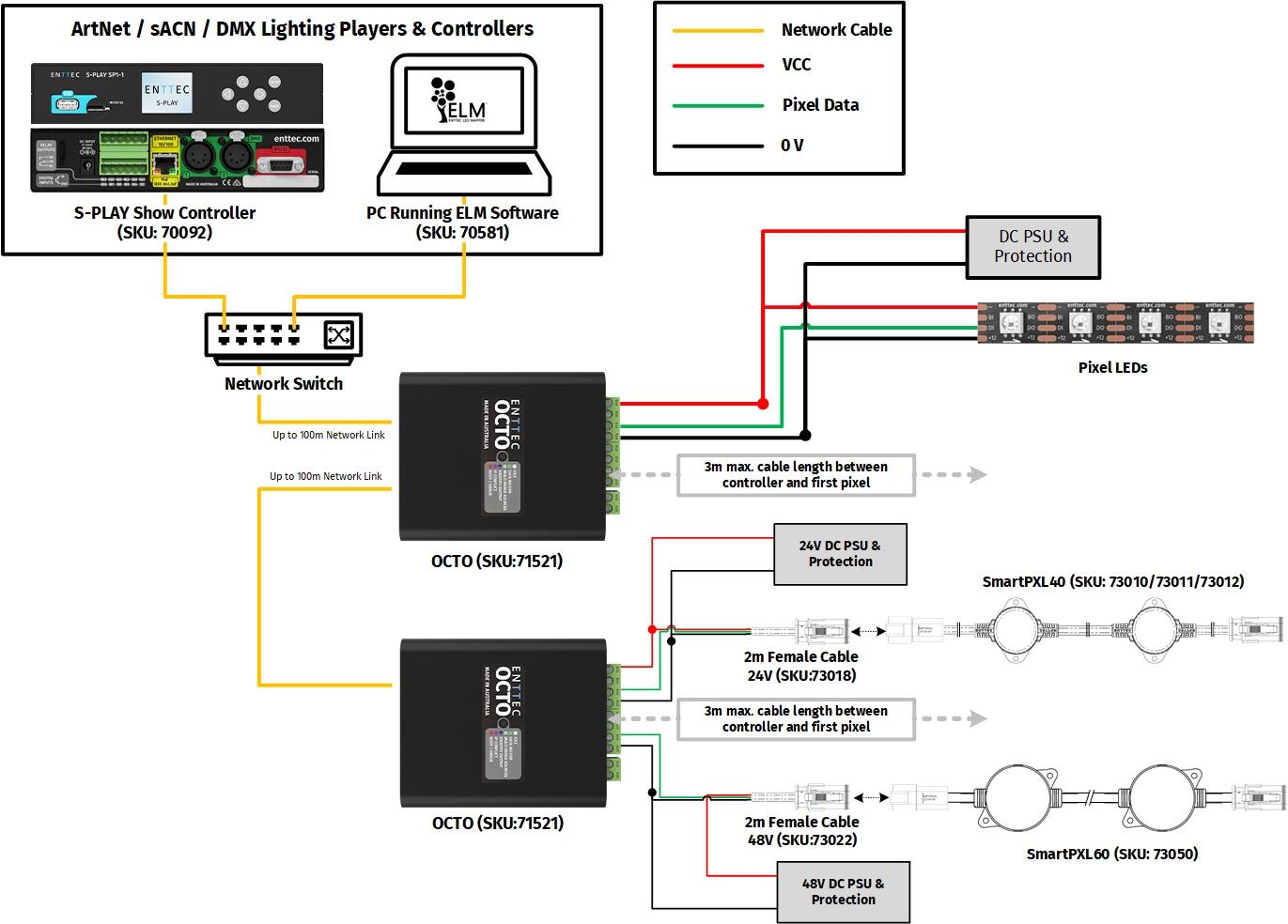 Compatible with…

Pixel Strip
Bringing you the best in digital LED pixel strips
Manufactured to the highest quality, our individually-addressable digital LED pixel strips come in a range of voltages and grouping types. Choose from varieties of 30, 60 or 144 LEDs per metre depending upon the requirements of your project.
We custom-design PCB layouts and, importantly, use extra-wide 3oz copper tracks to ensure both minimal voltage drop and maximum performance. All of our strips feature a 32-bit, True Colour display, Scan frequency of 400Hz+/s and adhesive backing for easy installation.
You'll notice that most LED tapes on the market are white in colour. However, we also offer black PCB styles which are becoming increasingly popular. These minimise external light reflection and hide your installation when the display is switched off. Perfect for the stealth lighting designer!
With their lightweight, space-saving design, ENTTEC has an LED pixel tape for every project!
Discover which LED strip is best for your project
Related products