ENTTEC LED MAPPER (ELM)
SKU: 70581-ETY (ENTRY 4U) / 70581-STU (STANDARD 16U) / 70581-ADV (ADVANCED 48U) / 70581-PRO (PROFESSIONAL 96U)
70581-SUP (SUPER 256U) / 70581-ULT (ULTIMATE 512U) / 70581-ARC (ARCHITECTURAL 1024U) / 70581-ELT (ELITE 2048U)
Complete LED Control
ELM is an intuitive, powerful and cost-effective pixel mapping software solution to map LED digital pixel strip or fixture arrays regardless of shape or size, from media façades and bridges to nightclubs and live touring designs.
Additionally, you can use ELM to simultaneously map live video inputs, pre-rendered video content, or create unique visual effects through the inbuilt generative effects library (including audio input) making it perfectly tailored to your requirements.
Run on the Windows platform, you can set ELM to use its inbuilt scheduler to play back pre-determined effects or be controlled in real-time from a number of industry-standard input protocols. ELM's simple stacking license system allows for control of as few as 2048 eDMX lighting channels all the way up to 1,048,576 for the most demanding of installations. Besides, license upgrades can be made at any time, ensuring the best flexibility and futureproofing for your project's pixel mapping needs.
NEW 48U LICENSE
We're delighted to make available the 48-Universe 'Advanced' license for the very first time.
This sits neatly between the 16-Universe 'Standard' and 96-Universe 'Professional' editions, filling a much-needed gap for those of you who want to take your designs to a whole new level but don't yet require the scope that 96 Universes would provide.
We know that many of you have been eagerly awaiting this, so we hope you have fun with it. And don't forget, you can upgrade your existing license at any time!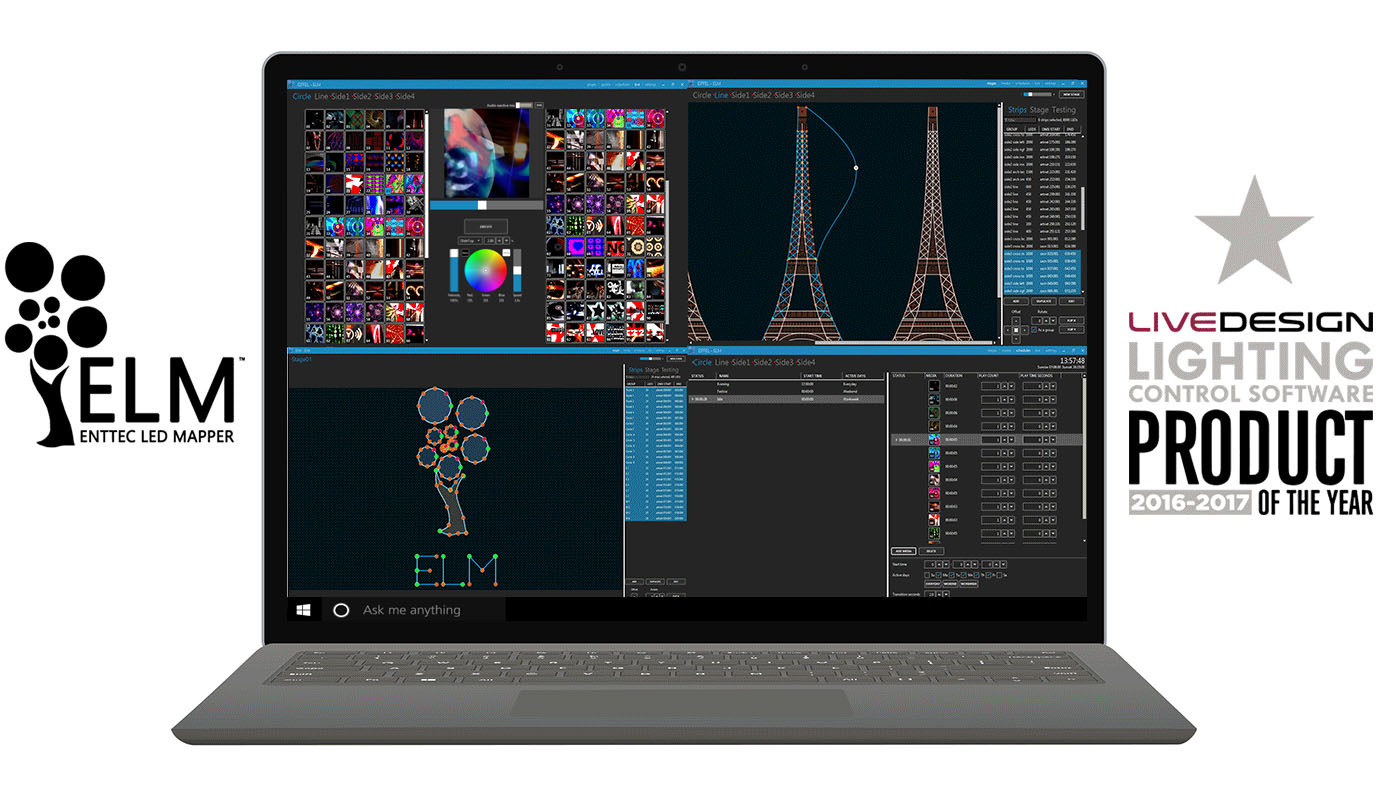 Features
Scalable and responsive design
Combines raster-based media with vector-based scalable and repositionable objects to represent your LED strips, so it even handles the curves beautifully and with just a few mouse clicks.
Place for your media
Load video files, still images, camera feeds or live streams into the slots in your library and click on what you want to display. Supports HD video playback, and is Spout compatible for live video inputs. Can also act as a Network Device Interface (NDI) receiver. A professional generative video effects library is included to get you started.
Effects and audio reaction
Brand new effects and an audio reactive mix have been included since ELM version 337.  Effects: multiple effects to choose from, and personalize as you please. Control pixels, without any media. Audio mix: Just flip a switch and ELM automatically mixes your media in sync with the music playing on your computer.
Design that's natural
Build your show in stages that layer on top of one another simply but powerfully. Use organically-shaped objects that you can quickly resize, stretch, deform, or move around on the screen so that your pixel map looks like your pixel strips do in the real world.
Control as you prefer
ELM lets you run a show with live interaction, scheduled playback, or via DMX control from a lighting console.
Multi protocol support
Supports  Art-Net, sACN and KiNet protocols as output. Can be remote controlled via DMX, OSC or HTTP. Supports an extensive range of LEDs such as: RGB, RGBW, RGBA, RGBAW/RGBWA and White fixtures, including 16bit protocols such as ENTTEC 9PDOT.
Limited only by your imagination
ELM supports up to 2048 universes, with the ability to incorporate live interaction, scheduled playback and DMX lighting control. The only limit is your imagination.
Entry Edition: supports 4 universes
Standard Edition: supports 16 universes
Advanced Edition: supports 48 universes
Professional Edition: supports 96 universes
Super Edition: supports 256 universes
Ultimate Edition: supports 512 universes
Architectural Edition: supports 1024 universes
Elite Edition: supports 2048 universes
Upgrade license easily
Simply purchase another license, and easily stack them to increase the quantity of Universes available for use in your show. Note: all licenses must be activated on the same computer.
Create visual magic on any scale with ELM
What's new in the latest version?
Smooth away the rough edges
To improve the rendering of fast-paced effects on low resolution LED matrices, the option to add blur across all pixels has been added and can be applied on a per-stage basis to suit each area of your installation. Perfect for giving your content smoother edges and improving dimming across your LEDs.
More user-preset save slots
ELM can now handle more media slots, allowing up to 255 locations to add your media, generative effects and live video input sources.
Flip and fix
To improve the mapping workflow, a button has been added to reverse the control points for each of your strips. This is handy if the strip has been physically installed the opposite way to your original plan. Simply right-click on the first control point of a strip (the green one) and select the "reverse points" menu item. Problem solved!
Attention music lovers!
ENTTEC LED Mapper (ELM)'s popular audio functionality has been given a significant overhaul.
With the addition of 20 audio-reactive Eye Candy effects, you now have access to more than 100 high quality built-in effects.
Other cool features include:
• Drive Eye Candy effects with audio
• 8 audio input channels
• Per-channel high/low frequency control
• Per-channel volume control
• ASIO support for minimum latency
• Activate via remote HTTP or OSC API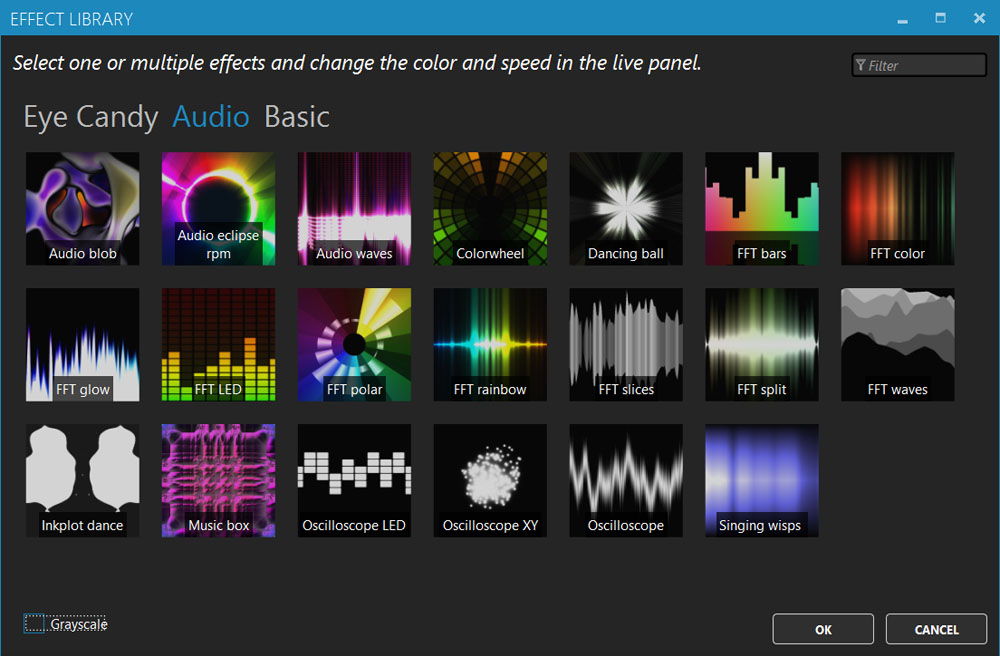 Use snapshots for greater accuracy
Furthermore, image snapshots of the positions of the LEDs on stages can be exported in png format directly from ELM. This is incredibly useful for motion designers as they can use the snapshot as a content guide. You can find the new "LED Snapshot" button under the Stage tab, just next to the monitor button.
sACN sync
For better synchronization across multiple DMX nodes, sACN sync has been implemented and can be enabled or disabled at any time.
Multimedia protocol enhancement
For improved performance, network usage and discovery, the NDI® SDK has been updated to version 3.8.
Learn to use ELM like a Pro!
Supported ENTTEC Hardware
 Minimum system requirements
Windows 7+, 2GHz Intel i5, 4 GB RAM
NVIDIA GeForce 600 series or better, or
Intel HD Graphics 5500, released after 2013 with OpenGL 2.1 support
Recommended system
Windows 8 or 10, 2GHz Intel i7, 8 GB RAM
NVIDIA GeForce 900 series or NVIDIA 10 series or better