ENTTEC LED MAPPER (ELM)
The easiest way to pixel map your ideas
Let your creativity soar with the versatility, power and precision of the award-winning ELM ENTTEC LED Mapper. Enjoy total control over your LED system, regardless of shape and size, employing vector-based objects and raster-based media for pure representation of your vision.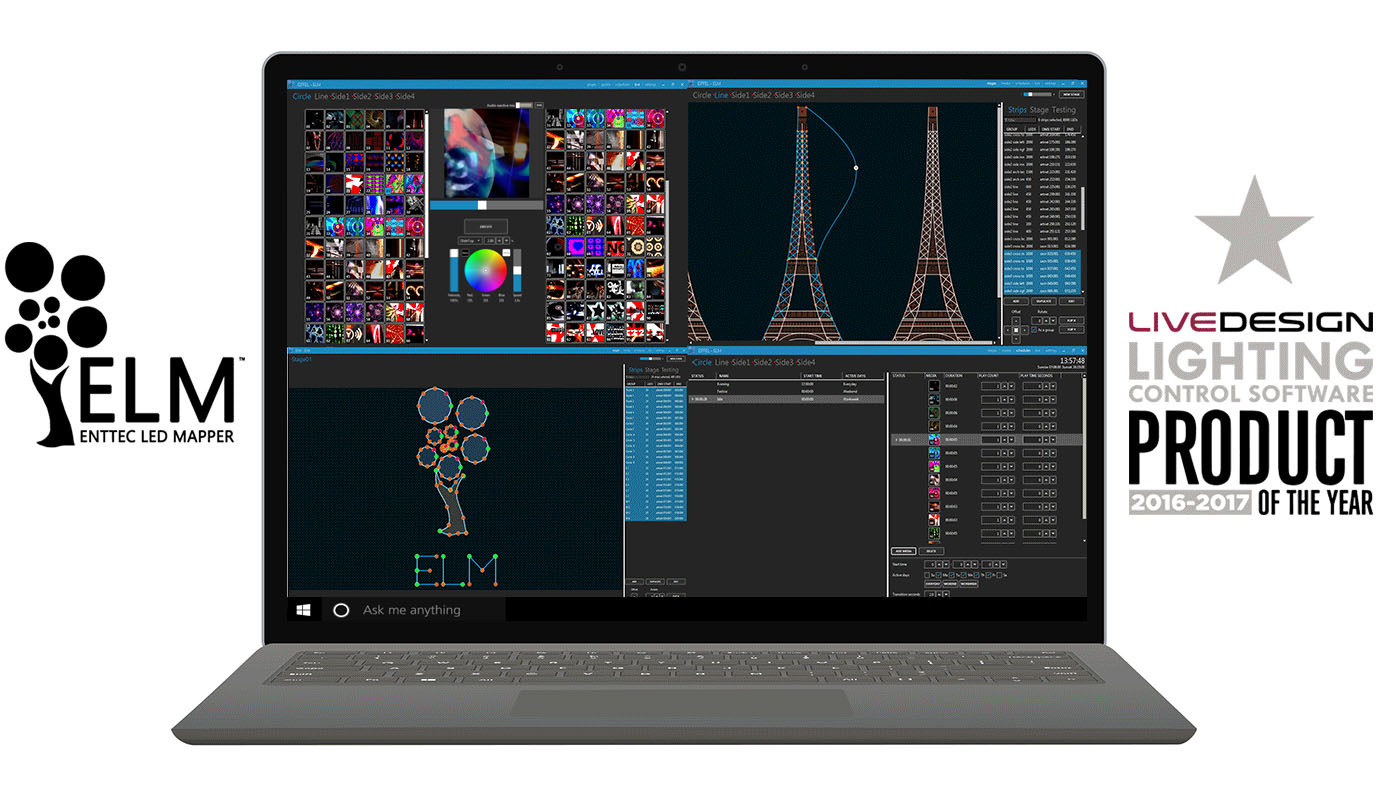 Features
Scalable and responsive design
Combines raster-based media with vector-based scalable and repositionable objects to represent your LED strips, so it even handles the curves beautifully and with just a few mouse clicks.
Place for your media
Load video files, still images, camera feeds or live streams into the slots in your library and click on what you want to display. Supports HD video playback, and is Spout compatible for live video inputs. Can also act as a Network Device Interface (NDI) receiver. A professional video loop library is included to get you started.
Effects and Audio reaction
Brand new effects, and audio reactive mix, are included since ELM version 337.  Effects: multiple effects to choose from, and personalize as you please. Control pixels, without any media. Audio mix: Just flip a switch and ELM automatically mixes your media in sync with the music playing on your computer
Design that's natural
Build your show in stages that layer on top of one another simply but powerfully. Use organically-shaped objects that you can quickly resize, stretch, deform, or move around on the screen so that your pixel map looks like your pixel strips do in the real world.
Control as you prefer
ELM lets you run a show with live interaction, scheduled playback, or via DMX control from a lighting console.
Multiple protocols support
Supports Art-Net, sACN and KiNet protocols as output. Can be remote controlled via DMX, OSC or HTTP. Supports an extensive range of LEDs such as: RGB, RGBW, RGBA, RGBAW/RGBWA and White fixtures, including 16-bit protocols such as ENTTEC 9PDOT. Please note: To use ENTTEC's WWA tape with ELM, simply configure these using the RGB option.
Limited by your imagination
ELM supports up to 2048 universes, with the ability to incorporate live interaction, scheduled playback and DMX lighting control. The only limit is your imagination.
Entry Edition: supports 4 universes (allows up to 3 activations)
Standard Edition: supports 16 universes (allows up to 3 activations)
Professional Edition: supports 96 universes (allows up to 4 activations)
Super Edition: supports 256 universes (allows up to 4 activations)
Ultimate Edition: supports 512 universes (allows up to 4 activations)
Architectural Edition: supports 1024 universes (allows up to 4 activations)
Elite Edition: supports 2048 universes (allows up to 4 activations)
Upgrade License easily
Simply purchase another License, and easily add up the total number of universes. Note: all licenses must be activated on the same computer.
Master ELM with these tutorials
Supported ENTTEC Hardware
 Apps
Useful links
Remote Control Apps
 Minimum system requirements
Windows 7+, 2GHz Intel i5, 4 GB RAM
NVIDIA GeForce 600 series or better, or
Intel HD Graphics 5500, released after 2013 with OpenGL 2.1 support
Recommended system
Windows 8 or 10, 2GHz Intel i7, 8 GB RAM
NVIDIA GeForce 900 series or NVIDIA 10 series or better