Star x Chaos Engine
(Denmark)
Ingredients:

– LED mapping software outputting Art-Net protocol. Check out ENTTEC's award-winning ELM here.
– ENTTEC Storm 8: Compact and powerful 8-port, multi-protocol Ethernet to DMX converter
– DIN Pixie 2-Universe DMX to SPI pixel converter & standalone player
– 180 metres of pixel tape (30 pixels per metre, with WS2811 chips). Explore ENTTEC's range of quality tapes here.
Chaos Engine
Light, Sculpture and Movement are keywords for Chaos Engine, and if an installation might be static in structure, the process is always dynamic. Playful thought experiments distilled into concrete visual outputs is descriptive of Chaos Engine.
Back in 2017, Chaos Engine were commissioned to create a Christmas tree which was to stand on a silo in the Odense Harbour in Denmark. However, after giving it some thought, they realised that a star would be a much better alternative, due to the already countless amounts of Christmas trees throughout Denmark. Thankfully their client agreed, and a star was born!
The star was constructed from 200m of steel wire. and 12 aluminium tubes running outwards from a stainless-steel core. LED RGB tape was attached to the tubes, which were controlled by an ENTTEC Storm 24 (which has been replaced with the Storm 8). The Storm 8 is a powerful Ethernet to DMX converter.
In the lead up to Christmas in 2018, the star was re-launched on a lake in Fruens Bøge, Denmark, lighting up a beautiful park. Who knows where it might end up next year?
The star during its construction and testing.
"Due to the harsh climate in the north, we are very dependent on the equipment we use being extremely solid. Our art installations often have to run around the clock for months and it is therefore important that we work with reliable hardware and software. So, our choices fall on the pioneers of computer-controlled light, ENTTEC.
Your products are extremely stable and easy to use. We have never experienced any problem."
Magnus Fuhr CEO, Chaos Engine
Lighting Designer:
Photos and Video:

The star in its final location: reflecting upon the calm waters of Skovsøen lake in the Fruens Bøge neighbourhood of Odense.
Watch the team from Chaos Engine construct and install the star overlooking the Port of Odense, where it made its public debut in 2017.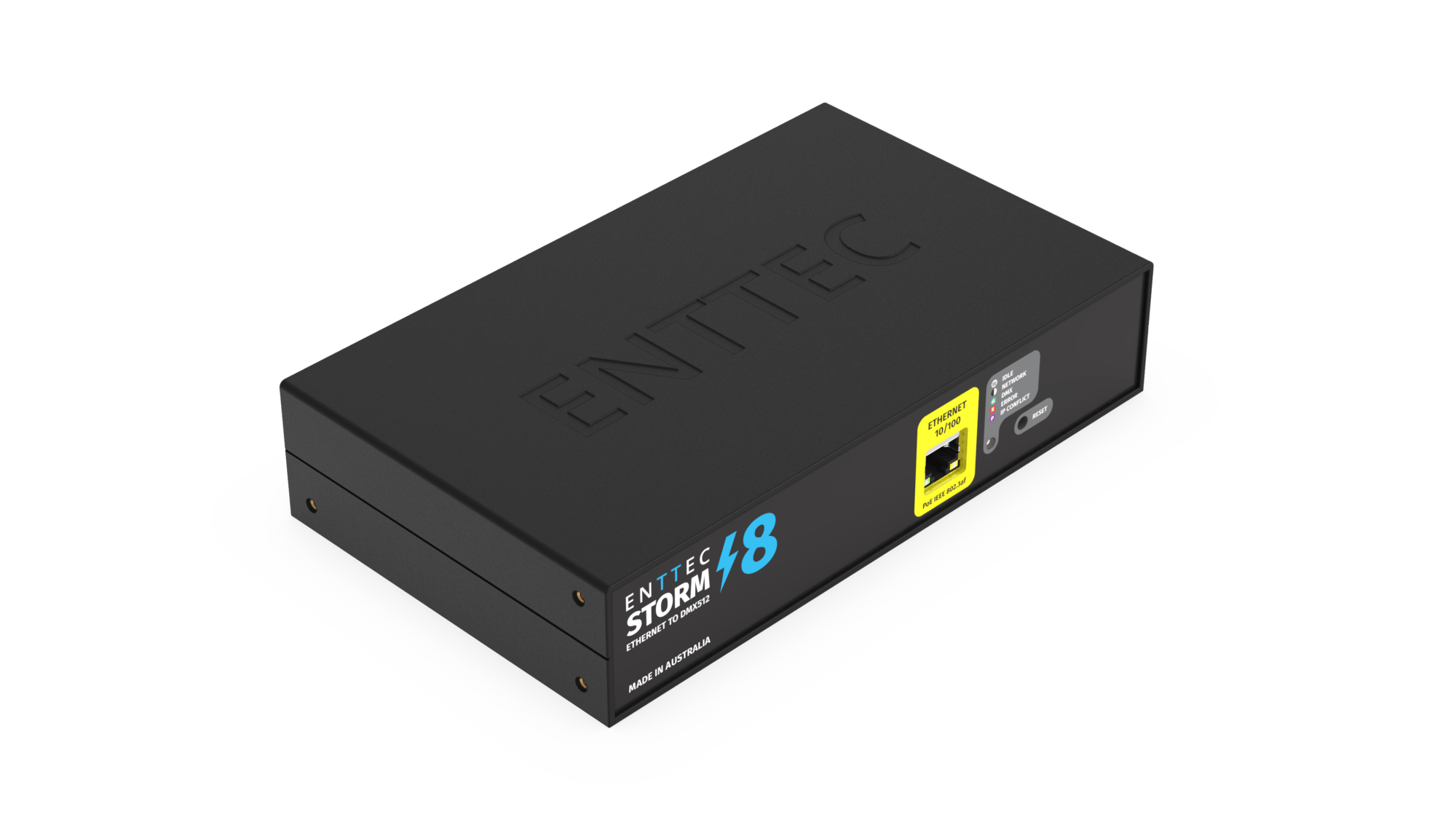 Storm 8 – 8-Universe Ethernet to DMX gateway
Compact and powerful 8-port, multi-protocol Ethernet to DMX converter
Shopping list: