Arvo Pärt X Arup: Memory & Light at the V&A Museum
(London, 2018)
Ingredients:

– 6m warm white 3000K LED tape (9CL-10)
– 4m RGBW 5V Pixel Tape (8PX60-4)
– 1 x CV Driver MK2
– 1 x Pixie Driver 5V
ENTTEC were pleased to be part of the 'Memory and Light' installation for the London Design Festival at the V&A Museum in London. Presented by Harman Kardon, and curated by Clare Farrow, the installation was a blend of music by Estonian composer Arvo Pärt and innovative design by Arup designers Stephen Philips (product design), Ned Crowe (acoustic design) and Ed Elbourne (venue design). The project was inspired by the words of the composer:
"I could compare my music to white light, which contains all colours. Only a prism can divide the colours and make them appear; this prism could be the spirit of the listener."
The location for the project was the stunning 18th century Norfolk House Music Room in the V&A Museum, London. The project featured a viewing and listening bench, with a transparent screen curved around one end.
The screen was designed to envelop the visitor in Pärt's music and featured vertical slats of Perspex® acrylic (from the Vario collection) which were lit up by 5 colours specifically chosen by Arup to represent the full colour spectrum.
ENTTEC CV and pixel tape was positioned in the base of the screen, providing an up-light which was projected through the Perspex® acrylic transparent slats. The colours changed in a subtle manner, which the designers felt reflected the stillness and silence in Arvo Pärt's music.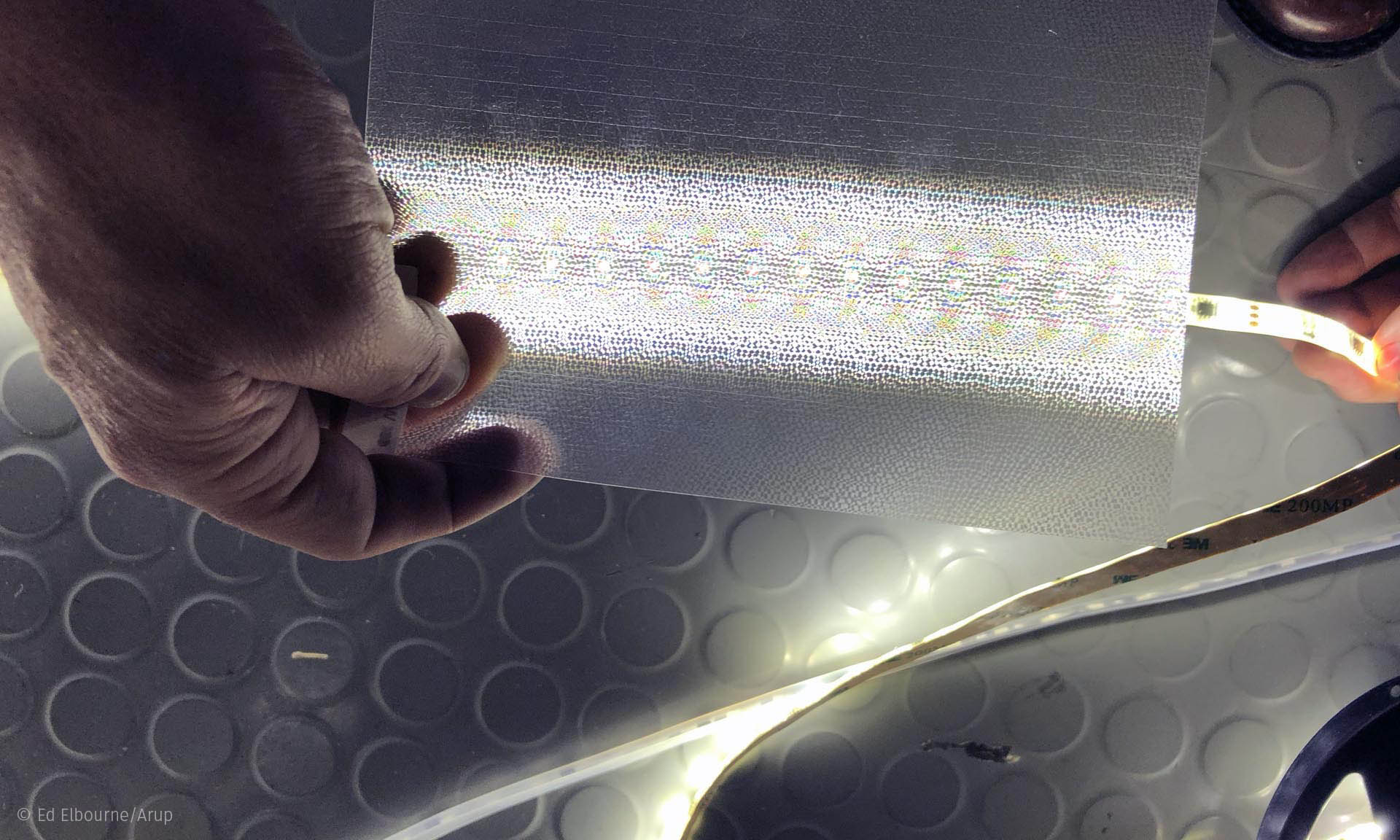 "As Curator of "Memory & Design", I am immensely grateful to ENTTEC for their support in providing the lighting products, enabling us to bring to life the words and music of Arvo Pärt through the innovative designs of Arup, for this special LDF commission at the V&A."
Clare Farrow Curator of Memory & Light
Presented by Harman Kardon for the London Design Festival 2018
Design:
Lighting Design:
Acoustic Design:
Music:
Photography:
Curated by:
Supported by:
Further Support by:
Shopping list: