Versatile conference lighting + control
(London, England)
The above Adobe Summit photographs feature ENTTEC products in action and are © Hawthorn 2016.
Ingredients:

Hawthorn
Theatrical Ltd
Taylor Bennett Partners
Adobe Summit
For the 2016 event, held at ExCel, London, Hawthorn took Taylor Bennett's stunning design and made it a reality, using various ENTTEC elements from their extensive hire stock across the show. These included:
– Pixelator: World's most powerful Ethernet-to-pixel protocol converter
– Pixel Tape Bright and efficient, pixel tape shines for it's uniform colour mixing and brighter pixels
The Event:
A 'Neon Super Club' (the first two photos above) was created in which the 5000-strong crowd could enjoy music from Mercury Prize nominees Django Django alongside other acts.
The easy-to-use, plug-and-play nature of ENTTEC's high output Phero LED bar meant that they could deployed quickly and easily to create the neon effect required in many zones of the venue. The triangles in the roof used 84 Phero 30 LED bars to create a stunning, bright and powerful outcome. Four Pixelators and a large number of PLink injectors were also used on sections of the room.
The main conference plenary (see the third photo above) required a huge number of intelligent lighting fixtures from many different manufacturers. Hawthorn used five Datagate Mk2s, located in multiple locations across the space, to manage and distribute large amounts of data around the plenary. Due to requirements of multiple Artnet sources being used, they were able to take advantage of the advanced merging functionality of the Datagate.

"The choice to use ENTTEC's Datagate MK2 at the Adobe Summit 2016 EMEA was an easy one. The Datagate is the perfect bridge between the lighting desk and the fixtures and is very easy to configure for complex setups.
To ensure the 5,000 strong audience in the plenary received an immersive experience, we used the DMX merging functionality available with the Datagate MK2. With lighting fixtures in the plenary driven from a d3 media server and the lighting desk, we were able to match the colour of the strong and dynamic graphics on screen to the lighting."
Jack Sayer Head of Lighting, Hawthorn Theatrical Ltd.
Technical production + lighting design:
Project management:
Client:
Hawthorn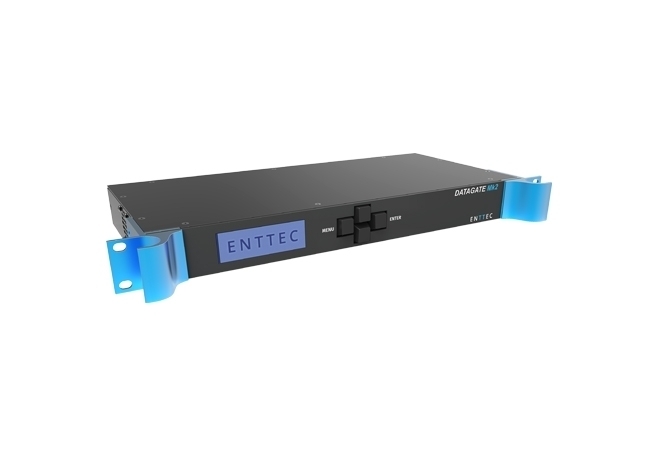 Datagate MK2
The ultimate advanced lighting data control tool, designed to configure, control and direct DMX distribution on advanced networked systems. Take control of your data like never before and enjoy perfect results every time.
Shopping list: