Smart Pixel Tape Driver – drives upto 600 leds
Controlling individual pixels reliably now at your fingertips
Combine the power and control using Pixie Driver, to realize previously unimaginable visual effects, right at your fingertips. Pre-programmed or live, Pixie Driver unlocks the full potential of pixel LED.
Available in 5V (55 or 110 WATTS), 12V (65 or 130 WATTS), or 24V (65 or 130 WATTS).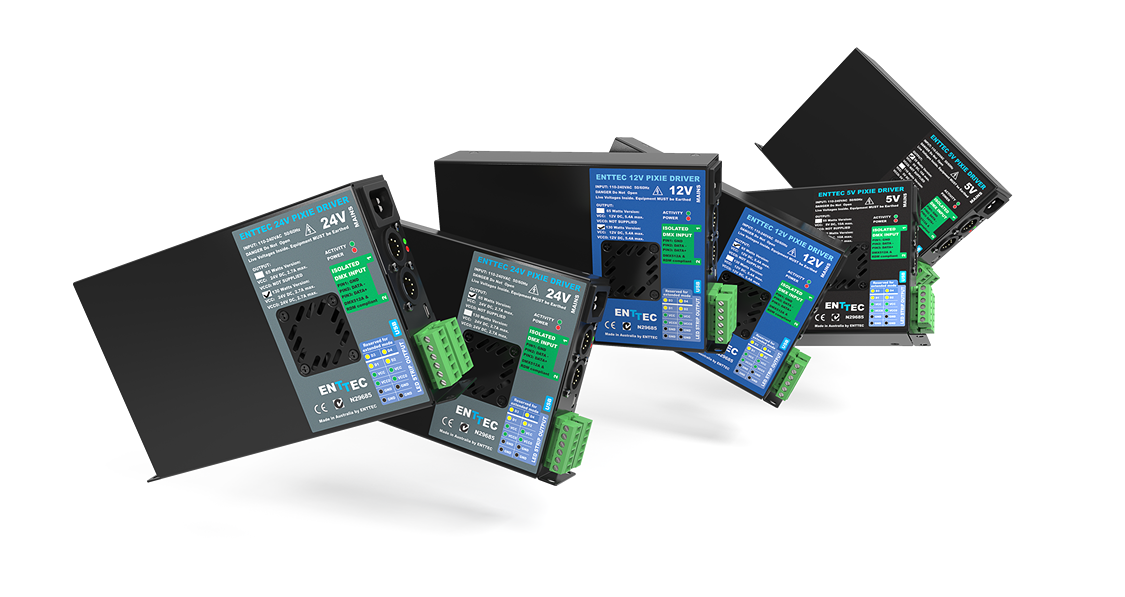 Features
High density
Available in 6 versions (based on voltage and max. power). The 110 Watts Pixie driver can control up to 600 RGB LEDs from one source (USB), the 55 Watts can control up-to 300 RGB LEDs. This means you need less hardware to controls more strips.
Supports a wide range of LED pixel strips and dots
See Downloads section for a comprehensive table showing all currently compatible LED protocols.
Smallest in its Class
With an overall size of 215mm x 129mm x 42.7mm, the Pixie driver is the smallest all in one device in its class. A rack mount frame allows mounting of 8 units in a 3RU high enclosure offering an unparalleled density of Pixel strip driving.
Standalone mode
With inbuilt memory, the Pixie driver can be set to replay a pre-programmed sequence. Standalone sequence is recorded via USB using Pro Manager software (Art-Net input). Only one sequence can be stored at any single time – and runs on power-up.
Live Mode
Drive the Pixels using DMX input from its 2x DMX ports. DMX Personality decides how the 2 DMX inputs are mapped.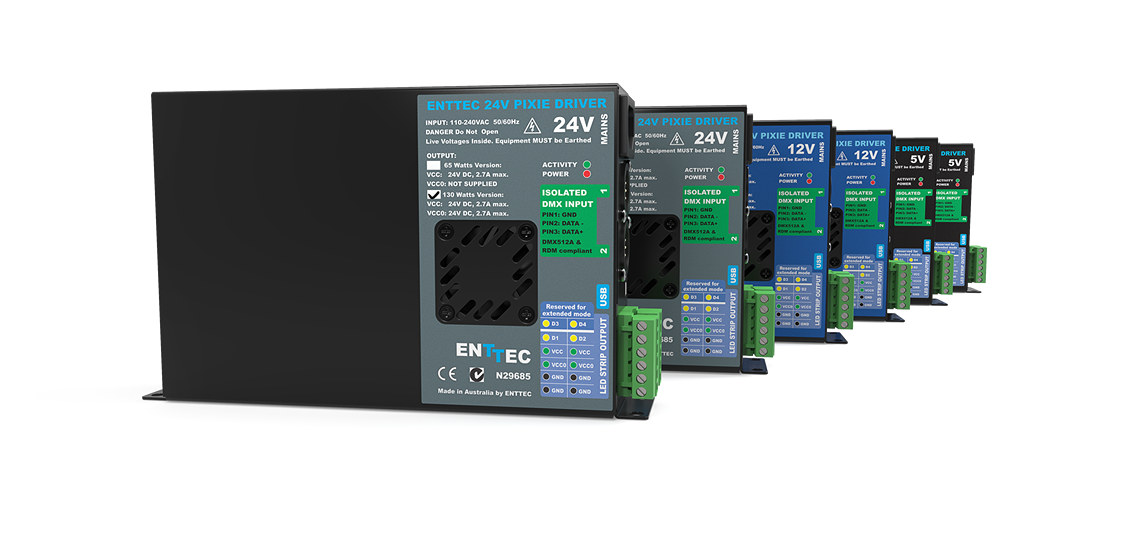 Downloads
Documents
Apps
Firmware
Pixie Driver Standalone Shows
Developers
Compatible with
Category: LEGACY PRODUCTS