Powerful Ethernet to DMX, single port solution that supports Art-Net, sACN or ESP and is RDM compatible
Out of stock
$310.00
Due to the global semiconductor shortage, the ODE Mk2 is projected to be out of stock until Q3 2022. We're busy working on a successor to this product to be released sooner. In the meantime, check out our the DIN Ethergate, our installation grade DMX node. It's functionality is identical to ODE Mk2 with an additional DMX port too!
Ethernet to DMX interface – more powerful than ever
The ODE Mk2 is a solid-state single universe RDM compatible DMX node designed for the highest level of portability, simplicity, and practicality. It is the perfect solution for converting from a multitude of Ethernet-based lighting protocols to physical DMX and vice versa, without the need for adaptors. Our powerful Ethernet to DMX interface features the same modern and intuitive web-based configuration found in our premium products including, diagnostics, either LTP or HTP Merging (with up to 2 sources), and RDM support. All in the form factor of a portable single universe node.
The ODE Mk2's four LED indicators can be used to visually check the status of your ODE Mk2 without the need to view the web interface. Use the ODE Mk2 in conjunction with a wireless router to give a buffered DMX output from any sACN / ArtNet compatible iOS or Android application. You can now enjoy trusted industry-standard performance at a budget-friendly price point. The ODE Mk2 is also available in a Power over Ethernet variant.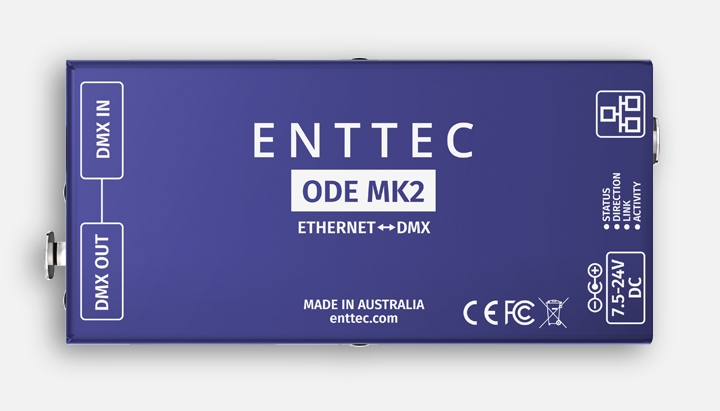 Features
Easy to use
The ODE PoE Mk2 supports web-based configuration and quick discovery using ENTTEC's NMU or EMU software. It's compatible with all modern browsers.
Multiple protocol support
Supports Art-Net 1/2/3, Streaming ACN sACN, and ESP. Use whichever you prefer, simply change the protocol using the web configuration.
Widely compatible
Designed for simple connection on a network, and is compatible with an enormous range of commercial and free software thanks to its implementation of ArtNet & sACN.
Ready to connect
Our Ethernet to DMX interface is factory set to use DHCP IP addressing. Simply connect to your existing router or network infrastructure, and any supported DMX over Ethernet software will be able to stream to it.
Flexible options
Supports either LTP or HTP Merging (up to 2 sources). Either enable or disable merging, to suit your needs.
RDM over Art-Net
RDM to RDM-Net and vice versa is possible in both directions. When enabled, all RDM fixtures connected to the ODE Mk2 can be configured using any ArtRDM capable software.
Input or Output
Choose from 'Input mode' (receives DMX, and sends over Ethernet), or 'Output mode' (sends DMX). DMX Input mode supports options for broadcast or unicast.
Box Contents
Each ODE Mk2 interface comes with a 2m CAT5 ethernet cable, power supply and a quick start guide.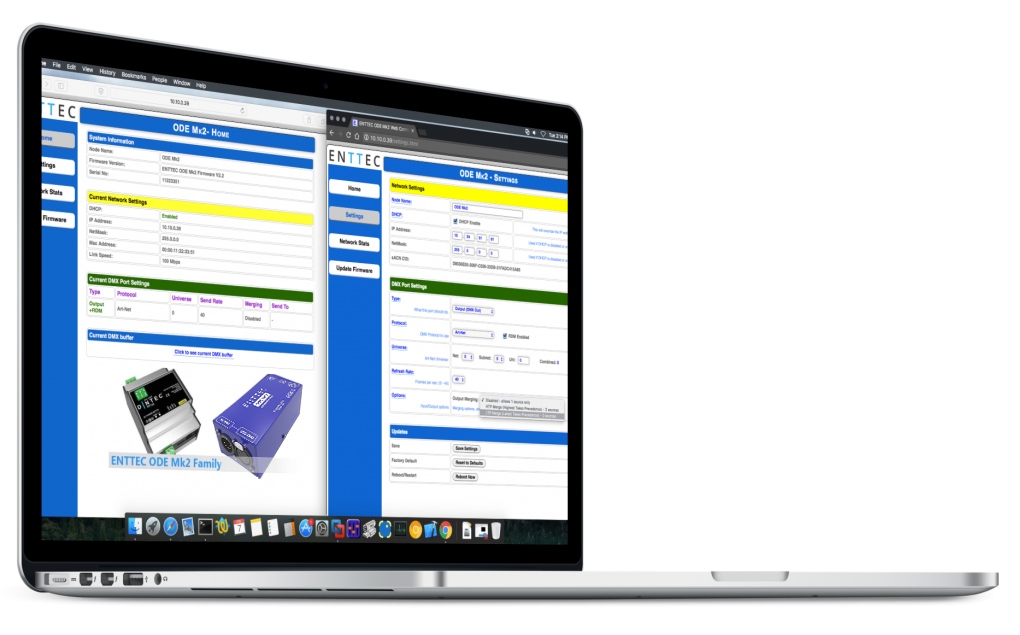 Recommended Applications
The ODE Mk2 is compatible with all software and controllers capable of outputting ArtNet, ESP or sACN. Two ENTTEC applications worth checking out to use with your ODE Mk2 are: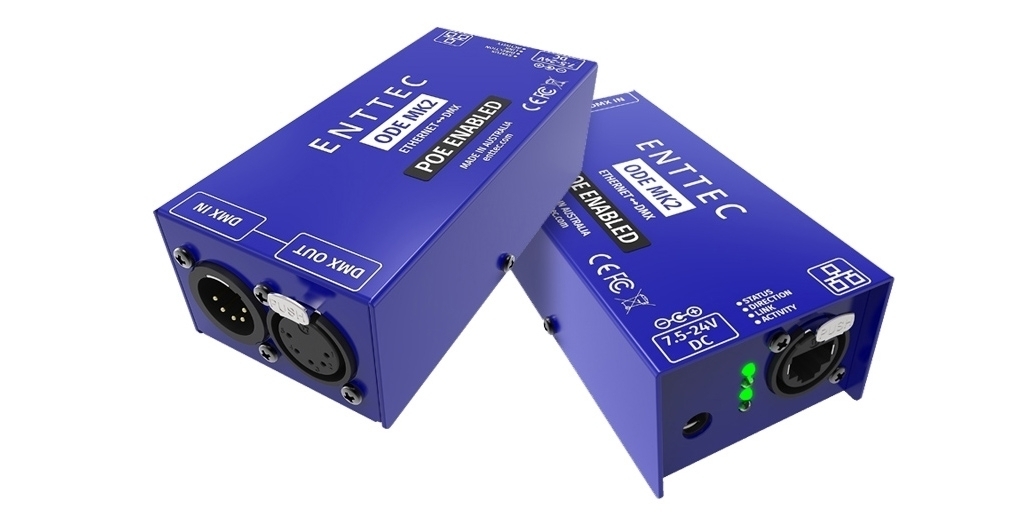 Integrate
Downloads
Related products
Categories: Lighting Control, Pixel Control, sACN, Software