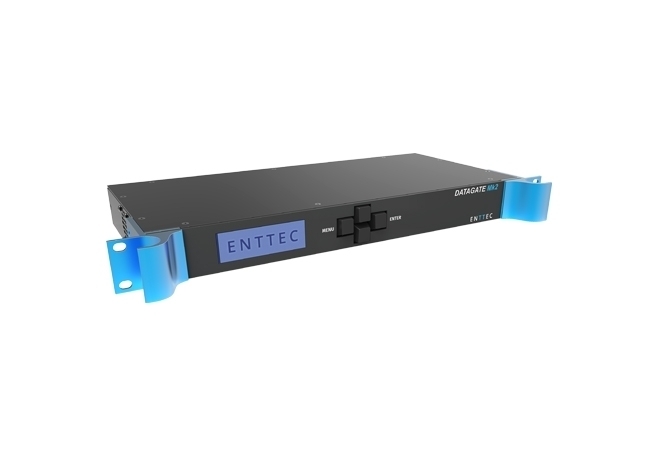 Datagate MK2
The ultimate advanced lighting data control tool, designed to configure, control and direct DMX distribution on advanced networked systems. Take control of your data like never before and enjoy perfect results every time.
Features
Tutorials
Downloads
Take control of your data
There is no other device in the world quite like the Datagate MK2. It is a unique data-processing hub that takes any lighting installation to a level beyond advanced data control as you know it. No other Ethernet-DMX converter offers this level of flexibility and performance.

The Datagate MK2 is the ultimate in advanced lighting data control. An extremely powerful and flexible DMX management tool, it allows you to direct DMX distribution on advanced networked systems, translating between DMX and Ethernet protocols.
Supporting Art-Net 1/2/3, KiNET, sACN, ESP and OSC, the Datagate also handles DMX512-A and RDM on its physical ports.
Use the intuitive interface to configure and edit individual profiles with a simple drag-and-drop flow chart in your web browser. Also access intelligent features including advanced merging, switching, RDM Sensor, RDM Tools and Stream Auditor functionality. Convert hundreds of Universes from ArtNet to sACN in real-time with ease, while using the eight local DMX ports for input or output duties. Most importantly, the inbuilt DMX generator allows channels to be set to different levels for testing without the need for a DMX source.
Features

Advanced data manipulation
Using a smart graphical flowchart within your web browser, style simply drag-and-drop options to tell the Datagate Mk2 what to do with the endless types of DMX data on your network. It's a breeze to configure and edit – just mix and match to suit your needs.
Multiple input and outputs
8 DMX ports (input or output) and 1 Gigabit Ethernet port.
Multiple protocol support
Supports Art-Net 1/2/3, KiNET, Streaming ACN and ESP DMX over Ethernet protocols. Supports DMX512, DMX 512-A and ANSI E1.20 RDM.
Note:
Make your own profile
Using the Profile Editor, drag & drop modules to make your very own profile. Useful tools include:
DMX Hub/Splitter (expand DMX networks)
DMX -> Ethernet (input DMX signals into your 3D visualisation software)
Ethernet -> DMX (control large DMX installations via PC and OSX programs)
DMX shifting (manipulate your DMX data like never before)
Other professional features within the browser interface include: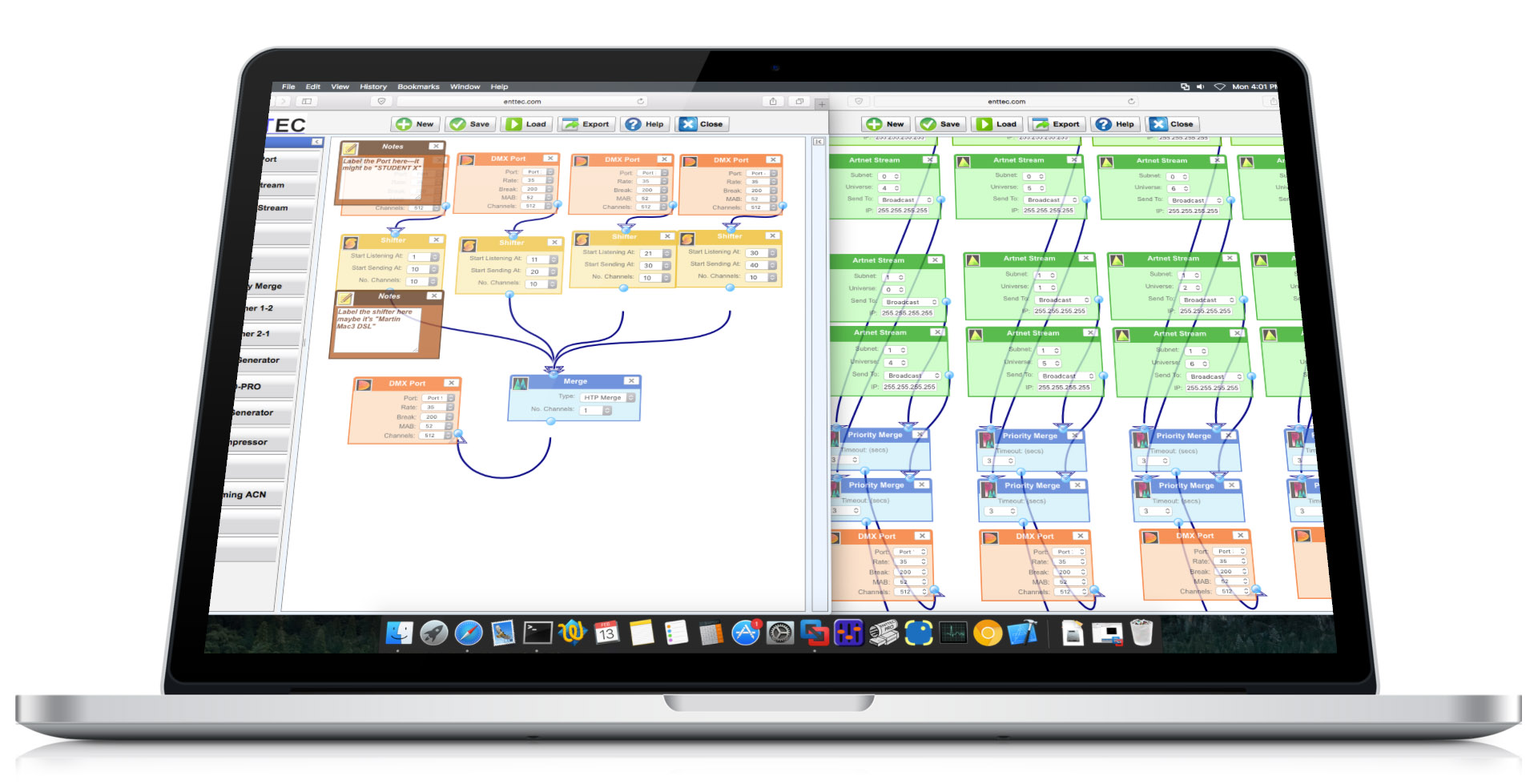 DMX Merger (HTP or LTP)
Using HTP or LTP Merge or Priority Merge, combine one or more controllers onto one network, or one or more sources to merge and create multiple combinations.
RDM Tools
With DMX ports set as output, the RDM Tools page can be used to discover any RDM device, allowing access and control below 10 PIDs without relying on an external RDM controller. Each RDM device, has its own set of functions and buttons, so multiple devices can be handled easily. Clicking on the device ID opens a new page to handle this device separately.
1. DEVICE INFO
2. DMX START ADDRESS
3. DMX PERSONALITY
4. LAMP ON MODE/li>
5. DEVICE DESCRIPTION
6. MANUFACTURING LABEL
7. DEVICE LABEL
8. FACTORY DEFAULTS
9. SOFTWARE VERSION
10. SUPPORTED PARAMETERS
RDM Sensors
The RDM Sensors page enables you to gather health information about your lights by discovering all RDM devices and monitoring sensors supported by the RDM Tool – e.g., temperature, current and voltage sensors. These values can be exported or emailed at intervals configured using the settings page, while your layouts can be saved and re-imported for later convenience..
Stream Auditor
Monitor each source independently from the Stream Auditor page.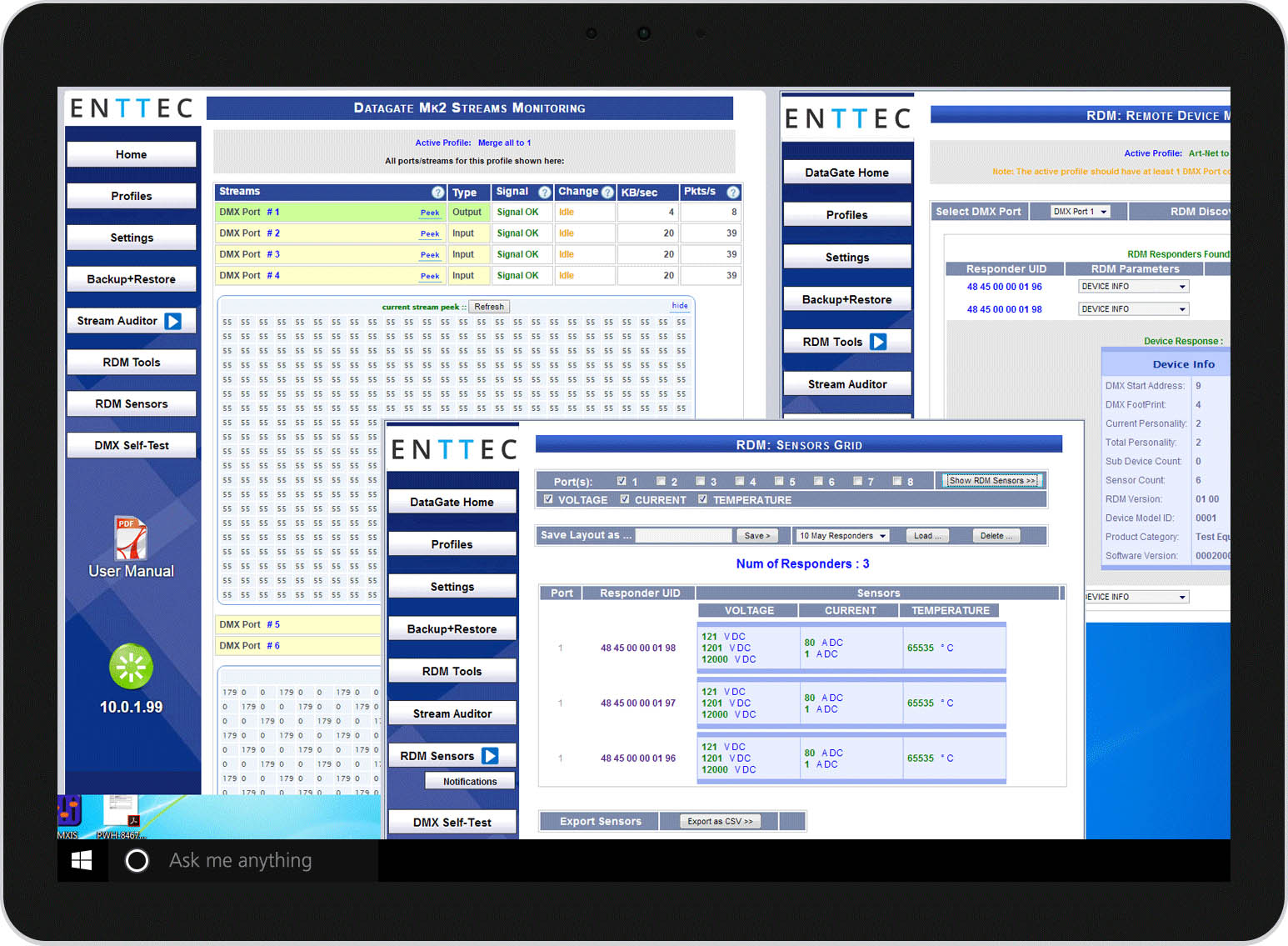 Downloads
Documents
Firmware
Over the lifecycle of this product, incremental improvements have been made to its hardware and core operating system to ensure it remains current. The functionality remains the same. There have been RevA, RevB & RevC versions of this product, each requiring its own version of firmware. To determine the version of firmware your device requires, navigate to its home page. If unsure, contact our technical support team with a screen grab of your device's home page.
The RevC version of the Datagate does not currently have any firmware updates available.
Links
Compatible with…