An important security announcement from ENTTEC
Hello!
We're here with an important message for existing users of ENTTEC lighting control hardware.
You may have seen reports regarding vulnerabilities related to some of our world-leading products, which are detailed on the United States Official website of the Department of Homeland Security as ICS Advisory (ICSA-20-177-01).
These vulnerabilities affect firmware Version 70044_update_05032019-482 and prior for the following lighting control products only:
At ENTTEC, your security and privacy is always our top concern and we want to make sure that you follow the instructions below to avoid being impacted by these issues.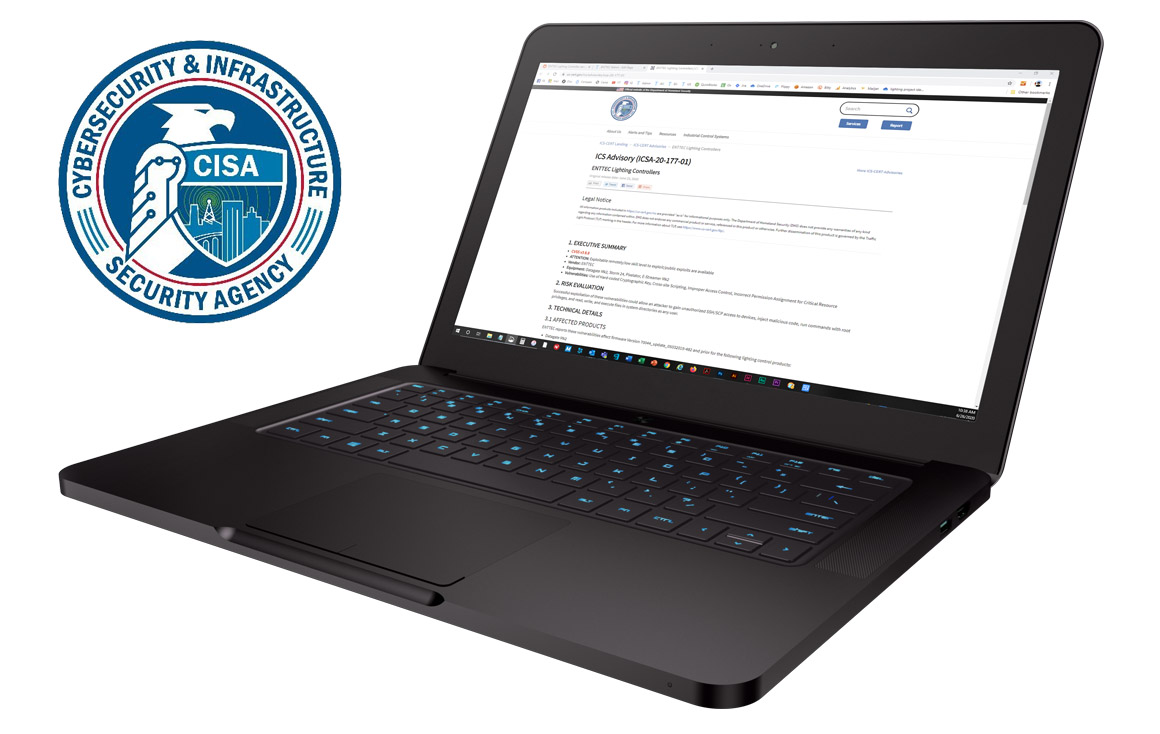 * Although mentioned on the CISA website, the E-STREAMER MK2 is a discontinued legacy product and is no longer supported by ENTTEC. Please check out its replacement product, the S-PLAY, if you're looking for a device with similar capabilities … and a whole lot more.
It's easy to apply this fix. Simply follow the steps below to make sure you are protected.

Step 1: Update your firmware
Check the firmware version on your affected product.
If you are already running RevC firmware, your unit is not affected and you have no need to do anything. However, if you are using any RevB version released prior to June 2020, please proceed with the below fix.
Download and upgrade the latest firmware from the respective product page on our website, or directly via the links below:
Step 2: Lock your unit
Once configured, Lock your unit via the front menu. The short video here will show you how to do this.
You are now fully protected.
We always strongly recommend you secure your network using best practice methodologies and not connect it to the outside world unless absolutely necessary.
Thanks for reading, and we trust the information provided above will allay any concerns you may have about the security or vulnerability of your ENTTEC products. If you have any further questions or worries regarding this topic, please do not hesitate to contact your regional ENTTEC office via our SUPPORT CENTRE.
Meanwhile, be sure to follow our social media channels for the latest official ENTTEC news, and also check out our latest products from the comfort of your own chair via our VIRTUAL EXPO.