February 2019 Release
We're happy to announce that a new software update of ENTTEC LED Mapper (ELM) is now available. The latest Version 413 installer supersedes the previous installer, Version 383.
Let's take a look at some of what you lucky people get …
Smooth away the rough edges
To improve the rendering of fast-paced effects on low resolution LED matrices, the option to add blur across all pixels has been added and can be applied on a per-stage basis to suit each area of your installation. Perfect for giving your content smoother edges and improving dimming across your LEDs.
More user-preset save slots
ELM can now handle more media slots, allowing up to 255 locations to add your media, generative effects and live video input sources.
Flip and fix
To improve the mapping workflow, a button has been added to reverse the control points for each of your strips. This is handy if the strip has been physically installed the opposite way to your original plan. Simply right-click on the first control point of a strip (the green one) and select the "reverse points" menu item. Problem solved!
Attention music lovers!
ENTTEC LED Mapper (ELM)'s popular audio functionality has been given a significant overhaul.
With the addition of 20 audio-reactive Eye Candy effects, you now have access to more than 100 high quality built-in effects.
Other cool features include:
• Drive Eye Candy effects with audio
• 8 audio input channels
• Per-channel high/low frequency control
• Per-channel volume control
• ASIO support for minimum latency
• Activate via remote HTTP or OSC API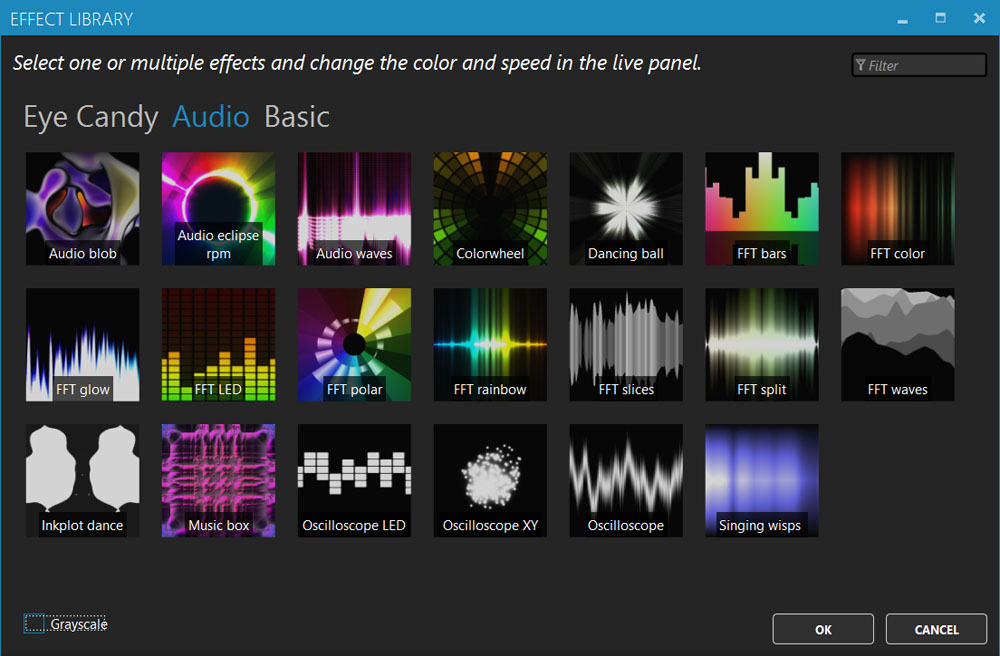 Use snapshots for greater accuracy
Furthermore, image snapshots of the positions of the LEDs on stages can be exported in png format directly from ELM. This is incredibly useful for motion designers as they can use the snapshot as a content guide. You can find the new "LED Snapshot" button under the Stage tab, just next to the monitor button.
sACN sync
For better synchronization across multiple DMX nodes, sACN sync has been implemented and can be enabled or disabled at any time.
Multimedia protocol enhancement
For improved performance, network usage and discovery, the NDI® SDK has been updated to version 3.8.
A much-needed license addition
Because so many of you have been asking us for it, we're delighted to make available for the first time, a 48-Universe license, which we're calling 'Advanced'.
This sits nicely between the 16-Universe 'Standard' and 96-Universe 'Professional' editions, and fills a much-needed niche for those of you who want to take your designs to a whole new level but don't quite need the scope that 96 Universes would provide just yet. So here's hoping you have some great fun with it. And don't forget, you can upgrade your existing license at any time!
Best of all, it's FREE!
As usual, this update is of course FREE for all existing ELM license-holders, so we encourage you to download it from the links below (or via the ELM page) as soon as you can, and start playing with some of these amazing new features. For an in-depth run-down of what's new or changed, see the Release Notes, which can be found below.

Download your new ELM files here!