Hyperion: intelligent gigabit network switch
The perfect switch for any project, anywhere.
This touring-grade device has been designed for life on the road, allowing for the handling and routing of unicast, multicast and broadcast packets with an elegant and intuitive setup.
With features including ENTTEC's peace-of-mind Redundancy Looping, popular fiber connectivity (SFP and/or opticalCON) and an intuitive, fully-configurable web interface, the Hyperion effectively prioritizes professional lighting protocols and is compatible with Art-Net, sACN, MA-Net, PTPv1, PTPv2 and any other TCP/IP usage. Of course, it can also make tidy work of your audio or AV signals too.
The arrival of the Hyperion makes ENTTEC a truly end-to-end industry brand, and offers just a glimpse into what is to come.
But don't just take our word for it.

"Some of the new network switches appearing on the market make me think that it should, and can, be as easy as plug-and-play, including the new Hyperion HP1 gigabit switch from ENTTEC . . ."
Richard Cadena, Light & Sound International

The trusted Industry veteran takes our Hyperion HP1 for a test drive in LSi magazine.
The price is right.
Most budget network switches don't offer popular industry connectors such as powerCON or opticalCON, while those that do are usually priced through the roof.
With the Hyperion, ENTTEC has come up with a happy compromise. We set out to create an Ethernet switch that ticks all the vital boxes for a productive working life on the road, but one that also wouldn't break the bank.
We've noticed some significantly more expensive switches out there on the market, often with minimal or zero additional functionality, but we'd rather see you put that extra cash towards something more enjoyable. Because it is possible to have your cake and eat it too.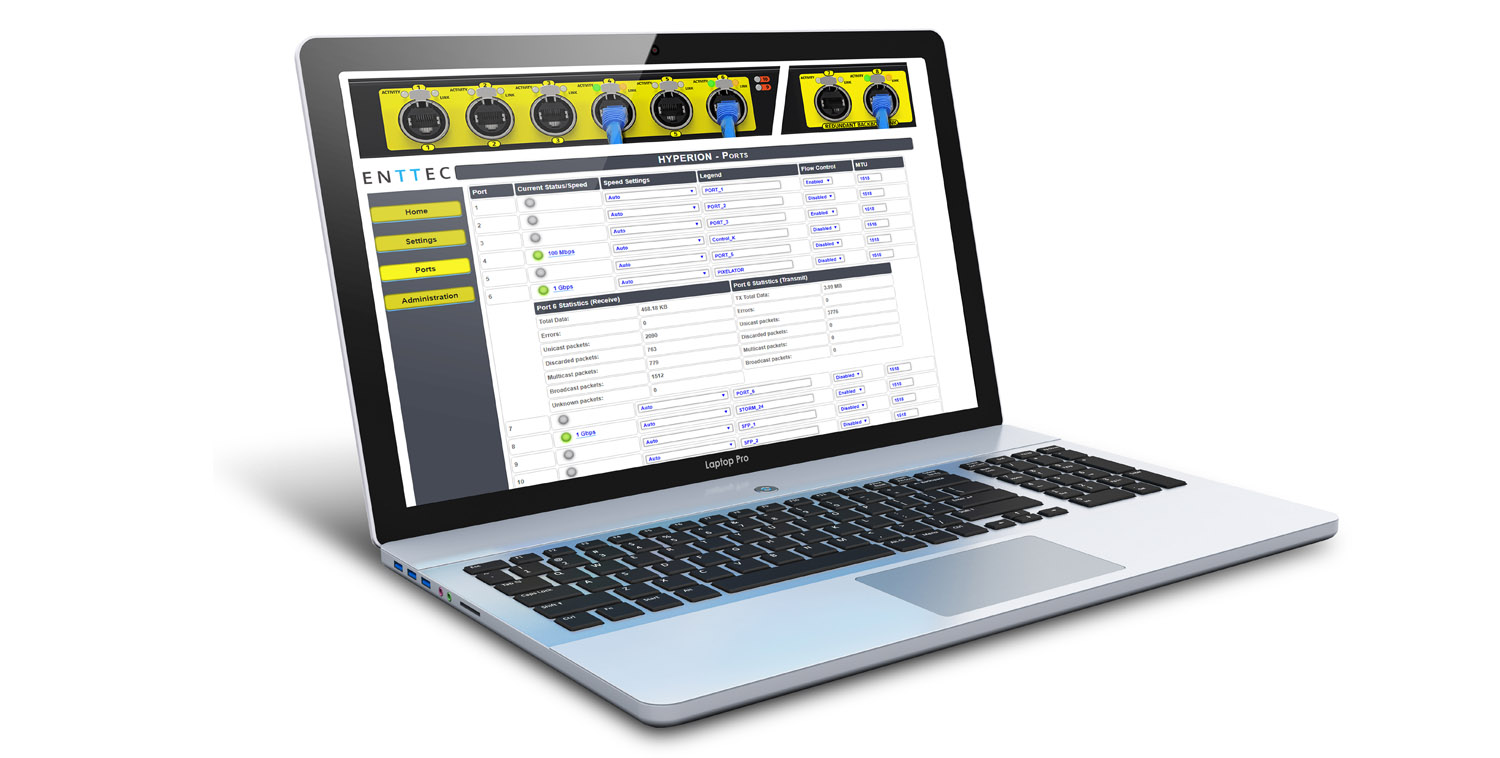 To opticalCON, or not to opticalCON?
Unlike most high-end network switches where the only fiber option is to have expensive opticalCON ports fitted as standard, the Hyperion retains trusted SFP transceiver technology across all models for optical support, keeping costs down by a significant margin for users not requiring opticalCON (in which case, our classic HP1-81 would be the Hyperion for you).
However, if you do want opticalCON, of course you can have opticalCON!
Choose from our flagship pairing with either a front (HP1-82F) or rear-mounted connector (HP1-82R), and you'll be sorted.
Features
Touring network switch
With industry-standard powerCON, etherCON and opticalCON ports for secure device connection, the HP1's rugged construction means that it's built for life on the open road.
Standard 19″ rack size
No messing around with awkward wings and add-ons to make it fit. Simply slot into a standard touring rack space.
Easy webpage configuration
Intuitive web-based configuration. Use your favorite browser, click a few buttons and you're done. Managing a switch has never been easier.
Prioritises major lighting protocols
Hyperion was designed with professional lighting protocols in mind and is compatible with Art-Net, sACN, MA-Net, PTPv1, PTPv2 and other TCP/IP usages. Multicast or broadcast, this switch can take it all.
Redundancy backbone link
For peace of mind, Ports 7 and 8 act as a redundancy link. If ever one link fails or drops out, the other link will instantly take over. No configuration required.
EtherCON ports
The speed of etherCON ports can be managed, and are user-configurable (up-to 1 Gbps). Detailed statistics for each port is available to review on the web interface.
LC Ports
LC Fiber ports available for projects that don't need the ruggedized fibre connection OpticalCON offers.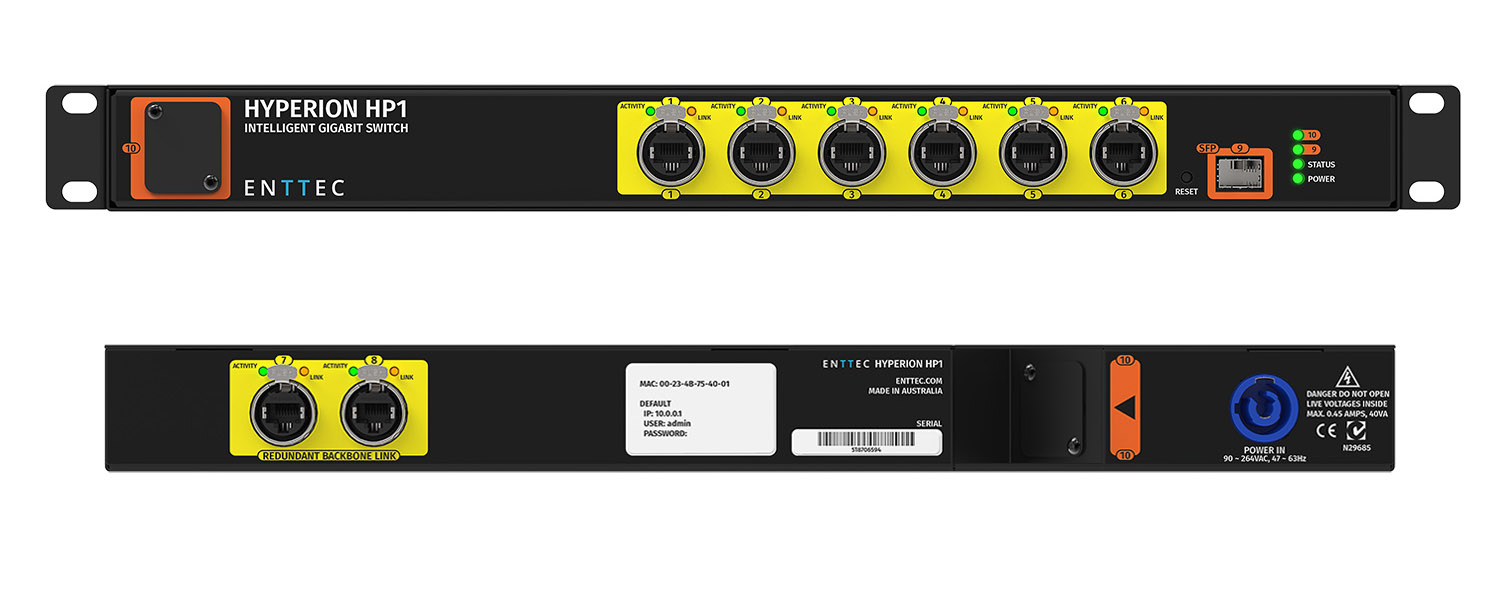 Downloads
Documents
Firmware