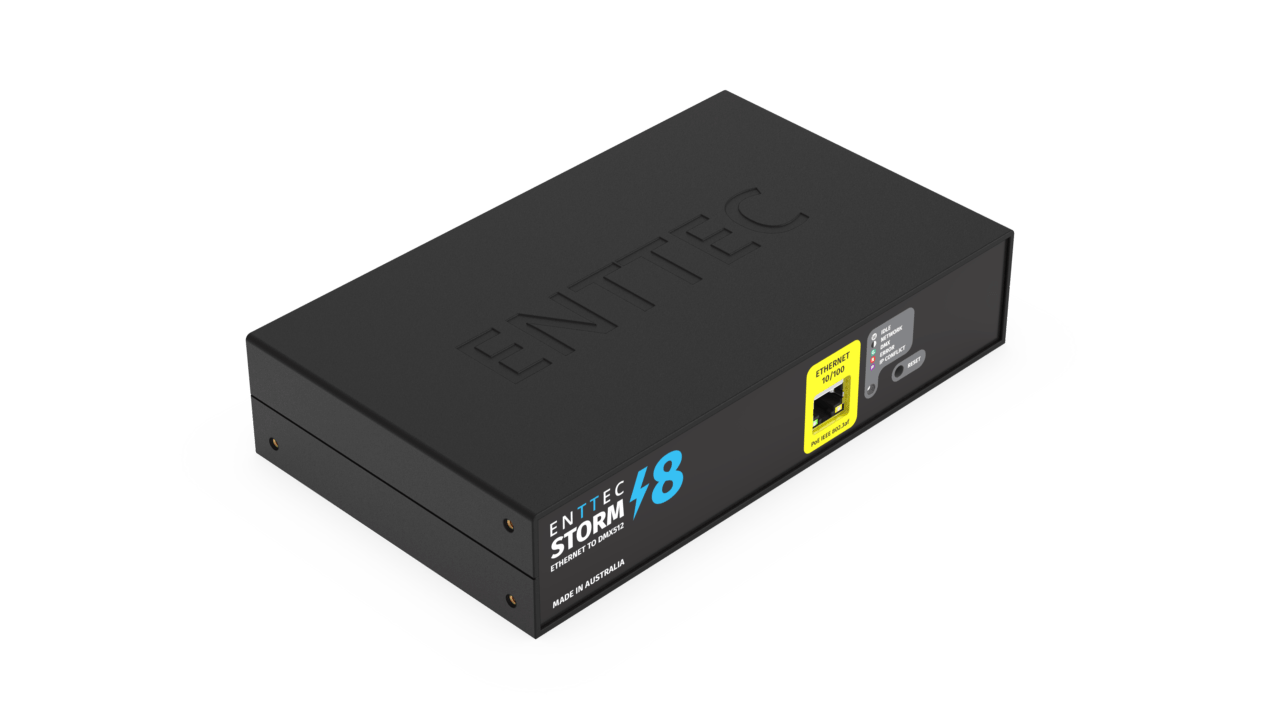 Compact and powerful 8-port, multi-protocol Ethernet to DMX converter
Out of stock
$634.00
Control LED pixels with ease
ENTTEC's Storm 8 is a compact, 8 universe installation-grade Ethernet to DMX gateway designed to make controlling DMX lights over Ethernet simple. Convert sACN or ArtNet to DMX easily.
Power the Storm 8 using either the DC PSU included in the box, or Power over Ethernet (PoE). Install it using one of the four mounting options, then configure and update it from anywhere on your network using its intuitive web interface. Its convenient 8 RJ45 DMX outputs make cabling familiar to installers and offers ultimate flexibility if you ever want to expand your infrastructure in future.
Controlling lighting fixtures and digital strips has never been easier than it is with this smart and compact Ethernet DMX converter.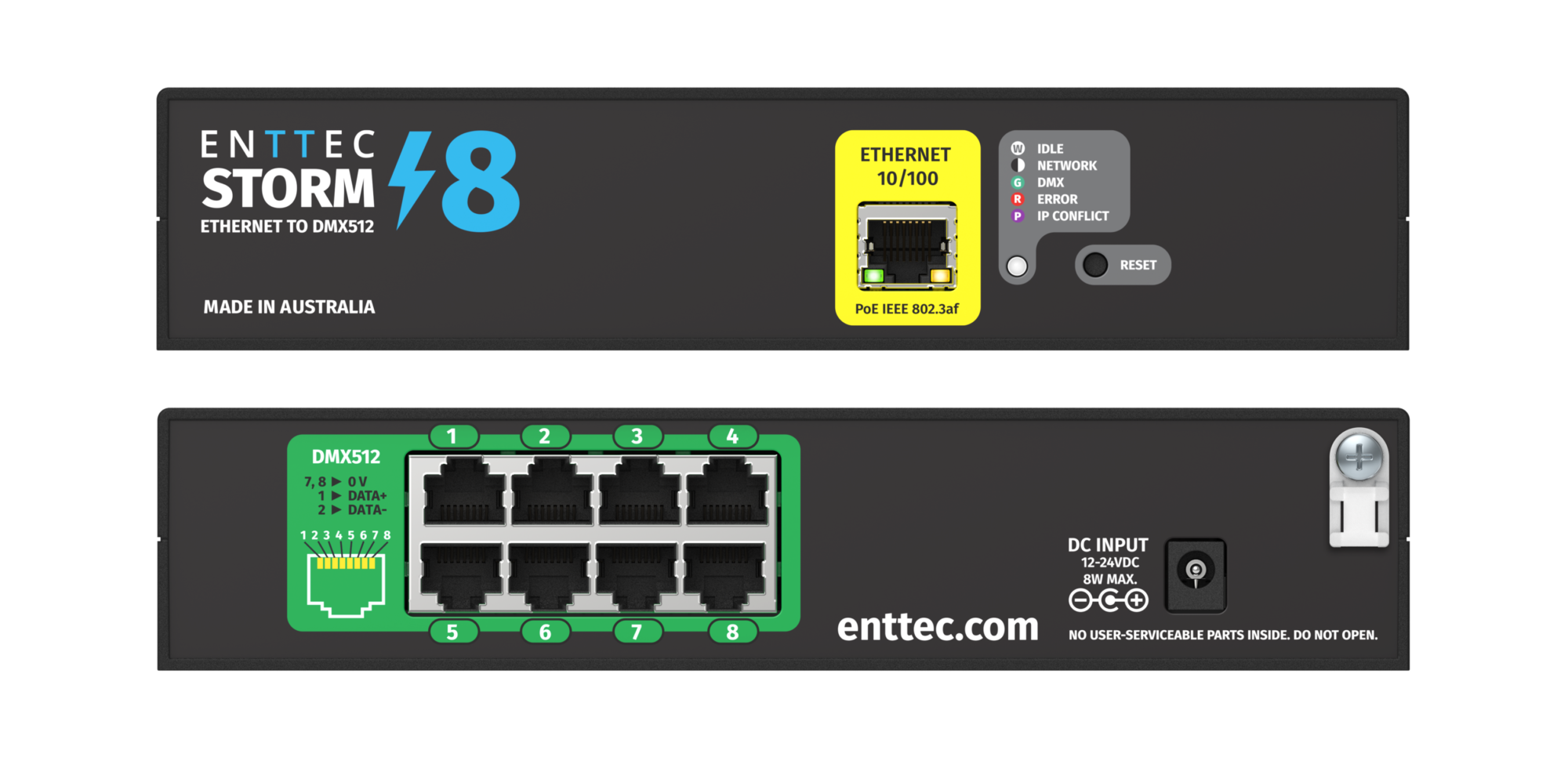 Features
Stay in sync: Content tearing is a thing of the past
ENTTEC has a proven track record of being a reliable pixel control solutions provider with products used worldwide.
The Storm 8 features an internal buffer and sync logic to ensure that all eight DMX output ports stay perfectly synchronised. Better still, every Storm 8 on your installation will likewise stay in sync with each other through the use of the ArtSync packet. You can be confident that with an ENTTEC system you can build vast LED matrixes spanning without experiencing any jitter, lag, content tearing or timing issues.
Put simply, everything works as you'd expect it to. Predictability is a good thing.
An installer's dream
PoE or 12-24vDC power input options

Front LED status indicator.

Rack, surface and DIN mount accessories all included in the box as standard.

DMX outputs on RJ45 connectors (ANSI 1.27) familiar to installers with no need for soldering – Use our adaptors or follow the guide in the Knowledgebase to convert the RJ45 to traditional DMX connectors.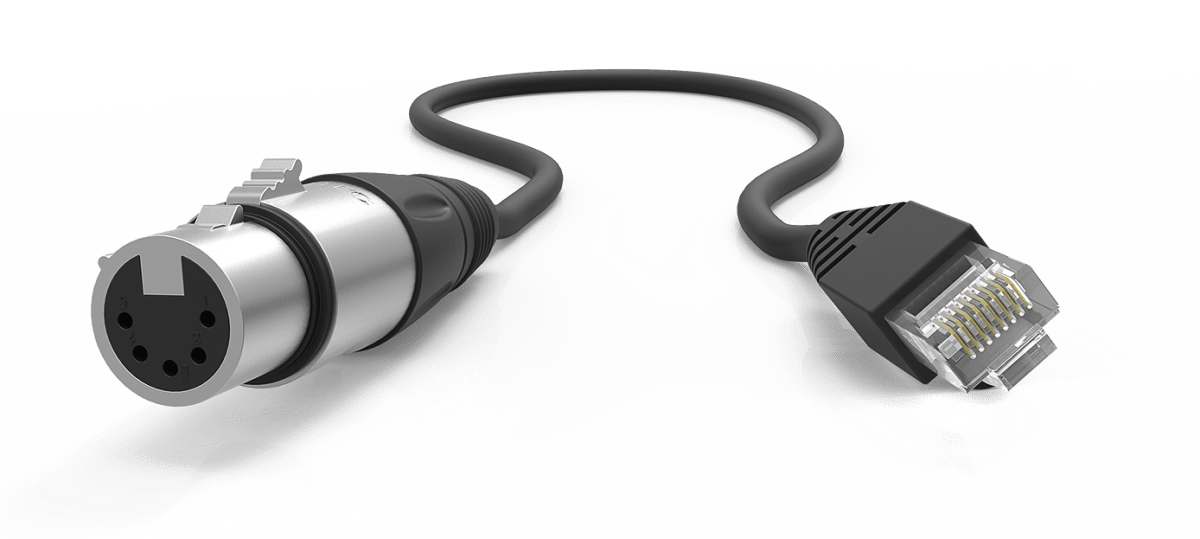 Flexible
The Storm 8's system architecture gives you many configuration options to choose from. And thanks to ArtSync, multiple Storm 8's on your project will always be perfectly synchronised.

Intuitive
You'll be up and running straight out of the box thanks to the Storm 8's incredibly easy-to-use web interface. Forget the learning curve and spend more time on the fun stuff instead.

Creative
Bring installations to life that you could only previously dream of with the Storm 8's high density RJ45 outputs. Deliver huge amounts of data with flexible mounting options for any installation environment.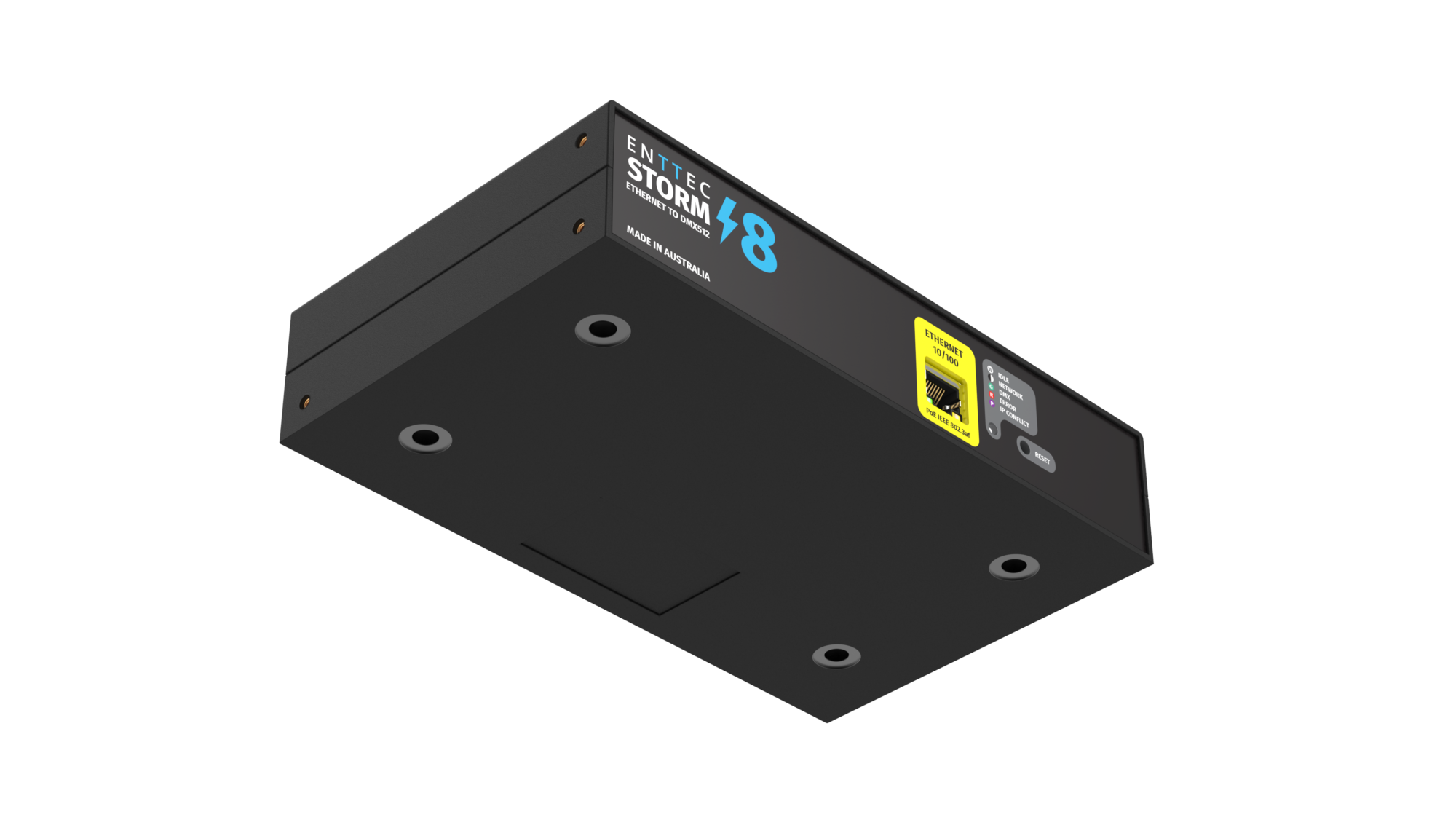 ---
Multi-Protocol Support
Input/Output
1 x 10/100Mbps Ethernet port (With PoE)
8 x DMX outputs on RJ45 (ANSI 1.27-2)
---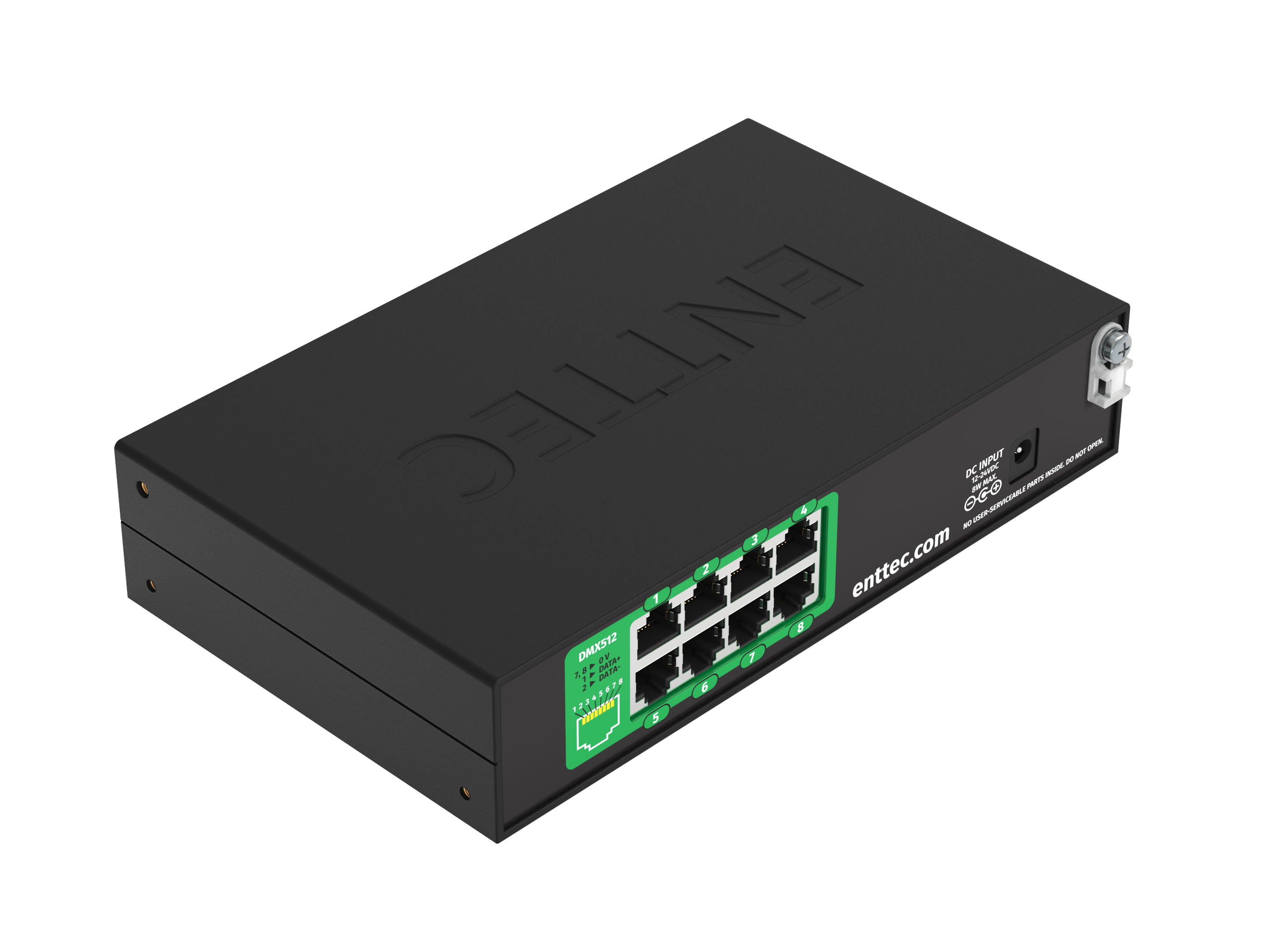 Let's get stuck in!
Easy to setup
With a web-browser based settings page, the Storm 8 is simple to setup and use. Connect and configure in your favourite browser.
8 Universe or 4096 DMX channels
The Storm 8 supports a maximum of 4096 DMX channels, (8 DMX Universes). Choose between converting either sACN or ArtNet to DMX.
Merging support
Choose from either LTP or HTP Merging per port with (up to 2 sources). Use another control source and let the Storm8 handle the output, just to test your setup, and revert back to the master source when required. All standard on the Storm 8 Ethernet to DMX gateway.
Easy Cabling
Lower cabling costs and faster installation can be achieved with RJ45 outputs. Although XLR connectors are widely used in the entertainment industry, when your project isn't traveling the world on a regular basis, RJ45 connectors offer the best price/performance ratio. Using standard CAT 6 cable to connect your whole system reduces the cost per universe and removes the need to solder cables . We use the standard ANSI E1.27-2 specified RJ45 pinout to make connections simple. Use our adaptors or follow the guide in the Knowledgebase to convert the RJ45 to traditional XLR connectors.
Web-based configuration
ENTTEC pioneered the use of web interfaces in the lighting control sector, connect to your Storm 8 from anywhere on the same network from any modern web browser. Just like all ENTTEC network products, the web UI allows you to connect, configure, manage and update your Storm 8 Ethernet to DMX gateway.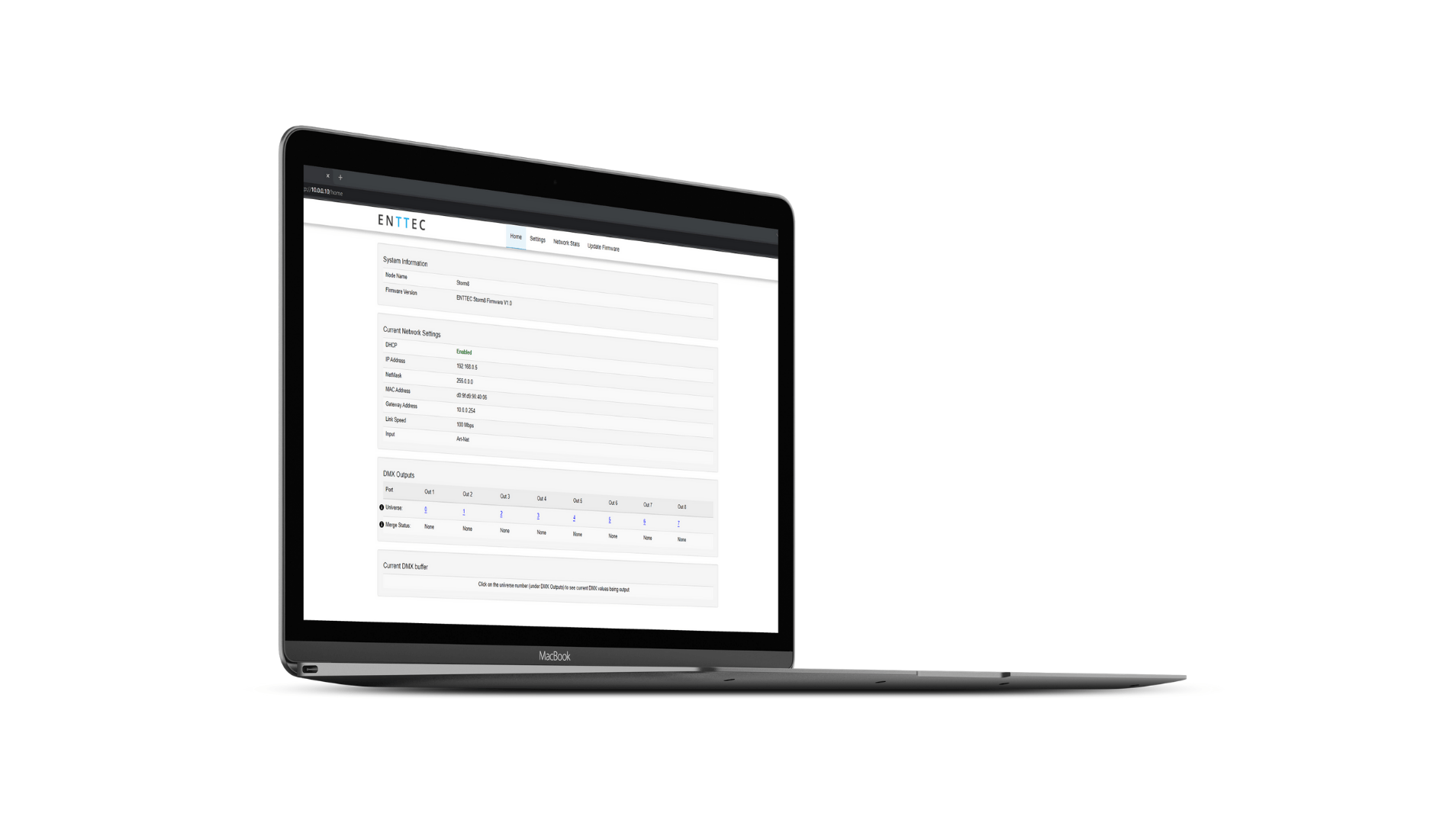 Two layers of rock-solid protection
The Storm 8 has been engineered for 24/7 operation. Each data line features a resettable fuse and surge protection capable of protecting it from up to 8kV of contact discharge.
So, what does this mean in practical terms? If your data cabling has a fault that causes a spike in voltage, a heavy-handed installer gives it static shock, or maybe your DMX lines have a lot of electrical noise on them, the issue won't be passed through the Storm 8 to your other equipment. Any disturbance is automatically suppressed.
Rest assured, your eDMX sources and each individual DMX output will be protected from any issue that could occur with your DMX wiring and vice-versa.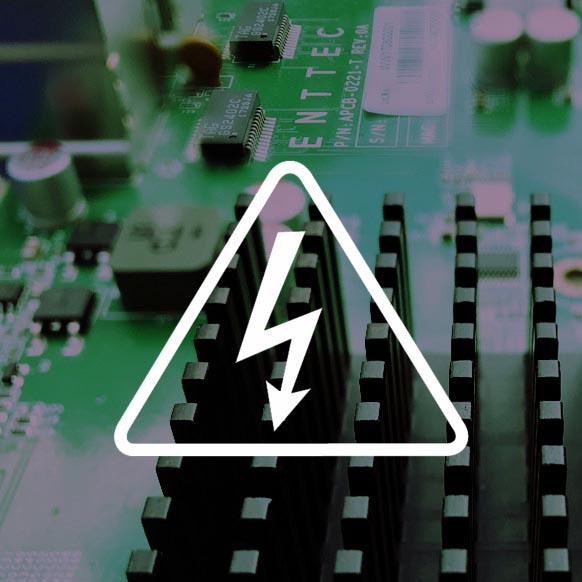 Polarity-protected data ports
We're not new to this industry. We know that sometimes accidents happen or faults develop on installations over time. That's why the Storm 8 has been designed to block DC power entering each of the data ports in the case of a short circuit or incorrect wiring. Rogue power can't pass through the Storm 8 into your wider installation.
Smart features
The Storm 8 is packed with features to make your installation run smoothly:
Configure via a web interface: Connect through the Storm 8's configuration interface using a computers web browser on your local network.
Static or DHCP: Configure your network settings to suit your installation.
HTP or LTP Merging: Send data from two sources and let the Storm 8 merge on either an LTP or HTP basis.
sACN to DMX: Convert up to 8 universes of streaming ACN to DMX.
ArtNet to DMX: Convert up to 8 universes of ArtNet to DMX.
Select input universes in any order: Unlike other manufacturers, ENTTEC gateways allows you to select any input universe number and assign it to any output port.
Disable DMX Ports: If you aren't using all DMX ports simply disable them from the web UI.
Compatible 3rd party software & applications
Check out the ENTTEC Knowledge Base to learn which third party software is compatible with ENTTEC devices.
Integrate!
The Storm 8 works as an output device to convert industry standard DMX over Ethernet protocols such as sACN or Art-Net to DMX data. At ENTTEC we pride ourselves on a bold range of innovative control products from show playback to high-density pixel control.
Combine the Storm 8 Ethernet to DMX gateway with the S-PLAY show controller to trigger lighting states using triggers or schedules. The S-Play can output up to 32 universes of eDMX Data on your network and can be integrated with a huge number of building integration management and smart home systems.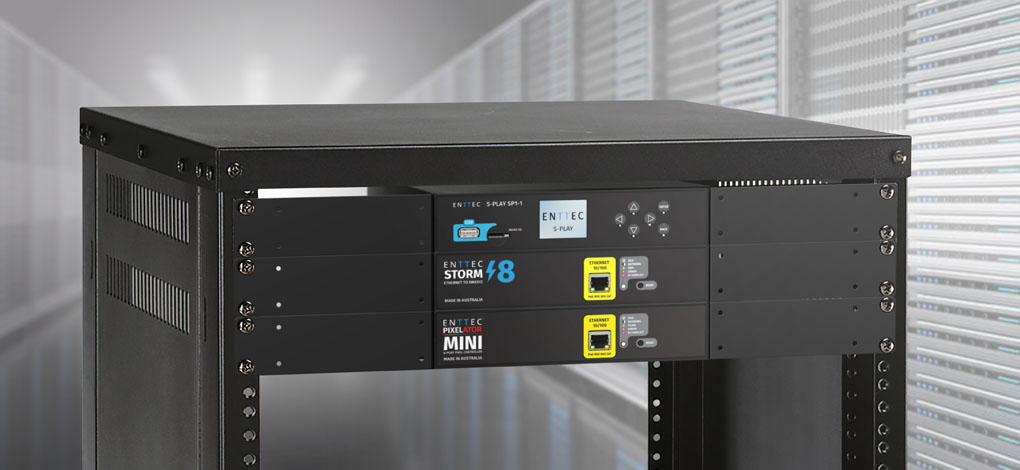 3-year warranty
Enjoy peace of mind with ENTTEC's 3-year manufacturer's defects warranty as well as our renowned global technical support. We're always here to help.
Hardware.
Reliant on ENTTEC's EN-Case design, the Storm 8 hardware allows mounting in a number of formats straight out of the box without the need to purchase extra accessories.
It's the small details that matter
Different projects require different solutions. We've put time into ensuring the Storm 8 gives you the flexibility to power your device using either Power over Ethernet (PoE) or a DC power supply included in the box.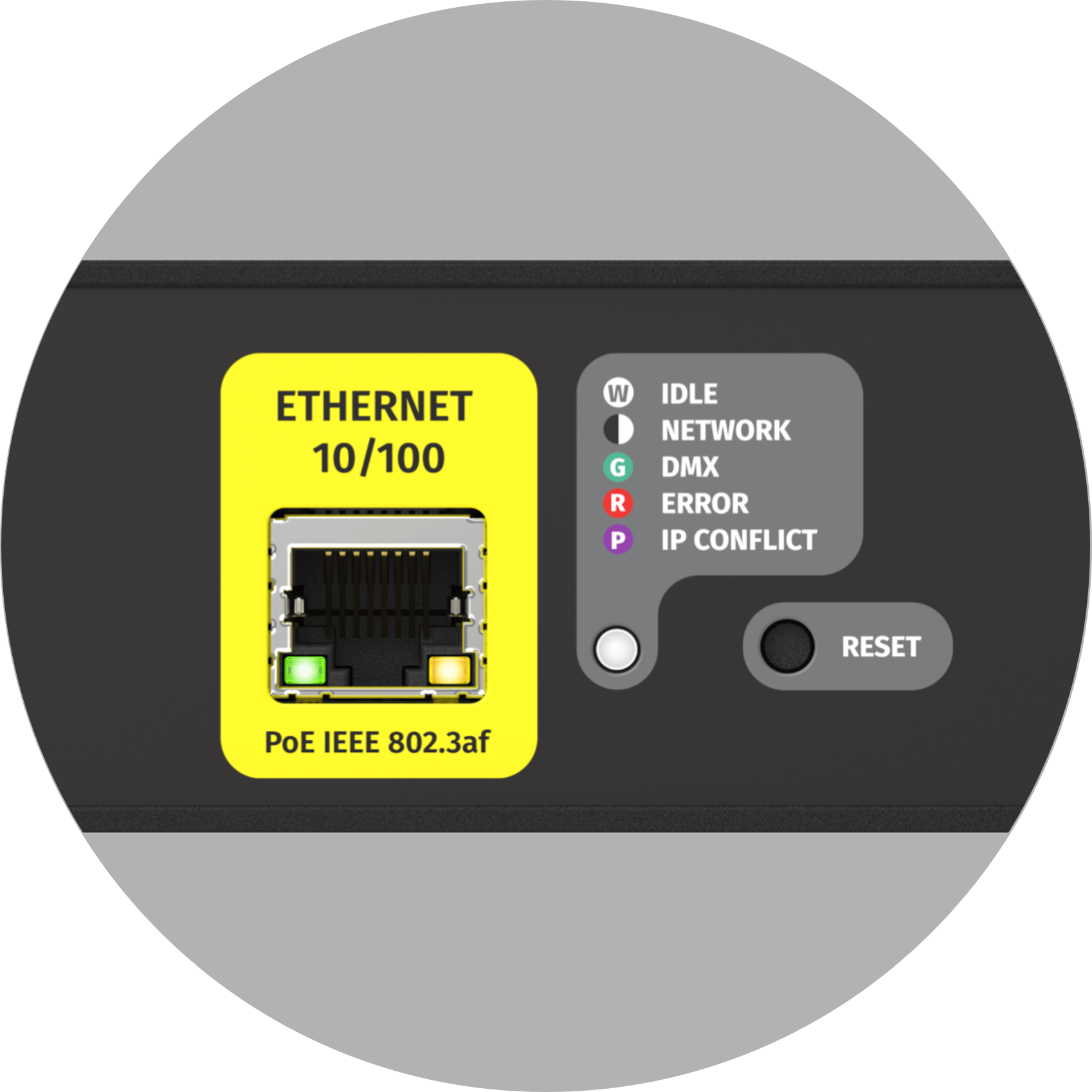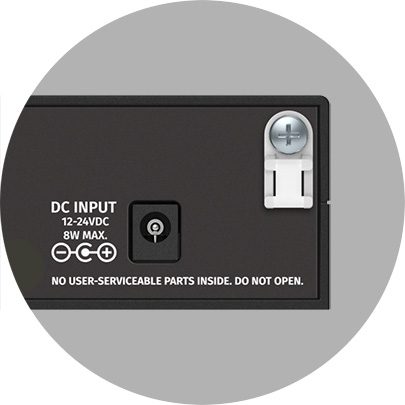 Configuration diagrams
Intuitive. Flexible. Scalable.
Install the Storm 8 in your control rack and use standard installation grade CAT6 cable to connect your lighting fixtures to DMX. If you ever need to expand your project, simply re-plug your system to send network data with PoE and locate the Storm 8 closer to your lighting fixtures by attaching it to a surface with the mounting options in the box.
This doubles up as a great retrofit solution for existing installations too! Re-purpose existing un-used network cabling to transport DMX data across your installation.
Resources
We can help!
Related products
Category: Uncategorized
Tags: dmx, dmx converter, dmx ethernet, dmx ethernet converter, dmx gateway, dmx node, storm, storm8