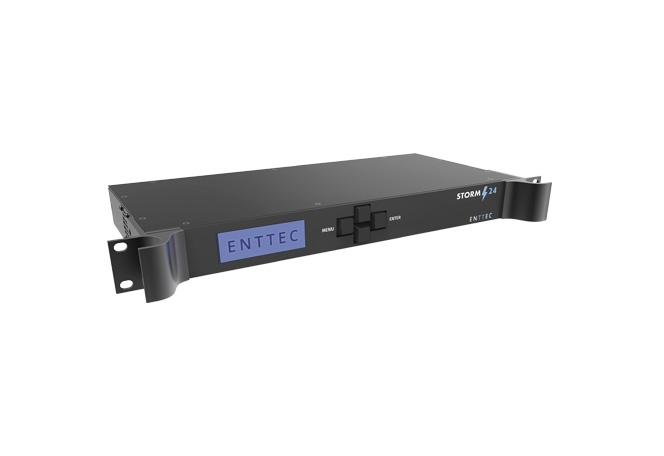 Storm 24 With a 24 DMX output in an RJ45 form factor, the Storm 24 is installer-friendly, cost-effective, and most importantly, perfect for any LED pixel mapped project or large traditional lighting rig.
2 in stock
$1,560.00
The world's most powerful DMX converter
Giving you optimal performance at an affordable price point, this smart Ethernet to DMX converter handles multiple protocols with speed and precision.
The rear of the unit features 24 DMX outputs in an RJ45 form factor. This means it is installer-friendly, cost-effective, and most importantly, perfect for any LED pixel mapped project or large traditional lighting rig.
With a an Ethernet connection and rugged 1u enclosure, Storm 24 handles Art-Net, sACN and ESP with ease. In addition, using ultra-fast memory and logic, its Sync Mode matches all 24 DMX outputs to within 100 microseconds of each other. This means no more image ghosting or tearing of your content.
Meanwhile, the Storm 24's web interface features intuitive drag and drop functionality. Easily route and mix Ethernet input protocols to physical DMX and send to different areas of your installation. Furthermore, the inbuilt DMX generator allows channels to be set to different levels for testing without the need for an eDMX source.
Put simply, no other Ethernet-to-DMX converter on the market offers this level of performance.

Features
Outstanding value
With a ground-breaking value per port system cost, DMX conversion is no longer a high-cost item in your pixel mapping budget. RJ45s further reduce cabling costs across your wider installation in comparison to more expensive XLR connectors.
Amazing performance
Using state-of-the-art programmable logic and ultra-fast DDR memory, all 24 DMX outputs are synchronised to within 40 micro seconds of each other when using Sync Mode. This means no more image ghosting or jumpy updates of your content. No other device offers this level of performance.
Easy cabling
Easier and lower cabling costs using standard RJ45 outputs. Although XLR connectors are widely used in the entertainment world, when your project isn't travelling the world on a regular basis, RJ45 connectors offer the best price/performance ratio. Using standard CAT6 cable to connect your whole system also helps keep the cost per port down. We use the standard ANSI E1.27-2 specified RJ45 pinout to make sure most equipment connections will be simple.
Multi-Protocol Support
Art-Net 1
Art-Net 2
Art-Net 3
sACN
KiNET
ESP
Input/Output
24 DMX 512 output ports on RJ45
1 RJ45 Ethernet port
Jumbo Frame support
1 RS232 input for profile selection via serial command. Note: RS232 is not supported by RevC devices produced after April 2020.

Recommended App
Recommended App: ELM
ELM : ENTTEC LED MAPPER provides total control over your LED system, regardless of shape and size. Design your layout with vector-based objects for maximum precision and flexibility on 2D and 3D maps.
Load the media of your choice and begin playback as needed. Supports Spout and NDI. RGB, RGBW, RGBA, RGBAW/RGBWA and White fixtures.
Downloads
Documents
Firmware
Over the lifecycle of this product, incremental improvements have been made to its hardware and core operating system to ensure it remains current. The functionality remains the same. There have been RevA, RevB & RevC versions of this product, each requiring its own version of firmware. To determine the version of firmware your device requires, navigate to its home page. If unsure, contact our technical support team with a screen grab of your device's home page.
The Storm24 RevC has no updates at this time.
ENTTEC strongly recommends that you keep up to date with current hardware with Rev.B firmware to avoid a situation where you need service or support that is no longer available.
Related products
Category: Uncategorized
Tags: Art-Net, dmx, DMX Conversion, dmx ethernet, ethernet, Gateway, Node, sACN, storm, Storm 24