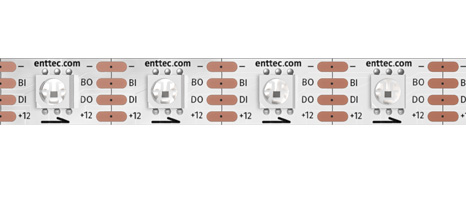 12V individually-controllable 60 pixel/meter RGB strip with backup line and white PCB. 5M roll.
125 in stock
$210.00
The LED pixel revolution starts here with our 12V single LED pixel strip
The 8PX60-12-W is perfectly suited for installing into extrusions and lightboxes where its classic white PCB will contribute to reflecting as much light forward as possible.
The LEDs used on the 8PX60-12 series have their own inbuilt IC resulting in more physical flexibility and individual control of each LED. This makes it ideal for professional architectural and entertainment purposes, where displaying large-scale smooth and precise animated graphics with soft pastels or vibrant saturated colours is key.
Furthermore, our 12V 8PX60-12 series strips introduce per LED data redundancy to ENTTEC's product line. If any LED becomes damaged or is physically removed from the strip, the strip will still function without your LED mapping being affected.
Control 7 metres from a single 12v power source, or up to 11.3 metres with a power supply at each end.
ENTTEC's manufacturing quality and attention to detail is still as paramount as ever. We always use thicker substrates to offer more durability, better heat dissipation and improved current flow over other LED strips available on the market.

Features
60 individually controllable RGB LEDs per metre
8PX60-12-W boasts 60 individually-controllable RGB pixels per metre. Each pixel offers consistent brightness with a 2KHz scan rate and extended colour gamut.
But what makes this strip different to other commonly used 12V pixel strips? If you look at the visualisation below, it'll give you a good idea of what single-pixel control actually means.
With an 8PX60-12 strip, the behaviour of each LED is completely independent to the others on the strip, whereas a regular 12v pixel strip requires a series of three consecutive dots to process and display the same information. At the opposite end of the spectrum, constant voltage strips can only display a uniform hue across their entire length at any given moment.
Whilst most 5V LED pixel strips have been available with single-pixel control for quite some time – unlike 12V strips – the trade-off is that they have a relatively short maximum run length before voltage drop becomes an issue and a power injection is needed. With the 8PX60-12 series, you get this unprecedented level of fine control, and also decent-sized run lengths resulting in less time spent installing additional power supplies. It really does give you access to the best of both worlds.

KEY
A: Single-pixel control (1 pixel = 1 LED) 8PX60-12 RGB LED pixel series.
B: RGB LED pixel strip (1 pixel = 3 LEDs).
C: Constant voltage RGB LED strip (All LEDs the same).
A strip for bright places
With a white PCB and glossy finish, the 8PX60-12-W is perfectly suited for installing into extrusions and lightboxes where the white PCB contributes to reflecting as much light forward as possible. This helps to give you the highest light output possible.
Whilst it shares some of the same high-quality characteristics you've come to know and rely on from our other LED strip products, the combination of its white PCB, individual pixel control, long run lengths and redundancy makes this one special.

Built for performance
Used to improve durability, the superior thickened copper tracks also reduce the effect of voltage drop and help to combat heat build-up from resistance. These features contribute to a superior uniform light output along its full length. Control 5m with just one power injection, or drive up to 11.3m with two. Its fast 2KHz scan rate and 24-bit colour depth means that graphics and animations are always played back smoothly and consistently.
Bright
With a maximum power consumption of only 8.5 watts per metre (RGB all on) and a light output of 122 lumens per metre, this 12V strip provides a bright and efficient package.
Backup data line
With a high level of redundancy, if your 8PX60-12 pixel strip sustains any damage to any one of its LEDs (even if one gets physically removed), data will continue to pass down the strip and carry on to the next LED without affecting your mapping.
Millions of colours
Each pixel can achieve a 24-bit, true colour display. That's a whopping 16,777,216 possible colours for each LED chip, with a scan frequency of 2KHz to ensure that all animations can be played back smoothly.
Extend as you please
Join two lengths together or shorten them by cutting them down every 16.6mm to meet your creative demands.
By partnering your pixel strips with ENTTEC's pixel control systems, you can easily provide data to each product.
As with all LED strips, it is recommended that this product is installed within an extrusion for the best protection and heat dissipation.
Why choose the 8PX60-12 series?
Using the black version of this strip as an example, here's Casey from our US office explaining why you need the 8PX60-12 series as part of your LED setup.
We know that it's a game-changer that opens up so many new possibilities – so be sure to get on-board before other lighting designers beat you to creating your best ideas!
Downloads
Documents

window.fwSettings={ 'widget_id':101000005781 }; !function(){if("function"!=typeof window.FreshworksWidget){var n=function(){n.q.push(arguments)};n.q=[],window.FreshworksWidget=n}}()
Compatible with
Categories: Art-Net, Ethernet, Lighting Control, Pixel Control, Pixel Control, sACN, Software
Tags: 70581-ARC, 70581-ETY, 70581-PRO, 70581-STU, 70581-SUP, 70581-ULT, Pixel mapper, Pixel mapping