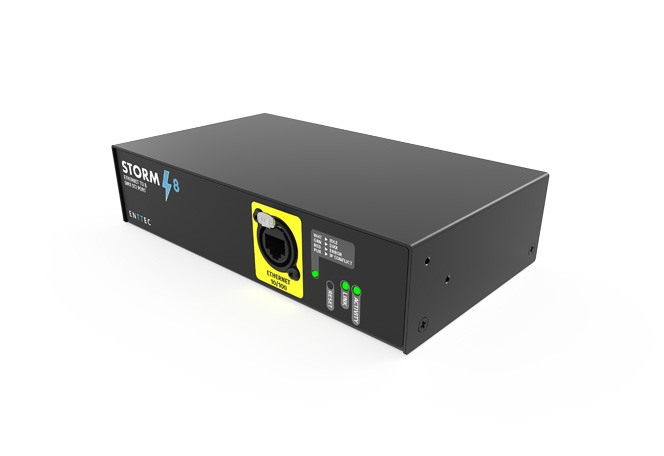 Compact and powerful 8-port, multi-protocol Ethernet to DMX converter
$634.00
Powerful 8-port Ethernet to DMX converter
The Storm 8 is a compact Ethernet-DMX converter, a smaller sibling to the Storm 24. However, don't let its size fool you! As one of a kind, the Storm 8 packs a huge punch and is powerful enough to control up to 4096 channels of DMX, with synchronisation across all eight of its RJ45 outputs, up to 300m away.
The Storm 8's robust 1U half-width hardware is enhanced by a mains input and an intuitive web interface. In addition, it features front LED indicators showing the status and connectivity of each unit, making installations both simple and fast. Furthermore, to increase the unit's size to fit a full-width rack, the Storm 8 can be paired with ENTTEC's '1RU 19inch ear kit. Finally, with input support for sACN and Art-Net 1, 2, 3, and 8 DMX outputs, controlling lighting fixtures and digital strips has never been easier than with this smart and compact Ethernet DMX converter.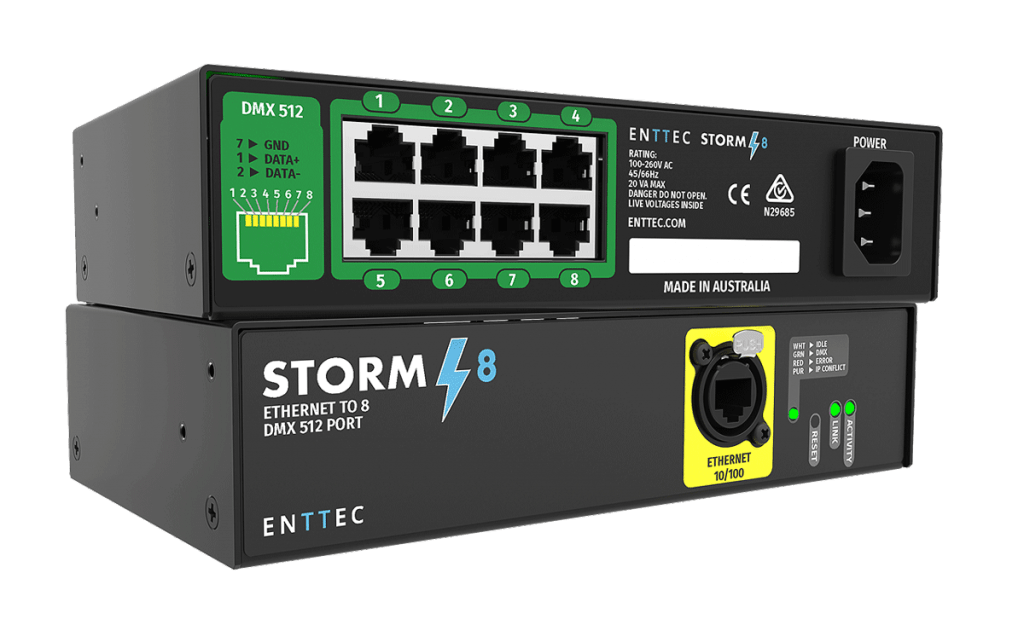 Features
Easy to setup
With a web-browser based settings page, the Storm 8 is simple to setup and use. Connect and configure in your favorite browser.
8 Universe or 4096 DMX channels
The Storm 8 supports a maximum of 4096 DMX channels, thanks to 8 DMX universe support.
Merging support
Supports either LTP or HTP Merging (up to 2 sources). Use another source, just to test your setup, and revert back to the master source when required. All standard on Storm 8.
Easy Cabling
Lower cabling costs and faster installation can be achieved using standard RJ45 outputs. Although XLR connectors are widely used in the entertainment industry, when your project isn't traveling the world on a regular basis, RJ45 connectors offer the best price/performance ratio. Using standard CAT6 cable to connect your whole system also helps keep the cost per universe. We use the standard ANSI E1.27-2 specified RJ45 pinout to make sure the majority of equipment connections will be simple.
Multi-Protocol Support
The Storm 8 supports Art-Net 1/2/3, sACN and ESP. Ready for any of these network sources. Simply change the required protocol from the Setting page.
Compact yet powerful
Compact hardware that consists of 8 DMX (RJ45) data output ports, an IEC power connector, and one 10/100 Ethercon RJ45 Ethernet connector. The Storm 8 fits into a robust metal 9.5-inch 1 Unit rack. Alternatively, two units can be mounted side by side to form a standard 19-inch rack. The Storm 8's in-built power supply has a wide AC input range allowing it to be used worldwide.
Recommended App: ELM
ELM : ENTTEC LED MAPPER provides total control over your LED system, regardless of shape and size.
Design your layout with vector-based objects for maximum precision and flexibility.
Load the media of your choice and begin playback as needed
Supports Spout and NDI
Supports RGB, RGBW, RGBA, RGBAW/RGBWA and White fixtures
Downloads
Documents
Firmware
Related products
Categories: Lighting Control, Pixel Control, sACN, Software