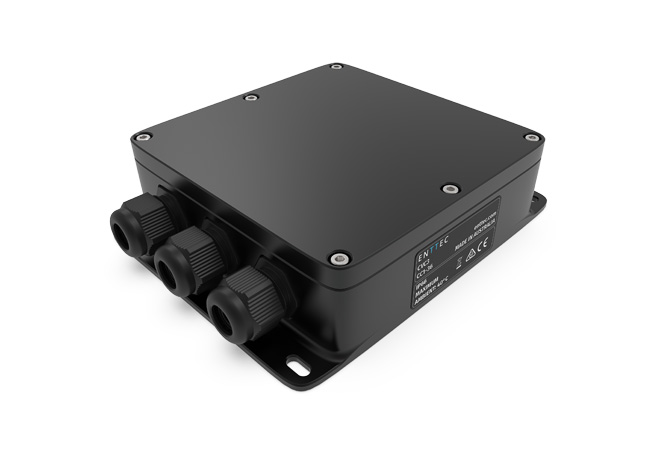 ENTTEC CVC3 is the waterproof LED strip driver that allows you to use our revolutionary  Pixelator (or other) system for controlling non-pixel LED strip. This driver was designed using high-grade materials making very reliable to use in outdoor conditions.
Take your RGB LED strip outdoors, and drive it like a pro
The IP66 CVC3 is a waterproof LED strip driver that allows you to take advantage of ENTTEC's revolutionary PLink system for controlling non-pixel LED strips in a cost-effective way, massively improving reliability.
Simply connect your IP66 CVC3 to the output of a Pixelator, Pixelator Mini or DIN Pixelator Mini PX1-8D using a CAT6 cable up to a maximum of 300 meters away from the injector. Each unit can then be linked to the next to produce a chain of up to 170 RGB LED strips.
Each waterproof LED strip driver can control up to three 5A dimmable channels of LED strip at 12v or 24v using PLink data (either RGB or three individual single color strips). Also, each CVC3 is auto-addressed directly after the previous one in the chain, meaning that no addressing is required on the CVC3 itself, making for a quick and efficient installation by skilled or unskilled personnel using punch down connectors for data cable and screw terminals for power.
The IP66 CVC3's rugged, machined aluminium housing has been designed to be impact-, corrosion- and UV-resistant for the highest level of outdoor resilience.
Other features include stainless steel fasteners, self-retaining screws, premium fixed cable glands with a varying diameter for easy use. And to create the ultimate waterproof LED strip driver we've even included a breathable seal for automatic pressure equalization, whilst managing condensation to avoid electronic failures in long-term installations.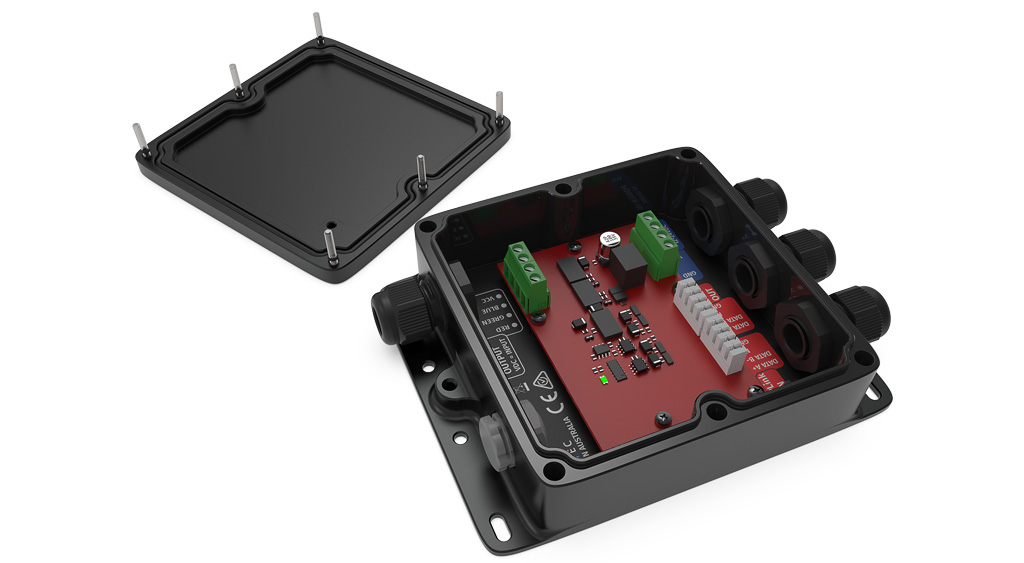 Features
Weatherproof enclosure
Anodized type II closure treatment and two-step electrolytic dyeing makes for excellent outdoor resilience, corrosion resistance and UV proofing.
Keep the Pixelator far, far away
Connect your Pixelator using a Cat6 cable up to a maximum of 300 metres away from the injector.
3 channels each
Each CVC3 unit can control up to 3 dimmable channels of LED tape using PLINK data (either RGB or three individual single colour strips).
Daisy chain and extend
Connect another CVC3 and extend your setup easily. Each CVC3 takes 3 DMX channels, so addressing is simple too..
Easy installation
Premium, fixed cable glands will not rotate when tightening, making them easier to install with all sorts of cables .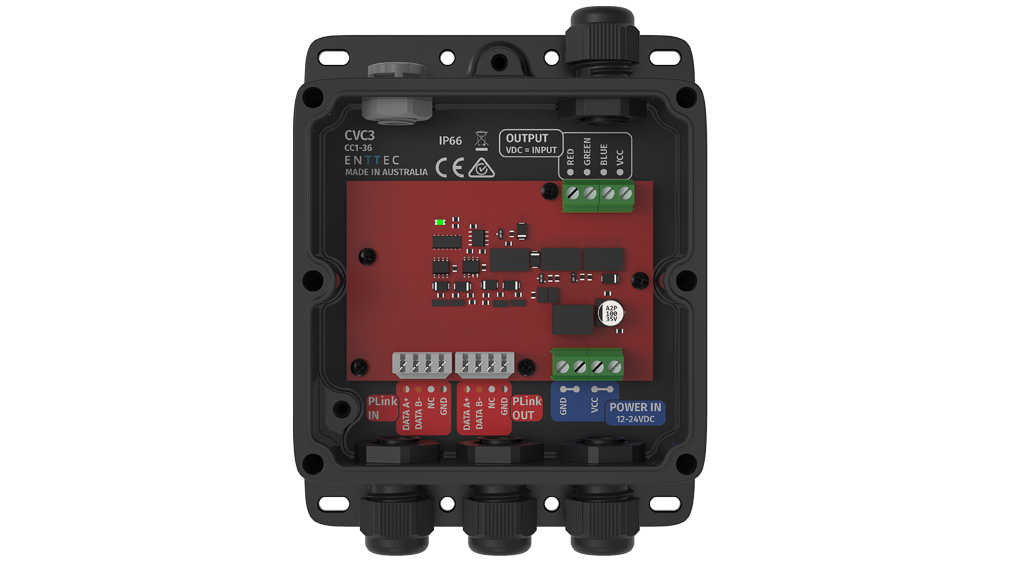 Downloads
Documents
Compatible with
Categories: Art-Net, Kling-Net, Pixel Control, Pixel Control, Pixel Control, Pixel Tape Drivers, sACN