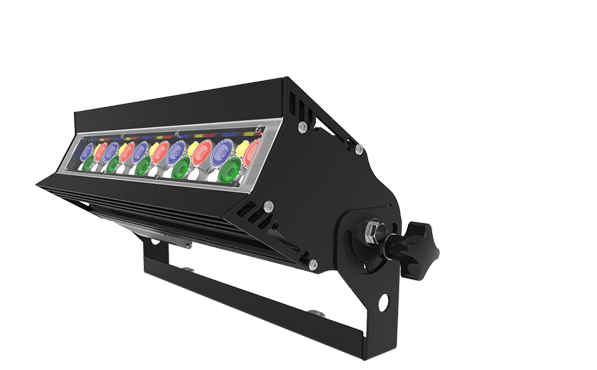 All-weather and all-rounder Outdoor LED Bar. IP65 rated and built for life on the road, this light Bar is perfect for exterior use and any kind of applications.
Outdoor LED Bar
Our all-weather and all-rounder ET3-R Outdoor LED bar is IP65 rated and is just as comfortable with life on the road as it is installed on the side of a building exposed to temperatures as low as -30 or as high as 50 degrees. The ET3-R Outdoor LED Bar is a powerhouse combining reliability and functionality within a robust convection cooled housing. With a vibrant RGBWA LED output and a choice of 25°, 40° or 60° beam angle, the ET3-R is well suited to a wide range of applications. This Outdoor LED Bar is also available in either 300mm and 600mm configurations.
The ET3-R allows for a number of power supply mounting options tailored to fit your project's specific requirements. In addition, the ET3-R product range allows for both 8 and 16-bit DMX control of each LED colour, allowing a wide array of both pastel and saturated colours alongside the ability to accurately replicate both cool and natural whites. Lastly, RDM integration allows for remote monitoring of
temperature sensors and addressing.
The Outdoor LED light Bar you can rely on.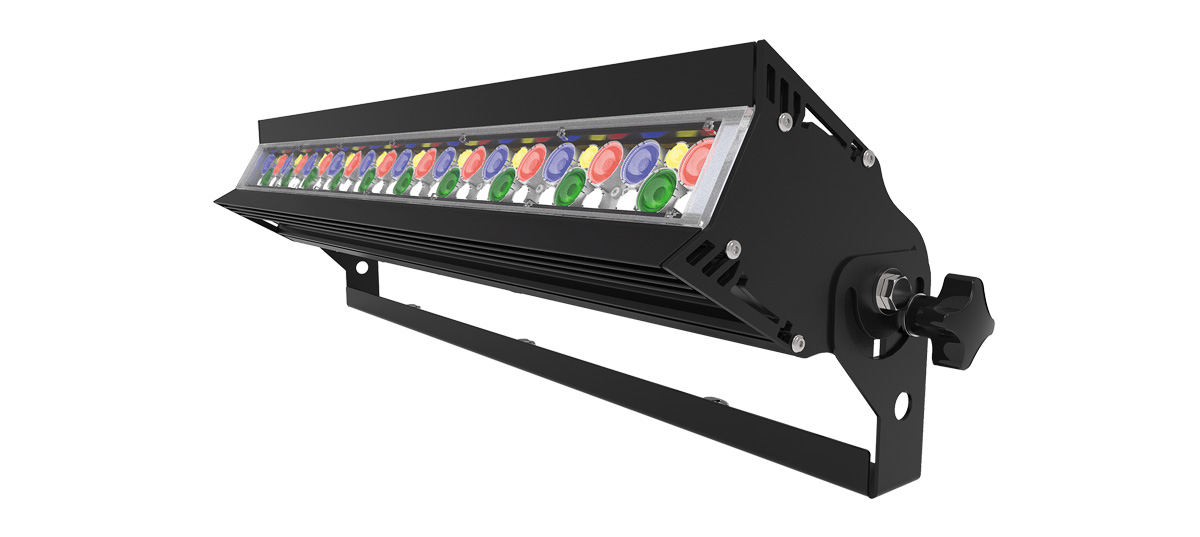 Features
Available in 2 sizes
The ET3-R is available in 300mm and 600mm or lengths.
Beam angle options
Choose between 25°, 40° and 60° beam angles.
Control and monitor
Easily control with full DMX-512 support using any DMX source. Monitor the temperature sensors, and configure the rest using RDM, thanks to E1.20 support.
Multiple personalities
Allows a selection of 6 possible DMX personalities. From 8-bit, 5 DMX channel modes to 16-bit, 12 DMX channel mode, each personality allows for the individual control of the unit's finer features.
Smart dimming
Choose from 16-bit or 8-bit LED dimming. Simply change the DMX personality and get a greater control on the dimming. Also available is a strobe mode with controllable frequency from DMX.
Best color output
The ET3-R has been laboratory-calibrated to closely follow the black body locus curve. With 8-bits resolution allowing the light to travel from true warm to cool whites (1800K to 12000K) keeping a high CRI for natural colors.
Built in control panel
Easily scroll through the settings: set DMX address or record and recall a snapshot or preset. All with the help of a LCD screen and buttons at the back of the unit.
Snap to a preset
Easily take a snapshot, with support for up to 64 fully user-recordable slots, in addition to 50 presets. The presets are pre-loaded with stand-alone colors to help you get started.
\
Downloads
Documents
Firmware
IES Files
Compatible with
Categories: Art-Net, DMX, DMX Conversion, Ethernet, sACN