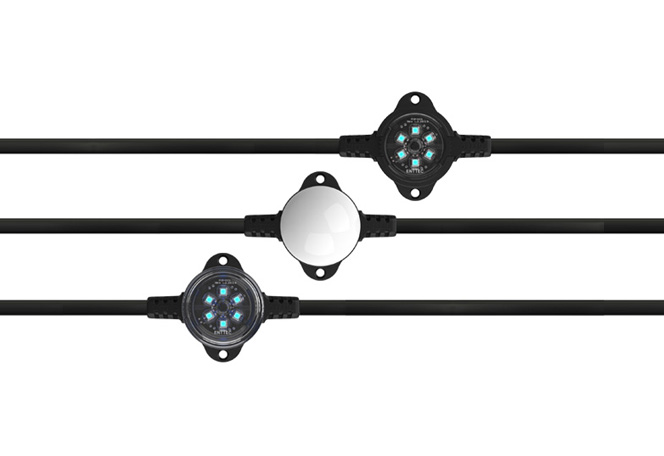 Robust and reliable, ENTTEC's hi-res, individually-addressable SMART LED Pixel dots (PXL 40) are designed and made in Australia from marine-grade aluminium to withstand the harshest of environments.
Robust and reliable, ENTTEC's high-resolution, individually-addressable SMART PXL LED dots are designed and made in Australia from marine-grade aluminium to withstand the harshest of environments.
Easy to install and configure into any conceivable shape, the SMART PXL dots create spectacular, crisp lighting effects while adding a stylish design element to your venue or installation.
Engineered to take any architectural, commercial or entertainment project to the next level, the SMART PXL range has been created by lighting professionals for lighting professionals.
See the product datasheet for full customization and ordering options for our SMART PXL LED dots. Our team is ready and waiting to answer any questions you may have about your architectural lighting and any professional lighting installations.

SMART PXL dots are 16-bit native for an ultra-smooth dimming curve and colour mixing detail that will truly wow your audience. If using an ENTTEC control system, you can also run them in 8-bit mode to double your control channels.

Each SMART PXL node contains premium RGB LEDs, giving an impressive lumen output with different lens options, while thick, tinned copper cabling reduces voltage drop over the length of each string.

Unlike other brands, ENTTEC SMART PXL cases are made from anodized aluminium (6061 T5), a marine grade alloy nown for its high corrosion resistance & and optical grade polycarbonate. These dots are seriously built to last.

The internal components of our SMART PXL range are fully-potted (encased in resin) for waterproofing as well as resistance to shock and vibration. Offering outstanding protection against moisture (IP67), corrosion & impact (IK10) certification come with a 3-year warranty.

SMART PXL 40 DOT: THE PERFECT SIZE
A truly versatile LED pixel fixture, the 41.5mm-diameter SMART PXL 40 dots are the ideal size to create fantastic resolution lightshows in any shape or location, indoors or out. In addition, onboard mounting holes ensure fast, easy positioning and installation without the need for extra brackets.
Simply calculate how many dots you'll need, pick the lens that best suit the design of your project, and you're away!
Light
6 x video grade Hi-Res RGB LED chips
Each SMART PXL dot is individually-addressable
True 16-bit/8-bit dimming curve
Lumens: 33 (no lens) / 29 (clear flat) / 24 (opal dome)
1.5W max / 24V DC
Case
41.5mm diameter
Lens options: opal dome / clear flat
Pitch: 125mm (custom available)
Anodized 6061 T5 aluminium body
In-built mounting ears
IP67 Rated for indoor or outdoor use
IK10 Impact resistance rating
Operating temperature: -20°C to +50°C
Custom pitch and/or lens available
3-year warranty
CHOOSE YOUR LENS
PREMIUM CONNECTORS
Strings of SMART PXL 40 dots are coupled together using high-performance Amphenol connectors.
An international leader in professional connector and cabling technology for over 60 years, Amphenol's easy-to-use, rugged designs have been specifically tailored to meet the rigorous demands of the entertainment industry.
Fitted with superior environmental seals and seal retention capabilities, their durable thermoplastic casings have excellent UV resistance and are environmentally RoHS compliant, while electrical contacts are derived from quality copper alloys to ensure a reliable connection every time.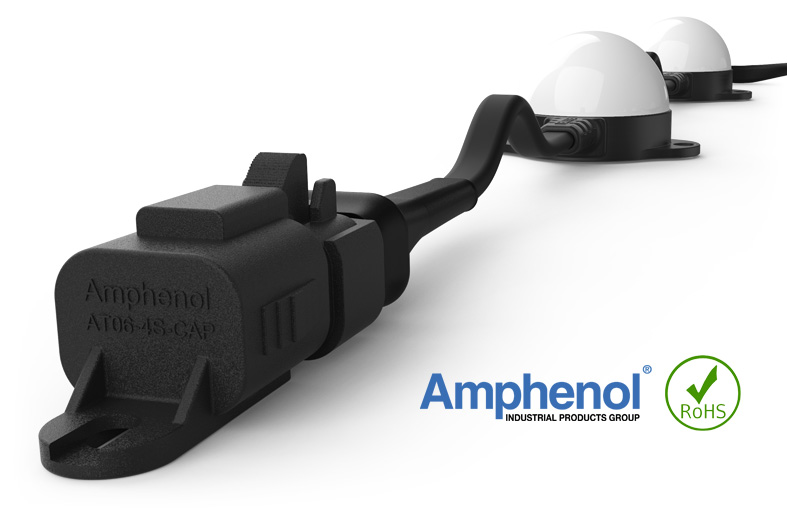 ACCESSORIES
An incredibly handy companion to our SMART PXL DOTs that enables installers to achieve longer string runs from the same controller port.
Featuring the same high quality IP67-rated Amphenol AT Series connectors as the SMART PXL DOT series, the 24V POWER INJECTOR is designed to combat the effects of voltage drop, each injector allowing you to add up to 76 additional dots to each string*.
Simply add more injectors and power supplies to keep on extending until you reach the data limit of your system!
*Based on the standard SMART PXL 40 pitch. See installation guide for impact based on custom strings. Similarly to the rest of the SMART PXL DOT range, this accessory is manufactured on a per project basis.
Amphenol AT Series connectors are rated IP67 with industrial grade heat shrink for added rigidity. Both male and female connectors are available individually on a 2M flat cable with 3-core bare ends, or as a male-to-female 2M extension cable.
A handy termination end cap is also available, designed to protect the final female connector in a Smart PXL DOT chain from short circuiting or corroding in wet conditions.
CONTROL YOUR DOTS
SMART PXL dots require DC power and data input using the ENTTEC SPXL protocol.
This means that there are a variety of ENTTEC products designed to control and drive your dots, all of which have different features and capabilities. The system best suited to you will depend on the requirements of your project and how many SMART PXL dots you'd like to control.
Below are some of our most popular options:

PIXELATOR/PLink series
Used in conjunction with ENTTEC's famous PLINK SYSTEM and the compact PIXELATOR MINI. The PIXELATOR MINI enables control of up to 2,730 SMART PXL dots, while their big brother, the original PIXELATOR, can handle up to a whopping 8,192 dots when connected to ENTTEC's PLink or IP PLink output devices.

OCTO
A state-of-the-art LED pixel controller, the OCTO can handle up to 1,360 SMART PXL dots through its intuitive web interface, or by receiving up to 8 Universes of DMX over Ethernet.

Pixel mapping software
The award-winning ENTTEC LED Mapper (ELM) software enables you to map curves or other tricky shapes that reflect your real-life LED setup with precision and ease. Use videos, audio or built-in effects to help configure amazing lightshows and let your creativity take centre stage!
WE CAN HELP
SMART PXL dots can be used in practically any situation including architectural lighting installations, and the role that they play is limited only by your imagination. Whether installed as the main focal point of your design, or in a more subtle way to create general ambience, SMART PXL dots will add a distinctly professional finishing touch to your project.
If you can dream it, there's always a way of making it happen. With plenty of custom options and features available, we can help you design the perfect system for your needs. So don't be afraid to talk to us if you get stuck!