CV MK2 – LED Tape Driver
Powerful all-in-one driver
To get the most out of LED tape, you need the driver with the most going for it. The CV Mk2 LED Tape Driver is a powerful all-in-one driver that allows you to drive up to 17 meters of ENTTEC 9CL 24V LED tape per output—without the need for extra wiring. Powered simply by a mains 110-240V AC input, the CV Mk2 LED Tape Driver is DMX512 controllable, and RDM configurable.
Available in two options: 12V and 24V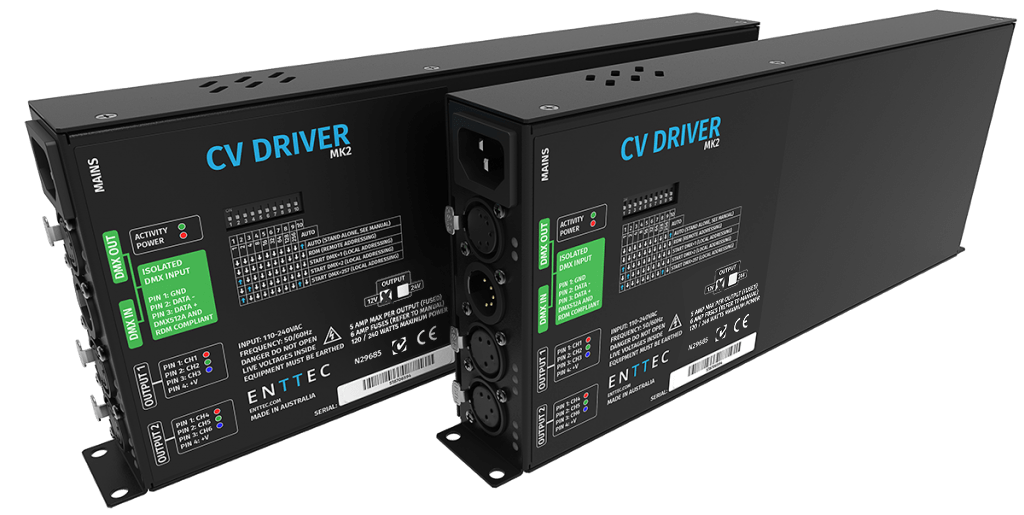 Features
All in one driver
With in-built power supply (with a 110-240V AC input) and driver, this all in one driver is all you need to power and driver your 24V or 12V LED tape. Available in 2 options to suit the output voltage.
DMX control and RDM configuration
Full DMX-512  compatible, which means control your LED tapes with any DMX Controller. ANSI E1.20 RDM supported, so CV driver is configurable using any RDM Controller. Simply use a DMX USB PRO with ENTTEC RDM Controller App to change address or personality or keep an eye on Temperature sensors.
Power when you need it
CV driver supports up-to 5 Amps per output, and a massive 240 watts (73520) total output power. Which means, it's ready to power and drive up-to 17 meters of ENTTEC 9CL 24V LED tape per output, without needing anything extra.
Smart heat management
Thanks to the in-built temperature and voltage sensors, the CV driver is smart to limit the output, when it gets too hot. Advanced heat management
Extend using a rack
Standard 19″ rack mount unit using 8 Way mounting rack (sold separately). Allows racking up-to 8 units into a single rack, so it's convenient to wire multiple LED tape and strips.

Downloads
Documents
Apps
Downloads (rev B)