DIN-ODE POE Mk2
SKU: 71021
Big Performance in a small size (POE)
POE DIN-Rail DMX-Artnet node
Supremely affordable without sacrificing any of the performance, the DIN-ODE PoE Mk2 provides 1 universe of bi-directional DMX to Ethernet conversion, perfect for distributing DMX signals over a network.
More powerful than ever. The DIN ODE PoE Mk2 is a solid-state single universe RDM compatible DMX node featuring PoE (802.3af) designed for reliable performance, simplicity and practicality.
A perfect solution for converting from a multitude of ethernet based lighting protocols to physical DMX and vice versa without the need for adaptors.
The DIN ODE PoE Mk2 features the same modern, intuitive web-based configuration found in our premium products including, diagnostics, either LTP or HTP Merging (of up to 2 sources) and RDM support. All in a robust 4 module aluminium DIN housing. The DIN ODE Mk2 PoE's four LED indicators can be used to visually check the status of your device without the need to access the web interface.
Use the DIN ODE Mk2 PoE in conjunction with a wireless router to give a buffered DMX output from any sACN / ArtNet compatible iOS or Android application. Enjoy trusted industry standard performance at a budget-friendly price point. Furthermore, the DIN ODE PoE Mk2 is available as a non-PoE variant or a more portable form factor to ensure the best flexibility.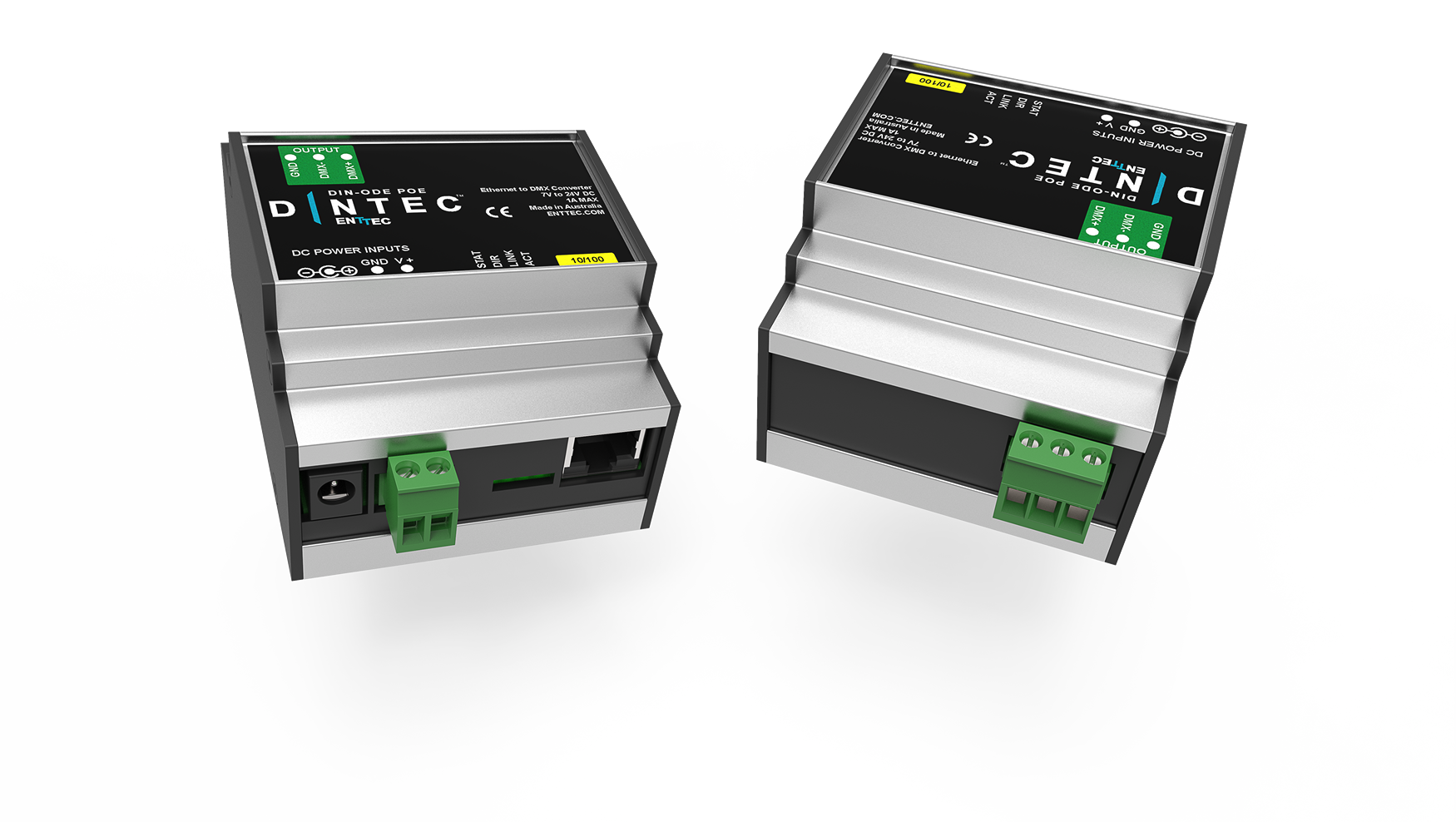 Features
Supports Artnet, sACN and ESP
Supports IEEE 802.3af (Power Over Ethernet)*
Easy to setup & update through any web browser
Supports RDM over Art-Net (controller)
Supports Art-Net 3
HTP/LTP Merging support: up-to 2 DMX sources can be merged (if enabled).
1 RJ45 connector (10/100 Mbps)
Static or Dynamic (DHCP) IP configuration (DHCP by default)
DIN-Rail compatible
Supports Broadcast or Unicast (Input mode)
Machined aluminium box, made to last.
Phoenix DIN Connectors
Supports 9v-24v DC (

Power supply not included

)
Upgradeable firmware
* POE Injector required to provide power over Ethernet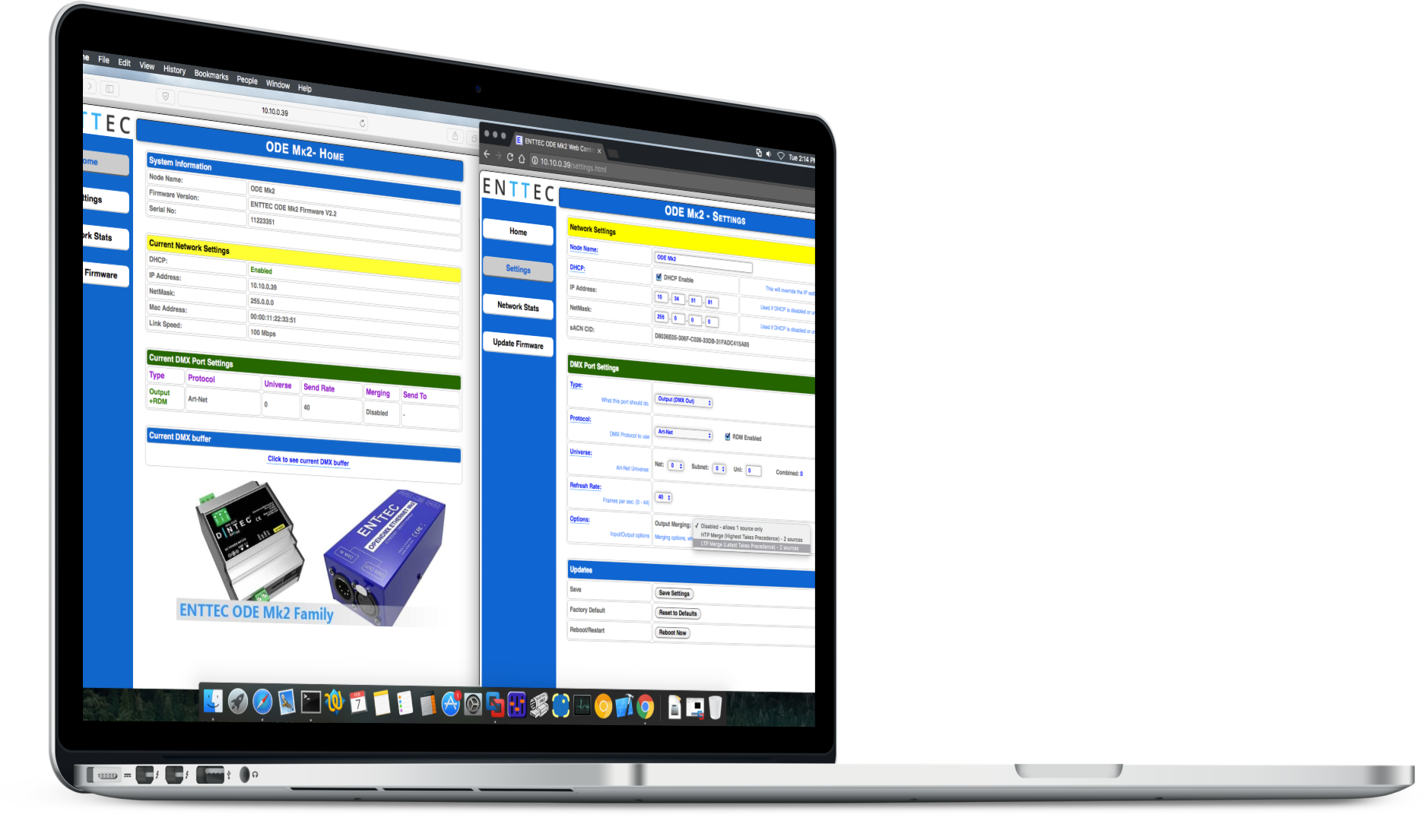 Recommended App: D-Pro
D-PRO 2U is a software based lighting controller which plays well with a host of different professional level hardware devices from ENTTEC.
It has plenty of advanced features for the most demanding lighting professional applications
includes D-PRO Player, a touch screen firendly interface to easily control your cues.
An OSC controller (such as TouchOSC) can be used to remotely control D-Pro.
Windows and Mac OSX compatible
Recommended App: ELM
ELM : ENTTEC LED MAPPER provides total control over your LED system, regardless of shape and size.
Design your layout with vector-based objects for maximum precision and flexibility.
Load the media of your choice and begin playback as needed
Supports Spout and NDI
Supports RGB, RGBW, RGBA, RGBAW/RGBWA and White fixtures
 Downloads
Documents
Apps
Firmware
Developers
Others
Application Notes