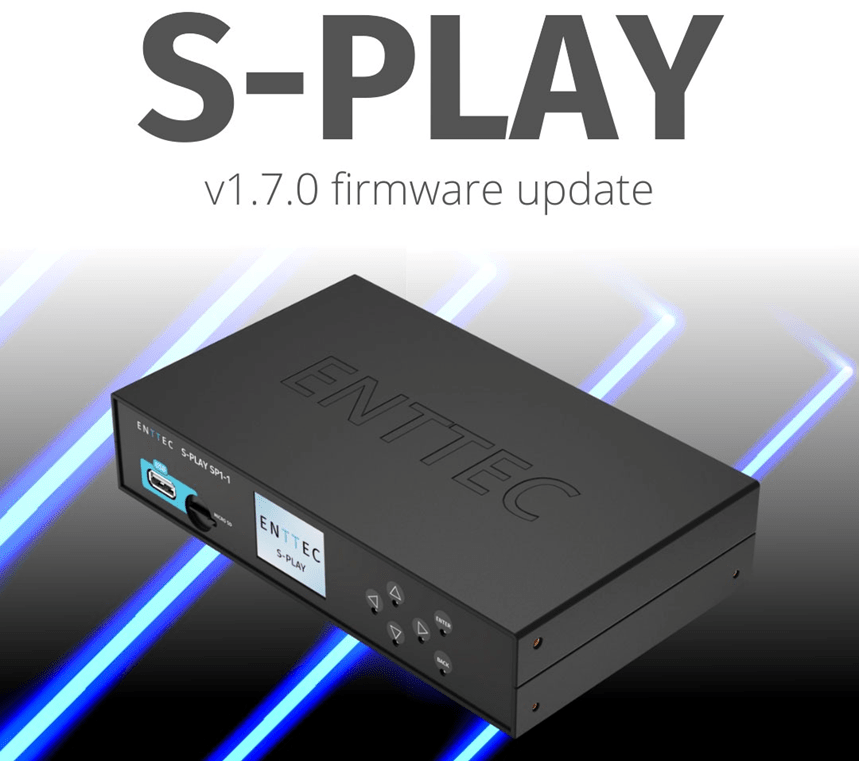 With our feature-packed S-Play v1.7.0 firmware release, the world's most versatile all-in-one lighting controller just got even better.
Read on to find out why – then download the latest firmware and upscale your creativity!
Bring your show to life!
Let the S-PLAY take the hard work out of programming with its NEW Gradient & Effects Engine!
Create animated gradient effects, waves and pulses directly from your web browser.
No need to record from an external source!
Insert smooth fades, waves, animations and static looks into playlists, then set schedules or triggers.
Works with a huge range of RGB or RGBW fixtures and dimmers like our Pixel Tapes or Smart PXL Dots.
If you're keen to find out more, head over to our YouTube Channel to see the latest S-Play tutorials covering the S-Play v1.7.0 firmware release and more:
Reimagined Static & Dynamic Cues UI
We've overhauled the Static & Dynamic Cues UI to make auto loop detection, manual colour setting and manual editing more intuitive.
Freshly-designed UI to speed up the entire Cue Library.
Take snapshots or make DMX recordings up to 60 FPS.
Create static scenes with the updated colour picker option.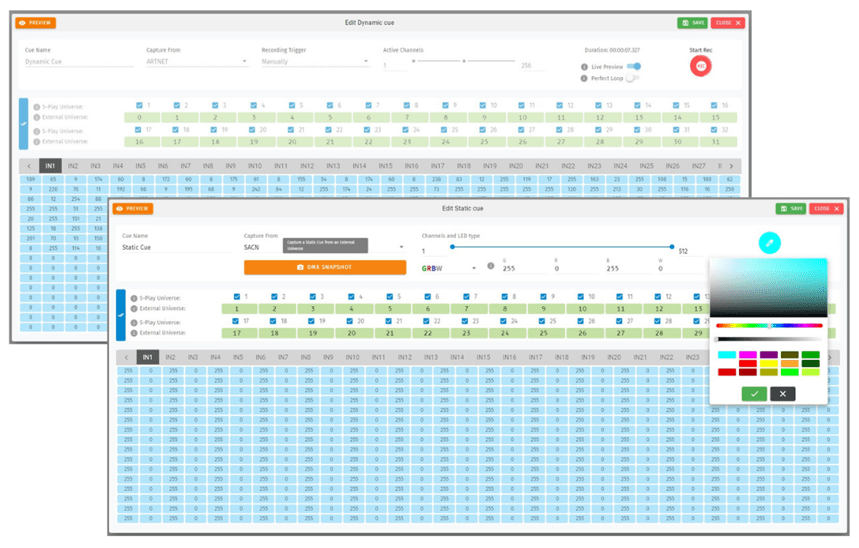 Save precious time
Having loads of flexible options is great, but not if it takes ages to configure them! The S-PLAY is here to speed up your workflow.
Updated Settings Page to speed up configuration. NEW Cue Library duplicate function: build upon a base look to generate more scenes and effects easily. Unicast to 32 universes in just a few clicks without manual IP addressing. Name your S-PLAY for identification on its LCD: take the stress out of multi-device setups. NEW firmware update process keeps you updated with real-time progress.
Your S-PLAY truly is the box that does it all! If you're keen to find out more head over to our YouTube Channel to see the latest S-PLAY tutorials:
S-PLAY v1.7.0 firmware release
is available to download
from the product page NOW!
We're always keen to get your feedback! If you've got any thoughts, let our team know here!
P.S. Remember to always make a backup before updating your firmware. After completion, clear your browser's web cache [Ctrl]+[Shift)+[r] to make sure it isn't holding onto any old UI graphics.