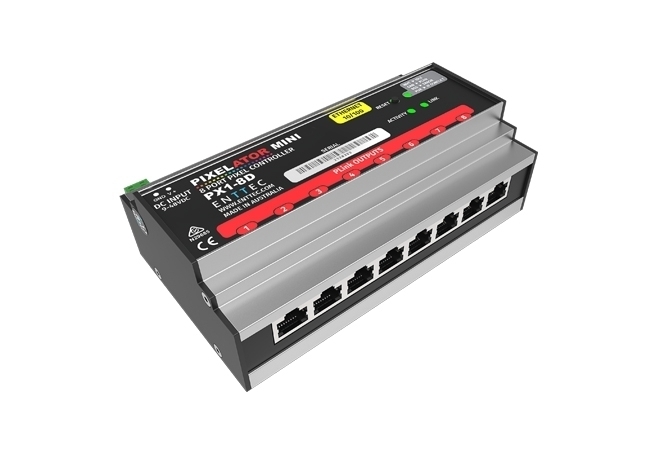 Pixelator Mini PX1-8D
Compact and powerful DIN-RAIL Ethernet to Pixel Link Driver that can drive up to 8192 channels (2,730 RGB Pixels).
Super-compact Pixelator Mini for DIN-rail applications
The Pixelator Mini PX1-8D is a DIN-rail Ethernet pixel converter. A compact version of ENTTEC's flagship Pixelator, it is small yet powerful enough to control up to 8,192 channels (2,730 RGB pixels). And it does it with perfect synchronization across all of its eight outputs up to 300m away when combined with either the PLink system.
The unit's robust DIN-rail hardware features a variable 7-24v input and front LED indicators to show the status and connectivity of each unit. As a result, used in conjunction with its intuitive web interface, it makes installations quick and easy every time.
controlling LED pixels, dots, and LED strips has never been more simple with input support for sACN and Art-Net 1, 2 & 3, as well as outputs for a wide range of pixel protocols.
Alternatively, the Pixelator Mini PX1-8D is available in a 1U half-width form factor for rackmount solutions.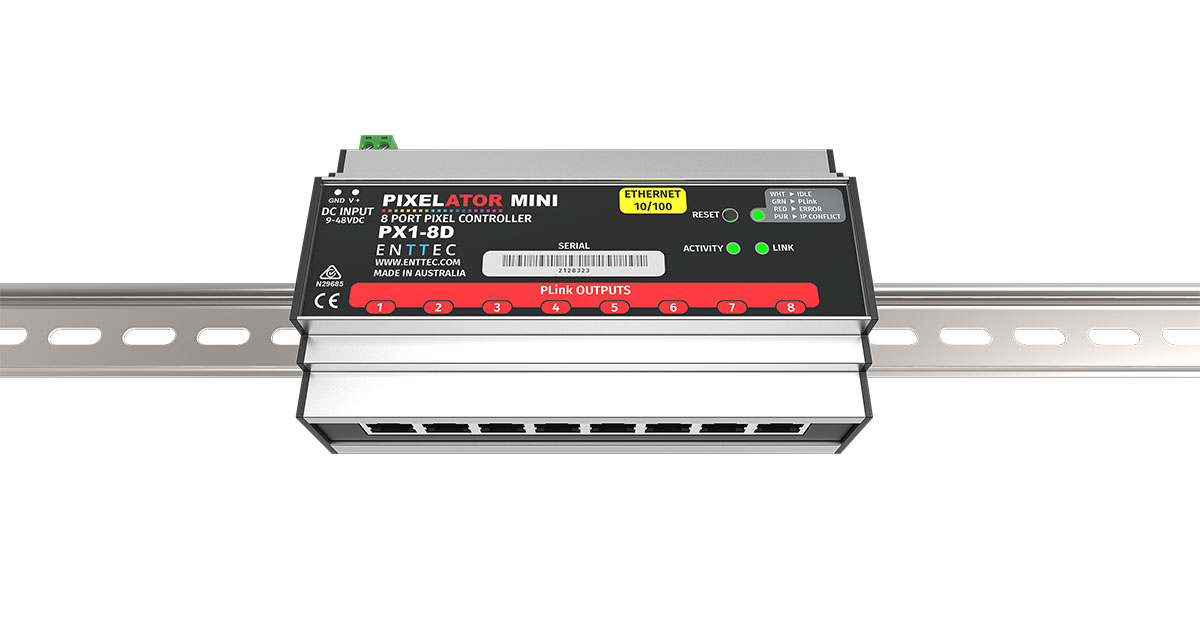 Features
Remarkable engineering
From the same team that brought you the original PIXELATOR comes this super-compact DIN rail device. With the same classic functionality as our famous PIXELATOR MINI Ethernet-to-PLink driver, the PIXELATOR MINI PX1-8D is an 8-output, 16-Universe DIN rail-mountable pixel controller. And it is still powerful enough to control 2720 individual RGB pixels. Remarkable indeed!
Expert pixel sync
With a spectacular performance from all outputs and combined with our expertise in pixel control, the ENTTEC's Pixelator range offers the best Ethernet to pixel converters in their class.
Supports a wide range of LED pixel strips and dots
Simply connect any ENTTEC pixel strip or pixel dots to the Pixel Link ports (using PLink Injector and external power), or bring your own strip or dots. See Downloads section for a comprehensive table showing all currently compatible LED protocols.
Smarter pixel conversion
Our DIN-rail ethernet Pixel converter manages pixel conversion in a smart and efficient manner, to maintain a perfect output. Thanks to its miniature size, it's the smallest, yet smartest converter out there.
Web-based configuration
Use any modern web browser to manage Pixelator Mini PX1-8D. A very simple and easy to use settings page allows you to configure each output as required. Each output supports mapping of up to 2 Ethernet Universes.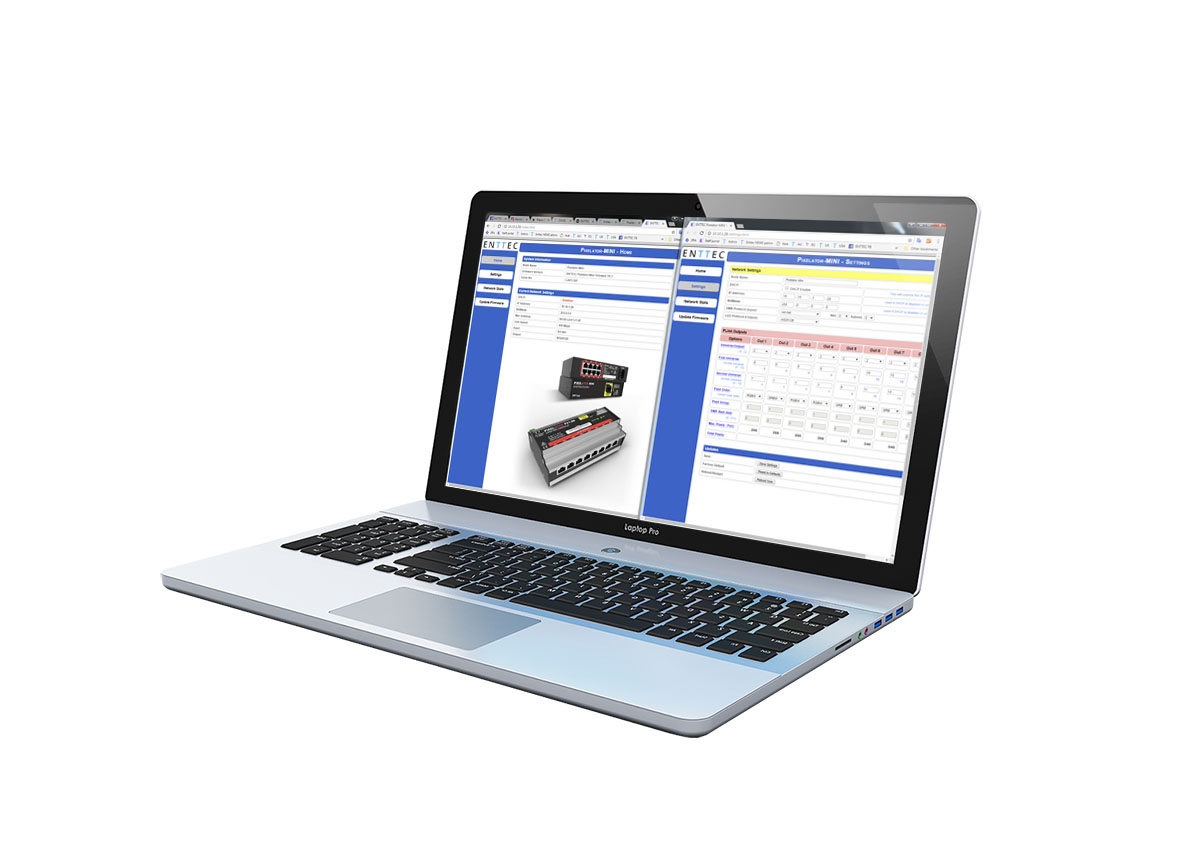 Multi-protocol support
ArtNet 1/2/3
sACN
ESP
Kling-Net
Input/output
8 x PLink output ports on RJ45 (Pixel Link data)
1 x 10/100Mbps Ethernet port
1x 2 pin screw terminal (Power in)
Compatible Apps
Recommended App: ELM
Award winning, ELM: ENTTEC LED MAPPER provides total control over your LED system, regardless of shape and size.
Design your layout with vector-based objects for maximum precision and flexibility.
Load the media of your choice and begin playback as needed
Supports Spout and NDI
Supports RGB, RGBW, RGBA, RGBAW/RGBWA and White fixtures
3rd Party Apps
Downloads
Documents
Firmware
Compatible with