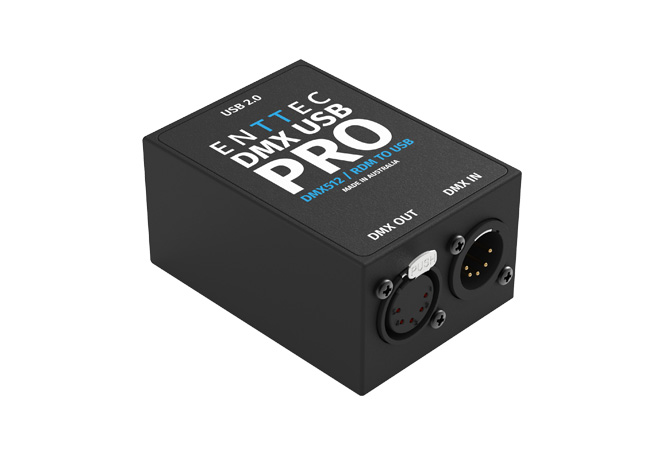 DMX USB Pro
DMX USB Pro is the Industry standard DMX USB Interface for DMX/RDM. Control your lights from PC or Mac programs
Features
Downloads
Tutorials
The first choice of lighting professionals
Products don't become an industry standard for no reason. Used on a daily basis by countless lighting designers and installers across the world, the DMX USB converter has proven for many years that it's a reliable and robust product that excels at so many fundamental applications. It allows for USB 2.0 support through its USB-B connection to send or receive a physical DMX512 signal from PCs, Macs and Linux devices running through a vast array of third-party software that supports our DMX USB Pro software API.
This DMX USB converter features an internal frame buffer for consistently generating DMX frames when outputting, ensuring a reliable flow of data and always giving you a stable data stream, regardless of your PC's workload.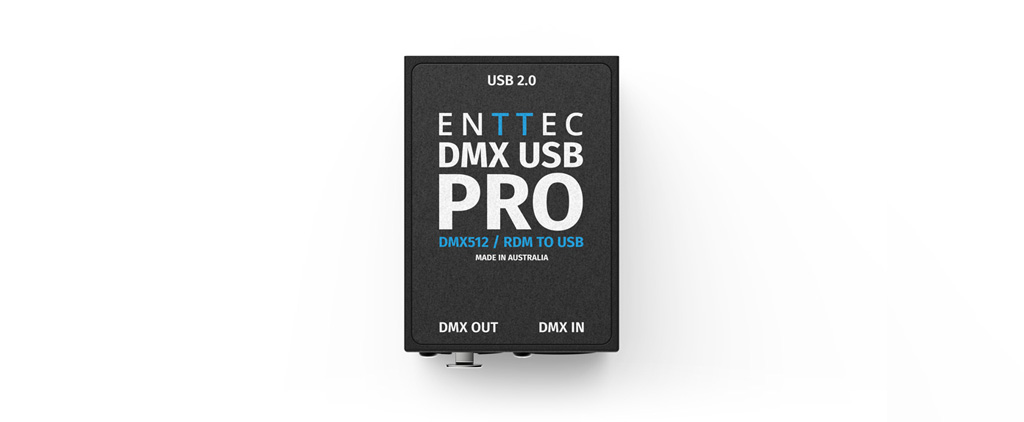 You can also view the activity of the DMX USB Pro quickly via its LED status indicator. Use ENTTEC's EMU software to test, update and configure your DMX USB converter alongside other products in the ENTTEC range. You can even change the firmware to support your exacting requirement (RDM or Non-RDM). It is compatible with an enormous range of commercial and free software.
So no matter what software you choose, you know you can rely on ENTTEC DMX USB PRO to do the job.

FEATURES
Widely compatible
Designed for simple USB connections across Windows, Mac and Linux, the DMX USB Pro is compatible with an enormous range of commercial and free software.
Windows, Mac and Linux
Industry Standard USB 2.0 support on Windows PC and MacOS, and popular Linux flavours. Thanks to FTDI drivers, which enable the USB communication between your computer and the DMX USB PRO, it's compatible with the majority of computers. Even Raspberry Pi is supported, for the hobbyist within you!
DMX Input or output
The DMX USB Pro supports either DMX Input or DMX Output mode and comes RDM-enabled too (when running correct firmware). When outputting DMX, the Pro makes use of its internal frame buffer for steady DMX generation way ahead of the competition. No matter what project you have, the DMX USB PRO is the perfect device to accompany your computer and software to provide a cost-effective, reliable DMX connection every time.
Isolated to protect
With industry standard-5 pin input and output connections as well as 1500V full isolation for both data and power lines, you can rest assured that your computer will be protected from any stray voltage or faults that may occur on the DMX line.
Perfect timing
This DMX USB interface features an internal frame buffer for consistent DMX generation when outputting. This means it isn't dependent on your computer's processor to regulate a steady, reliable flow of data. Put simply, once your lighting software sends a new frame, the DMX USB Pro will grab it and keep outputting consistently until the software sends the next frame.
Change it as you please
Refresh rate is fully configurable from 1 to 40 fps. Break time is configurable from 96uS to 1.3mS, and MaB is configurable from 10.6uS to 1.3mS. You can even change the firmware to support your requirement. Two interchangeable versions of firmware (RDM and non-RDM) have been created to allow quick changing between settings using our free EMU software tool.
It's this flexibility that makes us sure that the DMX USB Pro will simply work with your fixtures straight out of the box.
Get started!
Official Tools:

EMU
EMU isn't only just a great lighting tool made for creating beat-perfect light shows. It gives you the ability to update the firmware and configuration of your DMX USB Pro and runs on both Windows and MacOS.
Resources
DOCUMENTS
FIRMWARE
DRIVERS
DEVELOPERS
See the example and documentation above to get started implementing the DMX USB Pro into your software.
KNOWLEDGEBASE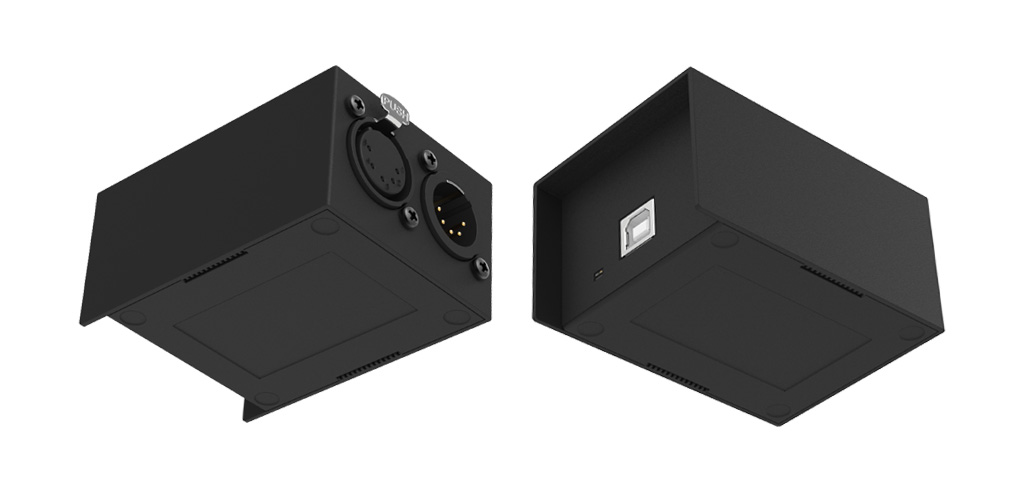 Related products